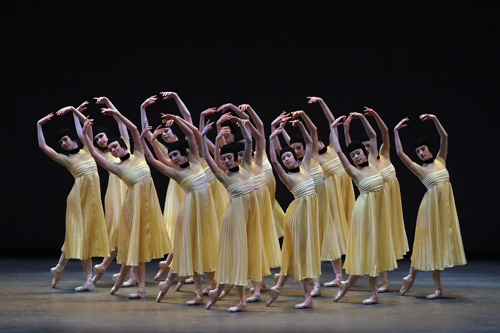 Corps de ballet, Namouna, courtesy NYC Ballet, (C) Paul Kolnik
The Architecture of Dance Festival begins this week at the New York City Ballet. Lots of new dancing and new music to take your mind off oil spills and immigration.
It doesn't take very long to realize you are in the presence of something very special when the curtain goes up on Namouna, A Grand Divertissement by choreographer Alexei Ratmansky with music from a relatively unheralded 19th century romantic work by composer Edouard Lalo. In theory, the ballets created for this Architecture of Dance festival -- with seven new ballets and four commissioned scores -- are thematically linked by stage sets by architect Santiago Calatrava, but the little net circle skirts that some of the dancers wore are here a stand-in for the arches and globes of his often soaring work.
That, and its own authentic style is the closest thing we have come to seeing akin to the perfectly constructed Jerome Robbins Dances At a Gathering in a long while. Ratmansky samples story ballet when he chooses--a vague quest for his love Namouna-- but mostly just offers up gorgeous, witty, sexy, entirely accomplished dancing.
The music, which Ratmansky says he's had in mind for a long time, is luscious and offers plenty of opportunities for the game and lively cast to show off. Vaguely bathing-by-the-sea in motif, the corps appears first in pale yellow gowns and black caps that resemble Theda Bara meets vestal virgins. Other dancers wear golden and black veined Spider-Man coverings, and still others turbans that have hair waves molded into them. This headgear makes for arresting imagery-- but makes it harder to pick out your favorite dancers. Still, Wendy Whelan, Jenifer Ringer and Sara Mearns easily stand out as Ratmanksy has given them some rich and rewarding solos. Robert Fairchild, as the sailor, anchors the piece in many ways, providing love -- even real kisses -- to his lady friends and a Misha-like sense of abandon and gaiety.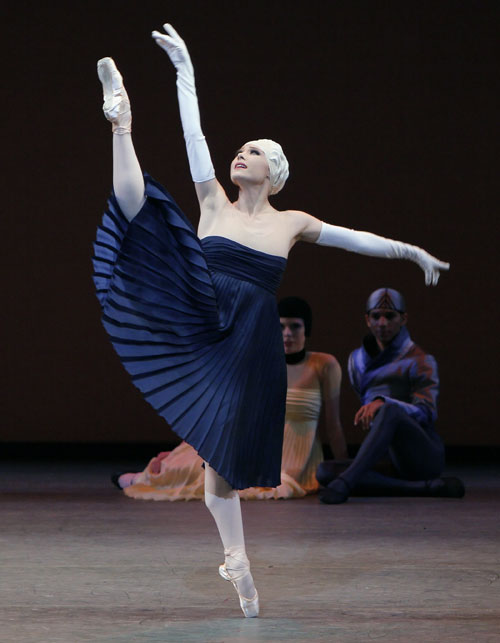 Sara Mearns in Namouna, courtesy NYC Ballet, (C) Paul Kolnik.
The original ballet created a sensation because of a cigarette rolled onstage -- and Ratmansky may be the first to defy contemporary anti smoking laws and give quite a few members of his cast the chance to smoke while dancing. It's a slap in the face of convention -- ballet dancers do smoke, but we don't think of them that way -- and makes for an unusual prop. They also play the cymbals and actually give each other real kisses.
In a nod to Ballet Mecanique and Leger, there is a twenties vibe, even a vaguely Nijinsky-Afternoon of a Faun-y ethic, overlayed on the 19th century taking of the waters thread: one could almost see Olga Picasso standing on point, the Ballet Russe sense of excess informing the lines.
Wendy Whelan as the elusive Namouna is her usual elegant self, channeling a choreographer's intent as only she can do. Jenifer Ringer is a hoot as the sylvan smoker. But it is Sara Mearns in a robust and alluring Esther Williams-Hollywood style turn as a bathing diva who set my heart racing. She's more shapely than some of the other dancers, and her swooning flirtatiousness totally works for Ratmansky's tongue-in-cheekiness.
Ratmansky is the Artist in Residence at ABT now, but he's sharing his distinctive and rich gifts with ballet companies all over the world. It's no wonder he's in such great demand. He is the real deal, making his own dance architecture out of thin air.

The New York City Ballet Spring Season features the Architecture of Dance new choreography and music festival. Performances of Namouna are repeated May 5, 8, 9, and 12. I am also looking forward to Chris Wheeldon, Wayne McGregor and Melissa Barak's new work for the festival.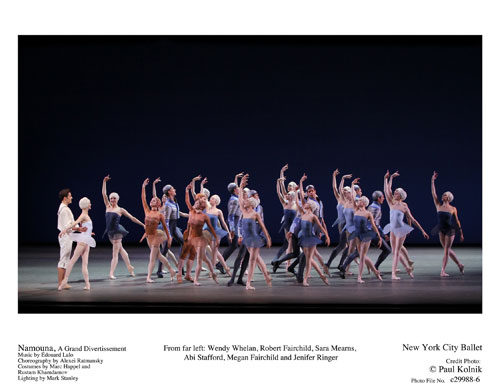 REAL LIFE. REAL NEWS. REAL VOICES.
Help us tell more of the stories that matter from voices that too often remain unheard.