Normally, I ignore all Hallmark holidays and government-decreed monthly themes; this follows on once having lived near a major parade route, and they are almost the only times when I feel being a populist totally gets in my own way.
But today is the last day of Black History Month and with the possibility now looming that we are actually going to have a black candidate for President, I wanted to take a moment to extract my own pound of flesh from what must have a giant federal budget line item.
There could be no more profound attention to the subject of racism than an exhibit on Kara Walker which opens this weekend in Los Angeles and which originated a year ago at the Walker Art Center in Minneapolis, made a pit stop in New York at the Whitney and now has made its way to the final stop at the Hammer Museum. Though Walker has generated her share of critical heat over the years (too black, not black enough, too pornographic, too one-dimensional, a "bad seed who has exposed culture"), her imagery and her pungent imagination make one think, long and hard, about the history of being black, specifically being a black woman, and a slave.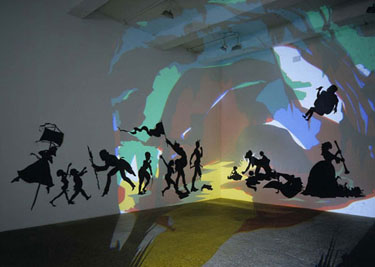 Darkytown Rebellion, 2001. Collection Musee d'Art Moderne Grand-Duc Jean, Luxembourg.
Walker is known for her black silhouettes of slaves and their masters set against large white expanses which remind very much of Asian-inflected puppetry. As Walker says, "the silhouette says a lot with very little information, but that's also what the stereotype does. So I saw the silhouette and the stereotype as linked." But she also makes beautiful smaller graphic imagery and animated films which draw on these same themes.

The End of Uncle Tom and the Grand Allegorical Tableau of Eva in Heaven, 1995. Collection Jeffrey Deitch, New York.
American curator Robert Storr adds, "Walker's initial contribution to cutting edge art was to turn [the] sharp edge away from the future and point it toward the past...the characters in that burlesque are borrowed largely...from minstrel shows...America's...family from beyond the woodshed."
She has been a consistent prickly voice of anger, someone who is not afraid to show rape in all its graphic horror, yet who has an enormous sense of humor and is able to tease reactions that range from outrage to out-of-sight. One critic says she pushes all the buttons and that would be a gentle understatement. Walker's words are as strong minded as her images, and as incendiary; her titles alone make you begin to sense a malaise that just doesn't quit. When you see a slave owner coming up behind a female slave with his penis drawn like a sword and repeatedly assaulting her, it takes your breath away even if it is an animated silhouette--somehow she imbues the craggy, jumpy outline with as much humanity as a real life flesh-and-blood girl.
I love her audacity, and if you haven't ever seen her work, you're in for a shocking treat; it disturbs me even though I have seen it many times, making me want to turn my head away and sometimes getting impatient with her insistent, repetitive, didactic imagery. But think about it: how many times have you seen the other kind of imagery, the one where we are the babes with perfectly flat stomachs and hot cleavage?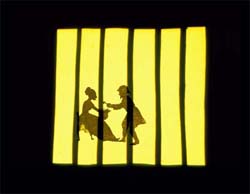 Emancipated, and On Tour, 2000. Courtesy the artist and Sikkema Jenkins & Co., New York.
In an uncannily similar vein, Shirin Neshat, an Iranian artist who now lives in New York, has made two new films about the plight of women based on Shahrunush Parsipur's novel Women Without Men, drawn from the linked tales of five women as the Shah was being re-installed by the CIA in 1953. Although Neshat's art is luscious and sweeping and Walker's is at once brash and confined, both juxtapose beauty and seduction with the harsh realities of political and sexual oppression. Neshat and Walker are so on point about male-dominated regimes as to make us wince.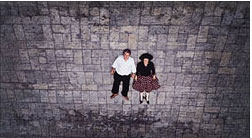 Munis & Revolutionary Man, 2008.
Both of these women artists have been widely recognized by grants and exhibitions yet I'd wager that most of you haven't had the chance to catch up with either of them. Start by checking them out in the links I've provided and then by ordering the two catalogs and then try to seek out their works in your local museum. (Right now, the Metropolitan Museum has a multi part work on display in the gallery outside the Courbet show). It will make you feel that although we've been caught in a time of indolent reaction to domestic policy and world events, some people are still paying attention.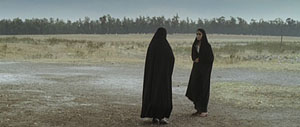 Production still from Faezeh, 2008.
And in a related show, please be sure to visit WACK at PS 1 which has finally crossed the country and landed in New York and collects so much feisty rage in one place you might get whiplash. These women artists are the worthy ancestors of Walker and Neshat and prove that there are no new ideas, merely new ingenious ways to deliver them.
Popular in the Community