The Whitney Biennial, once the only compendium of contemporary art that had purchase on the buzz of the new, has seen its status as art bellwether jostled and upended by the scores of art fairs that have first crept and then leapt onto the art scene in the last decade.
(One -- itself almost becoming first among equals, opens next week, the Armory Show on the piers.)
Curators Francesco Bonami and Gary Carrion-Murayari have made the point that the "artists selected for this year's exhibition reflect diverse responses to the anxiety and optimism of the past two years." That must be code for the economy tanking and Obama getting elected, but I'm not sure that artists aren't always reacting to happy/sad events and more or less a) doing their own thing and -- at the same time -- b) trying to figure out which way the market wagon is going, so they can hop on it too.
We asked Gary Carrion-Murayari to choose five pieces exclusively for Huffington Post readers that somehow reflected this zeitgeist. Matt Sledge joined the opening night throngs to check them out and here, alongside Carrion-Murayari's selections, are Matt's annotations to guide you as you make your way through the art thermometer that is always the Whitney Biennial.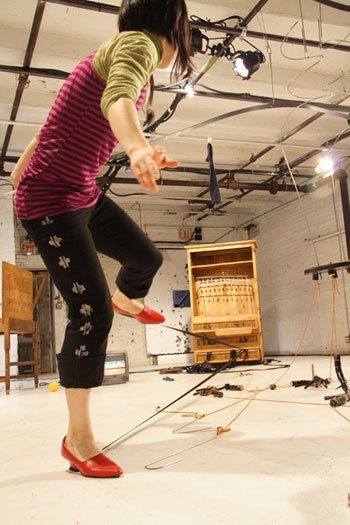 Still from "Secrets of My Mother's Child," 2009. Performance and installation. Collection of the artist. Photo credit: Arturo Vidich.
GCM: Aki Sasamoto is a performance artist and sculptor based in New York. Her performances weave surreal narratives around her sculptural installations comprised of everyday objects. For the Biennial, she has created a new installation and will be performing in the space approximately 15 times during the show.
MS: It's somewhat difficult to evaluate Sasamoto's installation, Strange Attractors, without viewing one of her performances, but I've heard good things -- and the Whitney's online video indicates a quizzical, whimsical take on topics domestic and metaphysical. Her room contains two cafeteria-style tables, flotsam and jetsam, glasses filled with an amber-like substance hanging from the ceiling in red ceremonial nets, and dangling Sony Handicams ready to capture museum-goers. With the cameras the tables are turned, and the wall inscription suggests Sasamoto will bring her current obsession -- doughnuts -- to the handful of performances scheduled.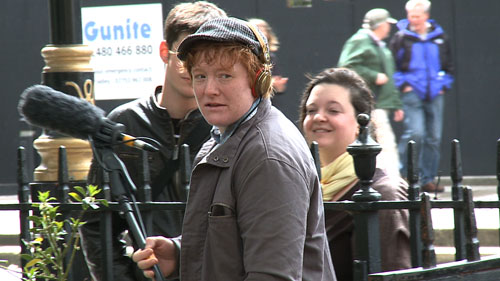 Sharon Hayes. Still from "Parole," 2010. HD video, sound. Collection of the artist; courtesy Tanya Leighton Gallery, Berlin.
GCM: Sharon Hayes is a video and performance artist based in New York. Her work for the Biennial is a four-channel video installation titled, Parole, focuses on constructions of gender, sexuality, and protest through public speech.
MS: Sharon Hayes has an impressive, somewhat dizzying, installation: 4 walls, each with a video screen, within the 4 walls of a Whitney white box. This is a global house, with windows facing Istanbul, Trafalgar Square, and an American professor's office, but the subject is just that, the subject. An effective meditation on love lost, performativity and gender identity, Hayes' work is a bit difficult to sit through at 36 minutes, but nevertheless worth more than a casual encounter.
Charles Ray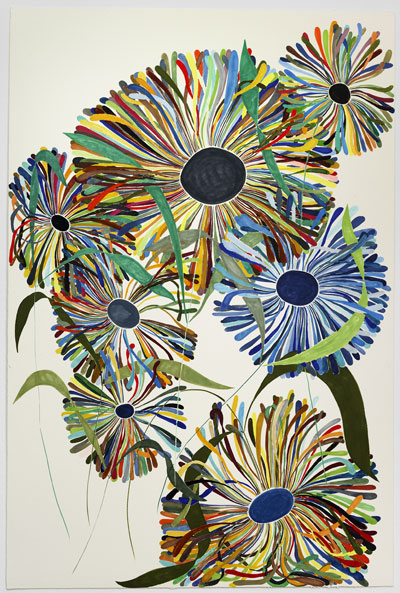 Charles Ray, "Untitled," 2009. Ink on paper, 47 x 31 1/2 in. (119.4 x 80 cm). Collection of the artist; courtesy Matthew Marks Gallery, New York.
GCM: Charles Ray is an artist best known for the large body of sculpture he has produced over the past 30 years. For the Biennial, he is presenting a surprising body of work - a large group of flower drawings which has been making for the past five years. MS: In a marked departure from his earlier sculptural work, Charles Ray--a Biennial veteran--has submitted these intricate ink drawings of flowers, which look to all appearances to be made with Magic Markers. Intricately executed, bright (but not Toucan Sam bright), these renderings look like tropical dandelions. Ray has said there was no particular calculation in his decision to submit these flower drawings in the stead of sculptures, but I'm still scratching my head.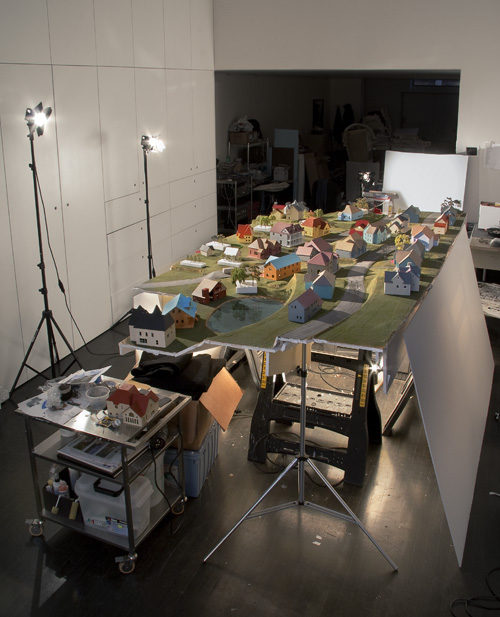 James Casebere. Studio View, New York, 2009. Courtesy the artist and Sean Kelly Gallery, New York. Photo Credit: Chris Rodriguez.
GCM: James Casebere is a photographer best know for capturing evocative architectural environments which he has constructed out of cardboard, Styrofoam, and plaster. His new series of works capture a suburban landscape in Dutchess County, NY.
MS: James Casebere in his second appearance at a Biennial gives us two photographs of an imagined suburban community that he has created wholesale out of models. The first, a bright, sunny day with sun glistening off the retention pond, and the second, a gloomy aerial shot with nary a light on and what appear to be broken down "For Sale" signs. The second, aerial shot is reminiscent of nothing so much as post-disaster photography, which indeed it is, a brilliant, evocative rumination on how far we've fallen in just a few years.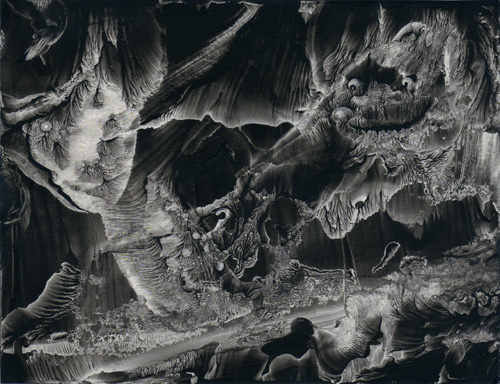 Roland Flexner. Untitled, 2008-09. Sumi ink on paper, 5 ½ x 7 in. (14 x 17.8 cm). Collection of the artist; courtesy D'Amelio Terras Gallery, New York.
GCM: Roland Flexner creates delicate drawings with a distinctly photographic quality. For the Biennial, he is presenting a group of thirty small drawings created by skillfully spreading black Sumi ink on a surface of water and then applying paper to capture the abstract image.
MS: Ronald Flexner's moody, phantasmagorical sumi-ink and paper surfaces are abstractions that walk the line between natural and artificial and invite the viewer to create dreamlike interpretations. Beautiful and ethereal, they called to mind for me something out of both Jules Verne and Akira Kurosawa -- subterranean tableaux for the mind.
This year's Whitney Biennial, "2010," takes place from February 25 through May 30, 2010.
Calling all HuffPost superfans!
Sign up for membership to become a founding member and help shape HuffPost's next chapter