What is it about women, men and water? This week it seemed as if everyone I saw on stage or screen was jumping or landing in cold water to make a change in their lives. This is a fairly straightforward way of shaking off the blues, or conversely, putting an end to it. Though I have often threatened the various men in my life to throw myself in the Pacific, it's too cold!
If one thing can be said about the crop of films I took in at this year's New Directors/New Films Festival, jointly programmed by The Film Society of Lincoln Center and the MoMA film department, which I pre-selected for their "female-driven" scenarios (I had to make some kind of choice!), it's that they aim to disturb us just as their big sisters this fall at the New York Film Festival set out to do. The festival is dedicated to first features: the directors are most often the writers, digging deep within their own frames of reference to uncover adolescent and adult angst.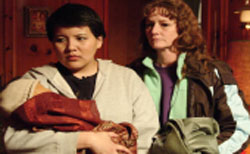 Frozen River Director: Courtney Hunt USA
Frozen River by Courtney Hunt which opened the Festival last week is a dark little thing filled with good performances that almost, but not quite, takes the sting out of the frigid tundra on the northern border of NY as it melds invisibly into Canada. No glorious Niagara Falls here but rather a Shackelton-like field of ice floes ready to attack whatever man, beast or in the case of this film, cars and babies stuffed in back packs venture over its brittle surface.
The plot of a woman down on her luck: husband gone, job as a checkout girl, two kids to support, a double wide trailer she's had her eye on and can't pay for and a tv about to be re-possessed, who lands up in a misbegot partnership with a young Mohawk tribe woman smuggling illegals over the border hits just about every cliché in the book (how about driving across thin ice!), but the feral intensity of the women and their hopes for their children make this worth watching.
The downmarket duo are almost as desperate and needy as the Chinese and Indian workers that they stuff in the trunk. Many of us have no frame of reference for the no- woman's-land that is the northern and southern borders of our country and would do well to read Marisa Silver's novel No Direction Home get a real sense of this particular twist on maternal desolation. Brilliante Mendoza shows in Foster Child from the Philippines how in such a world, a child can end up as a commodity in another one of the hardscrabble stories that tug at our hearts.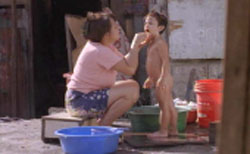 Foster Child Director: Brillante Mendoza Philippines
But we understand this: women will do almost anything for their kids--though in some cases that may mean trying to get them into college. Kids and mothers alike should see these films: it will make the complaints about food, clothes. and spending money seem rather pointless--and it could help with that pair of Jimmy Choo's that the teenager wants.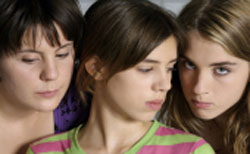 Water Lilies Director: Celine Sciamma France
In Water Lilies, teenage Marie is sure what she wants (and it has nothing to do with footwear): the sexy Floriane, a Lolita like synchronized swimming captain in the French first feature by Celine Sciamma. Set against this literally steamy background of girls taming their bodies and swimming in lockstep is the painful careening of Marie who only watches from the fringes, first gradually withdrawing as her best friend chubby Anne tries to find her place in the world where boys are becoming everything and then as Floriane deigns to spend time with her, as a beard for her evening trysting and subsequently as an acolyte.
Though the story of the alternate mean girl/good girl of adolescence is not new (especially in France where the coming of age film, for both sexes, is a national treasure), once again the fine, natural acting of these three girls is truly a thing to behold, and, to feel.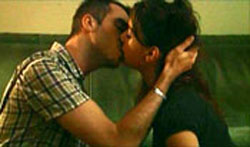 Valse Sentimentale Director: Constantina Voulgaris Greece
Jumping into cold water is also a solution of sorts for the hero (well if a self-cutting, nihilist guy who's mean to his girlfriend on her birthday can be called one) of Valse Sentimentale from Greece. Maybe he can shiver his way to feeling again or as in the opening scene, by cutting himself in the stomach. If you are cutting and freezing your way to sensation, it's not a long way to believing meeting cute could be an encounter at a video store where you and the girl both want the only remaining copy of Carrie and she follows you home since you get to it first. This unremittingly dark film, a first feature by Constantina Voulgaris (from a famous Greek family of filmmakers and writers) took real staying power and I confess I did not (stay, that is). She was not at the screening to defend her choices but the number of walk outs in the oral sex scene (you couldn't actually see anything but a head bobbing up and down) after the guy has been so nasty to his girlfriend made you just want to get up and take a cold shower.
At lunch this week, a powerful female executive reminded me that you always have to remember to play hard to get, even when you are a grownup. She said no matter how many times she had been through it, her "inner 18 year old" always came out to play when a man didn't answer her carefully composed witty emails right away.
That's why to see Zefferelli's La Boheme this week at the Metropolitan Opera was all of a crazy piece: a girl swooning in a garret after being caught outside in a frigid snowstorm (frozen water, after all), dying of love for a man who'd rather hang out with his homeys and thus doesn't pay enough attention to her until it's too late. (You can catch this amazing production in theaters this weekend; check www.met.org for details.)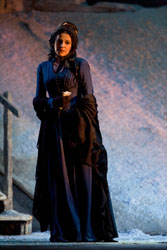 La Boheme Photo: Marty Sohl Metropolitan Opera
New Directors/New Films makes you realize people the world over have trouble making connections with each other, not just us though we are in a particularly ugly American moment. Women and men everywhere are on the dreaded wheel of Buddhist Samsara (which I have always imagined as being somewhat like the spinning device you had in the cage with your gerbil), where once you are on you can't get off until you are reborn as a or make some kind of act of contrition I guess (I know I'm mixing my religious metaphors) in order to reach nirvana.
It was therefore an absolute tonic to visit at the end of the week with Nellie Forbush at Lincoln Center Theater next door, the up up up cockeyed optimist of South Pacific who, when the sky is a bright canary yellow, forgets every cloud she's ever seen. Kelli O'Hara channels Mary Martin uncannily well with a buff body but a voice that makes power look easy. I once played Nellie in a camp production so I know how hard it is to be upbeat for two straight hours. Nellie's solution to getting over her obsession with her man, unlike the troubled girls and women who populate the New Directors films or the bohemian Mimi, is simply to wash that man right out of her hair. The way we now look at character as unique and the resistance to stereotyping did not exist just after WWII when James Michener first wrote his tales from the South Pacific where he had been stationed, and one startles not only at the characterizations of the native women--but also at those of the soldiers and the nurses. Nellie is a racist but has her journey to enlightenment which is herky jerky at times. Still, how great to have this Rogers and Hammerstein musical back with us, the old fashioned, pre-Rent kind (inspired by Boheme) where boy and girl meet cute and they actually end up together without benefit of any frozen surfaces. Isn't it lucky that Spring has arrived?!!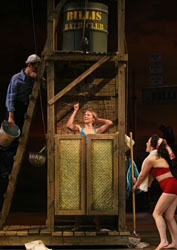 South Pacific Photo: Joan Marcus Lincoln Center Theaer
REAL LIFE. REAL NEWS. REAL VOICES.
Help us tell more of the stories that matter from voices that too often remain unheard.