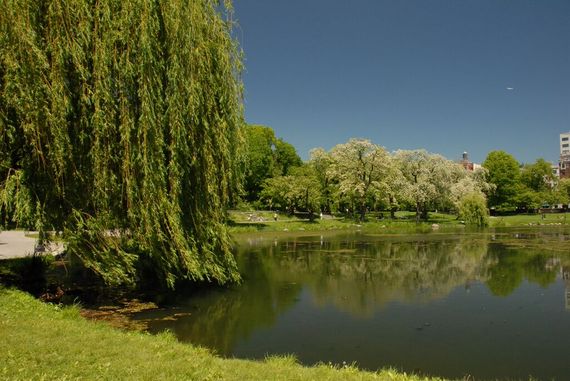 Central Park 2015 Courtesy of Sara Cedar Miller-Central Park Conservancy
People! There is something going on in the north end of Central Park that is every bit as amazing as the Museum Mile that was held this week which drew thousands of people to the same neighborhood.
But you only have two more weekends to see(do) it.
Drifting in Daylight, the eight part site specific art installation curated by Creative Time, takes the North Meadow, the Haarlem Meer, the Ravine, the North Woods, the Pool, the Loch, the Ravine and the Conservatory Garden, largely untrammeled sections of Central Park recently refurbished (which you can access most easily from 110th and Fifth), and creates a wonderland of graceful, low environmental impact but high cultural impact moments to interact with the park in all it's lush spring gloriousness.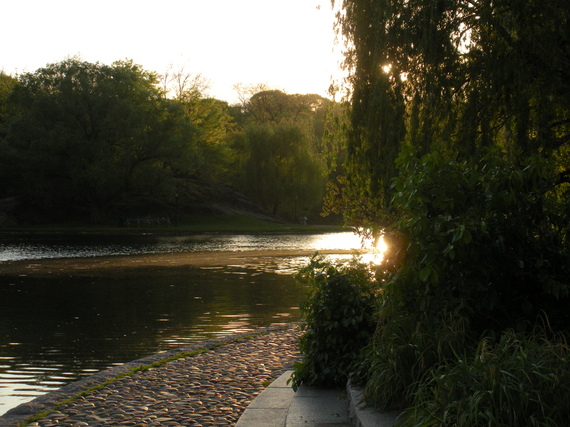 Central Park 2015 Courtesy of Sara Cedar Miller-Central Park Conservancy
First of all let's talk about the Park. What a gift Olmsted and Vaux have given us. Yes, I use the park almost daily to jog or walk, and yes my crosstown bus to dance class gives me a little bit of a bird's eye view, but this north section of the Park is truly the most beautiful and I bet most of you have not been there. Over hill and dale, through craggy rock, still waters and grass covered trails, you can ramble and come upon these installations, all of which have an interactive component (more on these in a minute). How lucky we all are. I felt like I was in the deepest countryside or Giverny or New Hampshire, even. There is a Dana Discovery Center where you can get fishing poles and actually fish! Who knew?! (sorry for all these exclamation points but it's truly wondrous)
Then there's the surprising, engaging "art". Well, it's hard to call it art, it's really imaginative ways to engage with life more than anything else, and performance art or visual art or multi-media really doesn't do it justice. Most of the time when I see site-specific work, I find it self-conscious even if it's meant to be integral to the surroundings.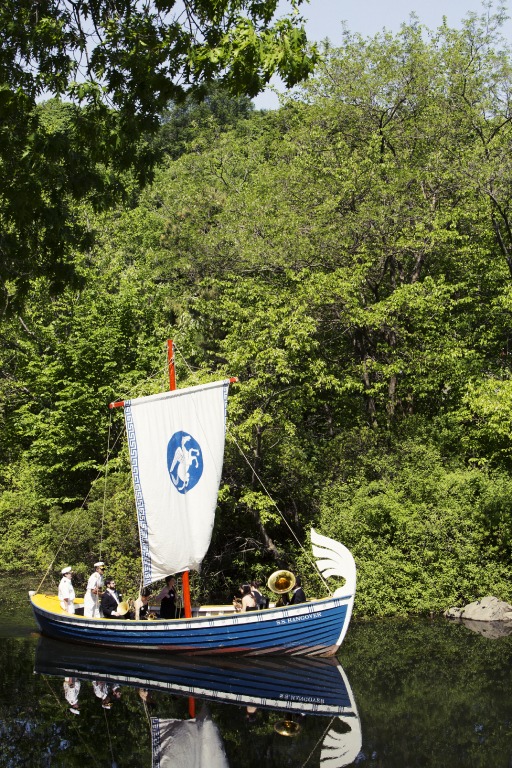 S.SHangover Image by Tara Rice
The S. S. Hangover which was created for the Venice Biennale and was shipped over at great peril glides around the Meer carrying a brass sextet from the Metropolis Ensemble looking like they stepped out of Downton (they were heading to a break so I missed the music, alas).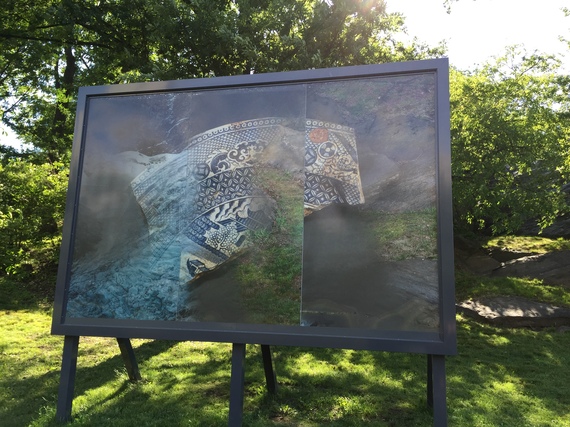 Karyn Olivier's sculptural billboard moves with you in images that shift from rocks to pottery. Did you know that NY was once part of the Wisconsin Glacier?!!
I wanted to stop at Spencer Finch's softly psychedelic solar powered ice cream truck, Sunset.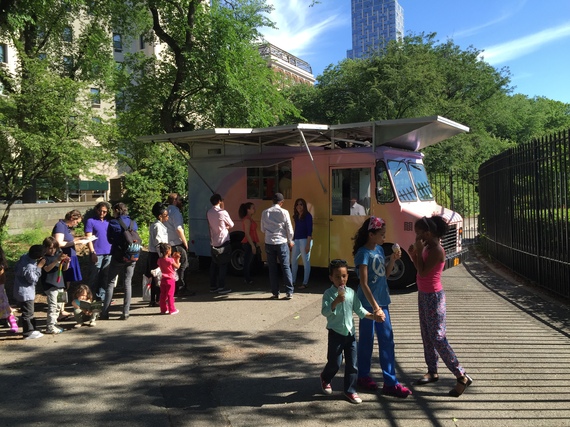 They're making luscious looking sunny-hued soft-serve but the line was too long.
Alicia Framis's Cartas al Cielo is actually a post office box to heaven and I was able to write and post a note to my friend Jane who died almost a year ago (courtesy of Alicia's staff who have supplies on hand) and who I know would have loved this idea of marking a sad anniversary with something delightful.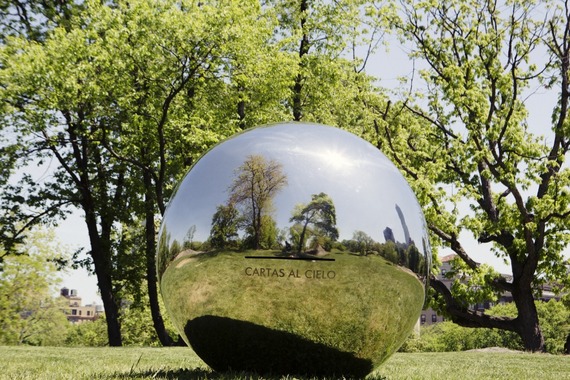 Cartas al Cielo Image by Tara Rice
We caught Lauri Stallings, mystical choreographer from Atlanta and her Glo troupe of Isadora Duncan-like sprites dancing and posing in the woods, a midsummer's day dream if there ever was one.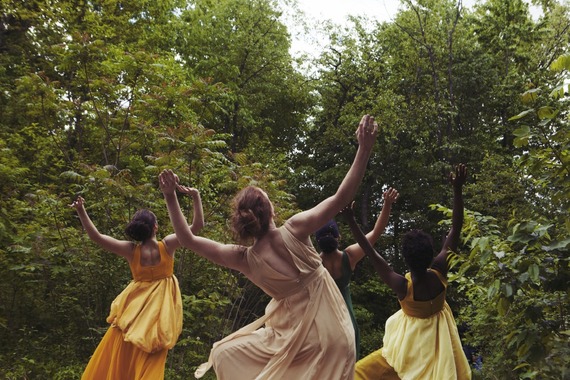 The Glo Girls in And directions, I come to you Image by Tara Rice
My absolute favorite was seeing two of David Levine's Private Moment iconic movie scenes being re-enacted by actors in period costume in their original locations and feeling like I was an extra in Woody Allen's Bullets over Broadway and The Royal Tenenbaums.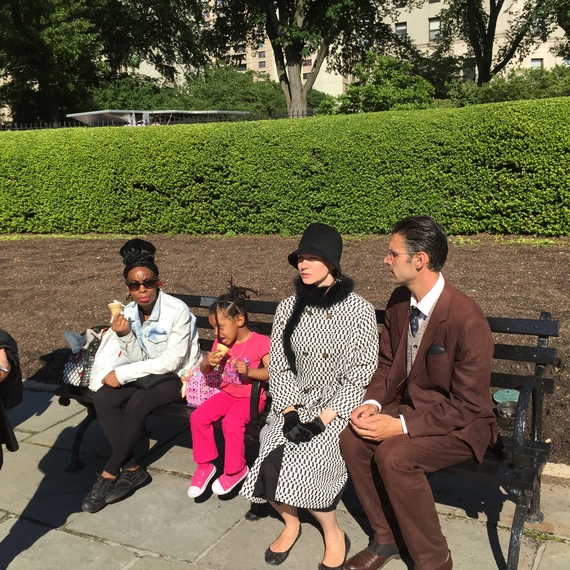 Private Moment Bullets Over Broadway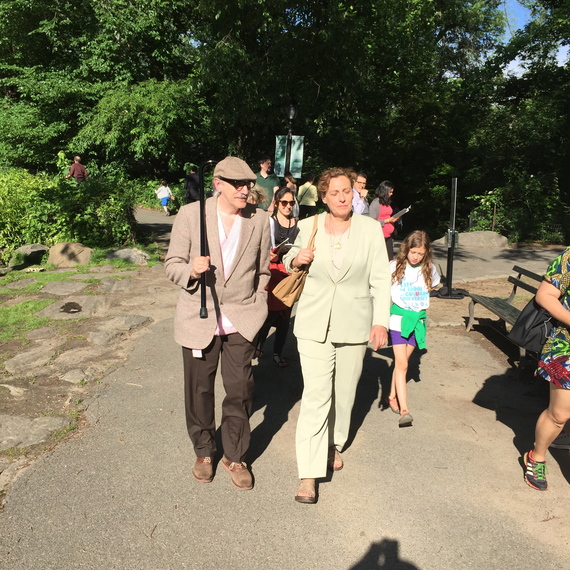 Private Moment The Royal Tenenbaums
Everything feels completely organic, and like it should stay there forever.
Creative Time worked closely with the Central Park Conservancy whose rules for park use are stringent. I think it's been a brilliant collaboration and I encourage them to do more of this, and quite honestly, to advertise it as well as the Museum Mile open house so that more people can take advantage of our beautiful park. Yes, I know that the CPC is being castigated for being the richest of the private park foundations and that more remote ball fields and playgrounds are going begging, but it would equally disserve the population of our entire city to miss special projects like this one which are entirely free and open to all comers. We need both.
After you leave the north end of the park the world comes quickly back into focus. But for an hour or two, you will have had an experience surely surpassing any beach day in the Hamptons.
www.creativetime.orgwww.centralparknyc.org
Support HuffPost
The Stakes Have Never Been Higher
Related
Popular in the Community