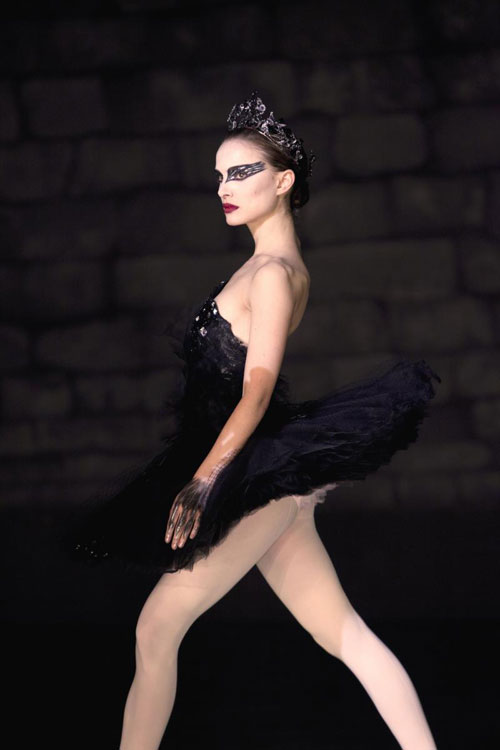 Natalie Portman as Nina in Black Swan by Niko Tavernise.
At the heart of Darren Aronofsky's melodrama Black Swan about a desperate ballerina is not so much a movie about winning and competition, though it is partially that, but more to the (not only toe-shoe) point, depicting the torture good girls put themselves through. In this film, the message is that longing and desire (be it for sex or a special role) are the very things that can take us over the top--both orgasmically and professionally--to making us stand out in a crowd and then, alas, are the very things that inevitably take us down.
Natalie Portman, a Harvard-educated actress, is ideal casting then: the perfectionist who got away.
Inside every good girl Aronofsky postulates, every White Swan--or Odette, as she is called in the original Swan Lake ballet--is a Black Swan (Odile) just waiting to burst out. In Black Swan, she is called Nina and the exorcism is via her own hand and a shard of glass, but it is just a way of punishing her for finally heeding her director's advice to free her repressed sexuality, on the dance floor and with him in bed, so she can become the great dancer she is meant to be.
I recently wrote more about Love and Ballet and Swan Lake. Odette has the bigger role and the most famous, lush Tchaikovsky music to accompany her, but everyone really wants to play Odile, as it is much more fun to be powerful and disruptive and fouette yourself into oblivion.
But you don't necessarily have to have this in mind when you see Black Swan. We all know about Good Girls in every walk of life. Good girls study hard, raise their hand (or their long legs) in class, arrive early and stay late, listen to their mothers (even if they are Barbara Hershey in the Mama Rose role she was always meant to play), and keep quiet even if threatened by a predatory colleague who is out to steal their straight-A status--all the while studying or dancing even harder to prove their mettle. Anyone who has ever been a good girl wanting to be a bad girl--and that means most of us--will recognize the complete mess that is Nina Sayers (Portman).
The real antecedent of Black Swan is not The Turning Point, a 1977 film with a similarly controlling mother, or even Michael Powell and Emeric Pressburger's Red Shoes (more on this in a minute), it is Gelsey Kirkland's I-was-a-good-girl-who-went -bad memoir, Dancing on My Grave. If anyone at the top of the dance world has been felled by ambition, drugs, venal colleagues and sex it was Kirkland, now resurrected as a downtown ballet mistress, but once upon a time just plain self-reported mistress to her fave drugs and men.
A confession: I was a child dancer. Anointed by Balanchine to be an SAB student because of my long legs and shorter torso, I went into meltdown when I imagined that my mother had abandoned me after dance class one evening on Broadway. As it turned out, she was just trying to find a parking spot. I know what it's like to think that dancing can make you your own, evil vampire twin. Resentful of the time it took to get me to Manhattan and wary of the life of a dancer (who would marry me?) my mother was not like Nina's. Before the advent of helicoptering, aspiring for one's children was not always considered a primary good.
But I digress. Because ballet dancing, in all its perfectionist glory, or gory as Aronofsky would have it, is about repressing your natural self--shoving your toes in a satin box for hours on end, starving yourself to achieve the perfect line, taking classes every day to improve technique, sucking up to your ballet masters and mistresses, hoping a choreographer will want you for his/her next big ballet--it is the perfect vehicle for a contemporary, masochistic coming-of-age.
Nina--she of the pretty-in-pink girlish bedroom replete with stuffed animals who sits in corridors anxiously awaiting the posting of the parts--is an ardent hopeful. When Thomas (Vincent Cassel), the movie's version of Balanchine who beds his leading ladies while making them do 32 fouettes, says, "Go home and touch yourself," of course she immediately does. Anything, especially sex, for art. "Would you fuck that girl," Thomas asks his leading male dancer, invoking the apparent barometer for good work and achievement, and thus ridding the movie of any subtlety at all. The previous Chosen One, played in seriously Joan Crawford style by Winona Ryder--at last given a chance to have the temper tantrums to show just how nasty the last years have been for her personally--is evidence of what can happen when you do "touch" yourself.
Movie lovers have apparently come out versus balletomanes on this one--the former defending Aronofsky's literal, anti-feminist take (hey, when in doubt have the leading ladies get it on), the latter decrying the very same. Portman has been everywhere discussing how little they ate at Aronofsky's behest, how many hours they practiced every day (only her upper body and furrowed brow are really visible when she is dancing) and how she and Mila Kunis really, really like each other. Kunis has the unenviable task of playing Lily, the shadowy competitor who lures Nina with lesbian sex, drugs, and wild nights out.
All four of these actresses are smart and nuanced in a film that is less so. Black Swan is a vampire movie in feathered disguise--and at one point the fangs literally come out. It looks great, but subtle it is not. Eventually, at the end, the film sheds all pretense of being a serious look at women, ballet and what-makes-Nina-run, and devolves into an Exorcist-style blood and vampire flick that actually is more fun.
Other contemporary ballet films serve up similar tales of ambition versus personal life, but you would do better to see The Red Shoes, recently re-released by the marvelous Criterion Collection, which gets the ballet, the girl, and her dilemma much righter and is in the most gorgeous Technicolor, or the Kneehigh/Emma Rice original production at St. Ann's Warehouse in New York.
I'm hoping this Dancing-with-the-Scars dark fairy tale--for it feels like Aronofsky has gone back to the fabulistic Germanic roots of the original Swan Lake narrative--does not really mean the only fix for good girls is just a dose of self-stimulation with a bit of Sappho and the boss on the side which rebounds on us anyway, in the end.
REAL LIFE. REAL NEWS. REAL VOICES.
Help us tell more of the stories that matter from voices that too often remain unheard.