It has been a short but well-travelled road for LA Dance Project, Benjamin Milliepied's artistic dance collective. From the first steps on the white-carpeted galleries of LA MoCA in 2012 to last night's performance at the chic enclave of the Wallis Theater in the old Beverly Hills post office, LADP has toured in 50 cities around the world including China and Japan.
I remember seeing Millepied dancing in the New York City Ballet Goldberg Variations with Wendy Whelan and in many other Balanchine and Robbins ballets: the perfect classical dancer. Then there was the Black Swan l experience which changed his life.
Then suddenly there was this free spirit leaping around the MocA galleries. Surely this free spirit was in Millepied all along, but the wider world had no way of knowing. "Long before I started my formal ballet training, I danced as a kid to the rhythm of the drums in Africa, where I grew up" Millepied reminds.
Into his own personal company--now separated from him by 6000 miles as he has taken on the huge assignment of running the Paris Opera Ballet--he has imbued this other spirit and I say without reservation that they are among the finest young companies dancing in the world today. Many were skeptical, including myself, that LADP could be a going concern with their fearless leader so far away and with such a huge challenge now confronting him in Paris. It's one thing to telecommute, quite another to deal in real time with dancers.
Instead some kind of long distance Captain Kirk teleportation seems to have transpired. The dancers technical skill, their lithe and beautiful bodies, their evident collegiality and bonhomie, this is what makes great dancing. I had seen LADP at BAM a few years ago and again recently at the Schindler House. But as of this stand, my respect for them has grown a hundredfold.
Millepied has taken primarily Juilliard dancers for the company. He says, "Juilliard provides a great environment with classical training as well as modern dance and improv classes. Also, students are exposed to working with contemporary choreographers, often in a collaborative manner. As a result some of the most talented graduates have this ideal mix of an open mind and strong technique, which I find so appealing. "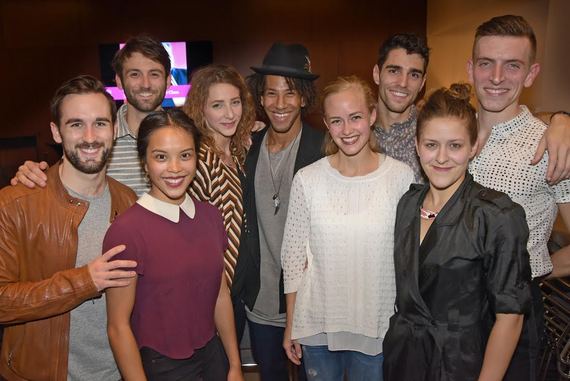 LA Dance Project membersLilja Rúriksdóttir, Julia Eicthen, Stephanie Amuaro, Nathan Makolandra, Morgan Lugo, Robbie Moore, Aaron Carr, Anthony Bryant,-
I have never seen better work by the sought-after young choreographer Justin Peck as in Murder Ballades with stirring music by Bryce Dessner and Eighth Blackbird. The dancers slip sneakers on and off to move swiftly to catch each other and gambol. The turns are lightening fast, the leaps and combinations sophisticated and intricate.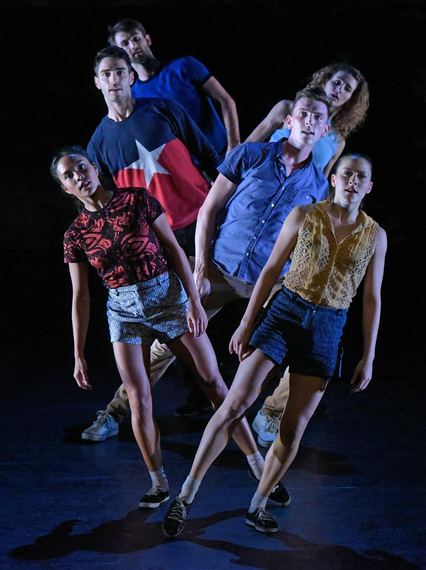 In Harbor Me, a piece by Sidi Larbi Cherkaoui, the all male cast (which alternates with an all female cast--how refreshing!) confounds you with their technical virtuosity. The Eastern musical vibe from Park Woojae Geomungo "Extension" which moves from Morocco to India and back again challenges dance norms in every way possible, yet the sinewy dancers (you will run to Pilates after you see these dancers) take you with them on this souk-like, practically Cirque de Soleil-ish journey.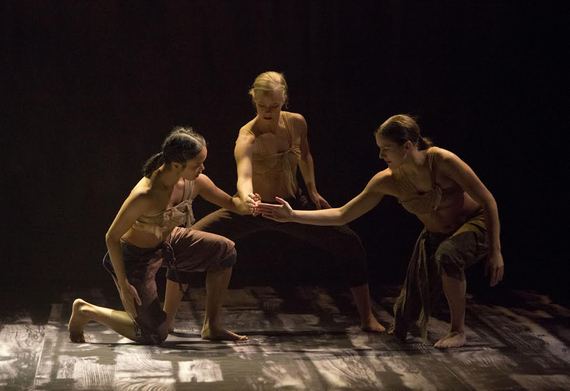 Harbor Me all female cast photo by Rose Eichenbaum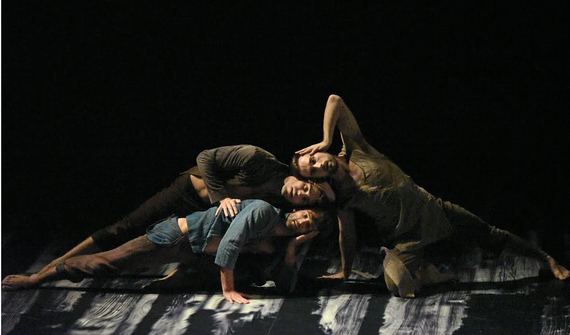 Hearts and Arrows, Millepied's own piece to music by Philip Glass with stellar black and white costumes by ex-NYC Ballet dancer Janie Taylor (who knew?!--as good as Alaia!!) makes excellent use of the full company as only he knows them.
"It is amazing to see how the dancers themselves have become so independent, fearless, and are always ready for the next challenge" adds Millepied. "They are tireless, really. Choreographers often respond to this energy by then making particularly strong work". Trust is essential in this kind of dancing, and it appears to be present in healthy measure.
Ballerina Carla Korbes who was at the performance with her 5 week old baby is a more recent addition to the artistic direction and will surely import some of her own ballet moxie to the troupe, but if Millepied waves his magic wand, hidden reserves will emerge in her as well that have not yet been tapped.
Of course LA is the poorer for not having them here in the city more often though this is their permanent base. Like any small company, they must tour to survive. We can only hope that support from the LA community grows in parallel with the company, the way visual arts support has exploded. Millepied says, "In the near future I hope that the newly established Colburn Dance Academy, which focuses on ballet but also widens the spectrum with other techniques (the students take weekly classes with L.A. Dance Project) will deliver a new generation of ballet dancers, who will eventually be able to integrate L.A. Dance Project as I am planning to grow the company"
In the short term, Millepied wants to work even more with American choreographers and also nurture choreographic talent within the company. He plans to work soon again with Mark Bradford and has just received a new score by Andy Akiho to premiere in June at Sadler's Wells in London. (May I recommend Myles Thatcher?)
LA Dance project is dymanic and fluid. Absent the constraints of a large company and venue to support, it is able to give choreographers, dancers, musicians, costume designers and visual artists new opportunities to display their fullest, creative selves.
All photographs by Kevin Parry, courtesy LADP
Calling all HuffPost superfans!
Sign up for membership to become a founding member and help shape HuffPost's next chapter