Music halls without a resident orchestra have a tougher time branding themselves. Carnegie Hall gets away with it because of its famed warm acoustics and classical beauty. But in an age where the orchestra is now defined as a pillar of community, how does Carnegie Hall compete?
By reaching out to artists and the community and not letting it define them. By sponsoring youth orchestras, new music, alternative programming, competitions and festivals and playing handmaiden to prima donnas from all points. Carnegie Hall refuses to be kept out of the conversation.
The venue plays host to the home grown and imported. They have the grand white main hall and the more intimate Zankel Hall. They have classical (see below) and pop (everyone from James Taylor to Angelique Kidjo to Youssou N'Dour). They have a locavore mentality when it comes to youth (Ensemble ACJW, Weill Music Institiute, Juilliard students, up and coming Met Opera singers) and a send-them-to-me-no-matter-what-the-cost mentality when it comes to stars: orchestras from Vienna, Atlanta, Baltimore, Russia, Norway, Japan -- boasting appearances by Yo-Yo Ma, Lang Lang, Dudamel, Valery Gergiev.
They have ticket discounts (one time when being a B of A customer could actually make you grateful).
This month, programming continues with visitors from Poland, Bulgaria, Netherlands, and the Philippines, new music with Ensemble ACJW, the World Piano Competition Winners and Valery Gergiev and a Mahler cycle.
In November, they have the Ukulele Orchestra of Great Britain, Canadian Brass, music from India and Persia and Norway, Too Hot to Handel--high school students performing with Marin Alsop, conductor of the Baltimore Symphony--and my favorite pianist with a big heart, Yefim Bronfman, with violinist Pinchas Zuckerman.
And in December, besides closing out the bicentennial of Chopin with French pianist Pierre-Laurent Aimard, they launch the music, arts and culture of Japan Festival, the second in a bicoastal partnership with the Philharmonic Society of Orange County at Segerstrom Hall and with the participation of venues all across NY and nationwide.
In other words, just by going to 57th Street, you can go round the world in less than 80 days.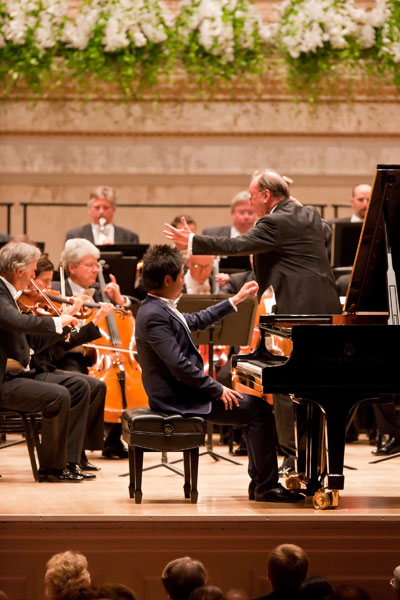 The capstone of last week's opening days with the Vienna Philharmonic -- which included a unusually restrained but lively performance by 28-year-old Lang Lang -- was of course seeing 29-year-old Gustavo Dudamel conduct the almost all white-guy orchestra, a throwback in political correctness but not in sound.
I had seen Dudamel perform in Carnegie Hall last year with the Israel Philharmonic, and I found it less than lively, mainly due to an audience, not musicians, which was rather flat.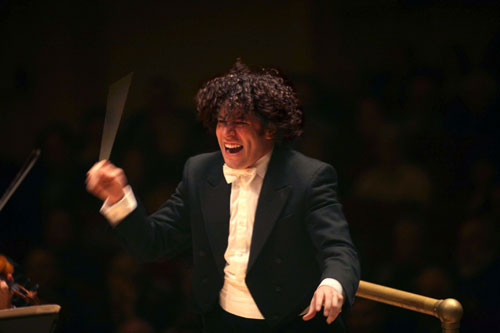 The first night of Dudamel with the Vienna Philharmonic--a program of mostly dance-based music continuing the kind of programming he had done this summer at the Bowl--was too light for my taste. But you can see the same program from the Lucerne Festival for a next few months on Medici TV and let me know if you agree.
His second magisterial appearance on Sunday afternoon conducting the Brahms Tragic Overture and the sumptuous, gospel based Dvorak Symphony from New World (No. 9 in E Minor) was, however, everything one always imagined a conductor and an orchestra pairing could be: sonorous, melodic, moving, precise. And his rapport with Yo-Yo Ma in the Schumann Cello Concerto in A Minor was engaging too, though Dudamel reportedly had some trouble syncing up with the evanescent Ma.
Let's hope the Carnegie Hall audience can grow and change with the new emphasis on youth. Next week a visit to the YouTube orchestra would be a great place to start if you haven't been to CH. That initiative, now in its second year, and of course Lang Lang and Dudamel--makes it feel like this classic hall is throwing off its restraints.
REAL LIFE. REAL NEWS. REAL VOICES.
Help us tell more of the stories that matter from voices that too often remain unheard.