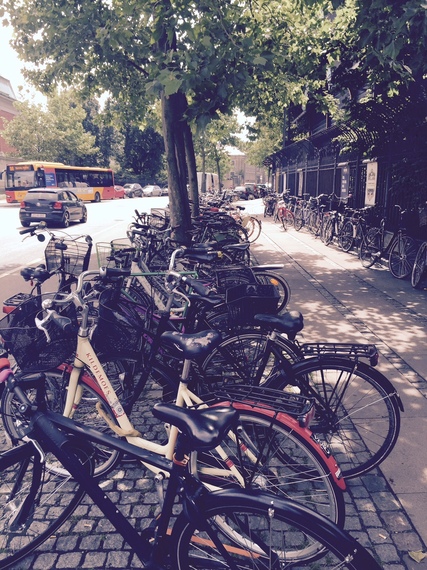 Bikes parked outside Tivoli Gardens in Copenhagen

When Kristoffer Weiss, one half the duo who curated this year's Danish entry to the Venice Architecture Biennale and one half the duo who will oversee the new Copenhagen Arts Center picked me up at the airport in Copenhagen for my first visit to the city, I was fresh off the Christo and the Deste events in southern Europe so the wide open spaces and boulevards, the blonde hair and blue eyes and the number of new constructions was striking.
Weiss, like almost everyone I met in Copenhagen spoke perfect idiomatic American style English. (In the suburbs and with older people it was a slightly different story, but still remarkably fluency). Weiss is a contemporary, ultra hip philosopher, not an architect, so he articulates with great deft and precision and without jargon just what it is about Copenhagen that makes it such a pleasant and dynamic city.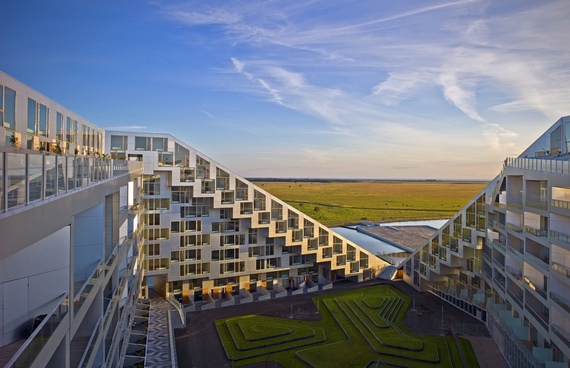 BIG 8 House
Weiss's tour began at the outskirts in Orestad, what he calls the "extra digit" on a five fingered construction theme of the city which radiates out from the center separated by green spaces, at the 8 House, (8Tallet) (a building I had first seen in Louise Lemoine's film) by Bjarke Ingels and his firm BIG which uses as its central core a ramp which goes from water's edge to the top of the multi story housing complex. Weiss proposes Ingels as the leader of the New Wave of Danish architecture, almost single handedly changing the previously laborious governmental culture which he likens to a "game of twister" with so many pushmepullyous from politicians, user groups, the economy, the city fathers. He elaborated on Denmark's effort to bring it into the 21st century,
"[Denmark was once] a North Korea like hyper regulated welfare state as far as building codes were concerned. There's now an extreme level of consensus and compromise. Danish architecture had been frozen over. It was vanilla boxes, no energy or drive. He [Ingels] brought immense energy, playfulness, freshness. He's incredibly good at communication, and seduced the politicians through dioramas and films, presenting arguments in fun and positive way."
This lighthearted approach resonated very well with the booming economy (based largely on big pharma and big government).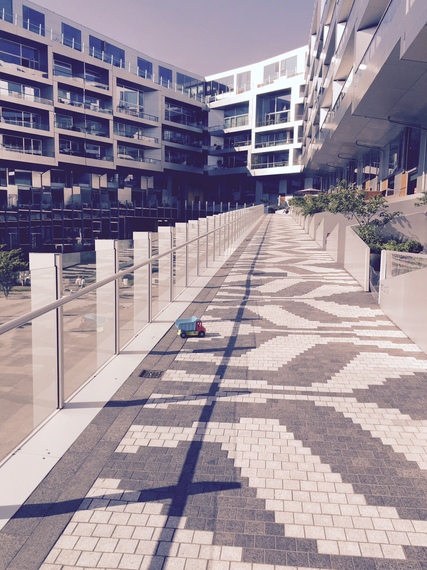 Ramp, BIG 8 House
On the breezy day trooping up the BIG ramp past the fluid mix between private and public spaces, the children running up and down, and only a few for sale signs, it was easy to see why it might be fun to live there. "What would normally be monofunctional becomes this hybrid promenade of community...it's the law of generosity, that architecture should always give something back, " says Weiss with justifiable pride.
Danes are used to this ethic of collectivity, and this new outer "finger" on a direct access to downtown Copenhagen was created to fund the metro line that was constructed to get you there. "If you build it they will come," popped into mind. Though it's a healthy commute, it introduces what is so striking about Copenhagen: the congenial use of shared space, be it waterside downtown, in the street with bikes, cars and pedestrians (granted, not as many as our urban centers as there are only 800 000 inhabitants) or even access to the prized summer sunlight. The Danish government "is always activating spaces," adds Weiss, "to animate the people". It's paternalistic".
We visited another earlier BIG project, "The Mountain", with individual gardens on the roof of a parking lot, a Jean Nouvel concert hall, a Lene Tranberg (first lady of Danish architecture) student housing project at the University built on the typology of Chinese family-centric housing . In each case there is utilitarian function topped with good design, Le Corbusier with bells and whistles.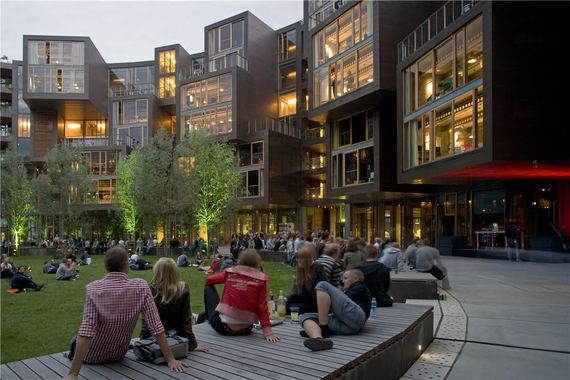 Lene Tranberg's Tietgen Kollegiet, student housing
He took me to the one extant heavenly mid century vintage suite in the SAS building which has Arne Jacobsen's original designs and past the new Rem Koolhaas designed Danish architecture center scheduled to open next year.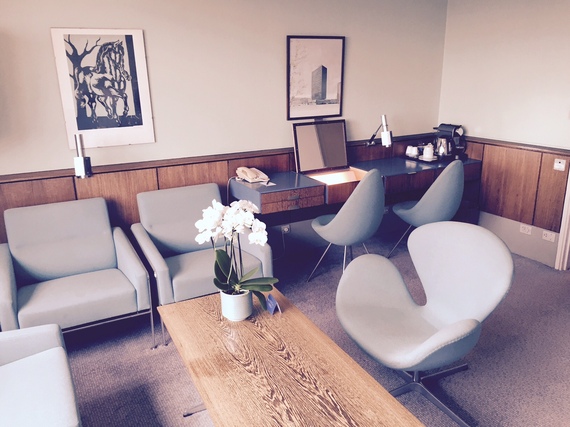 Arne Jacobsen suite at the SAS building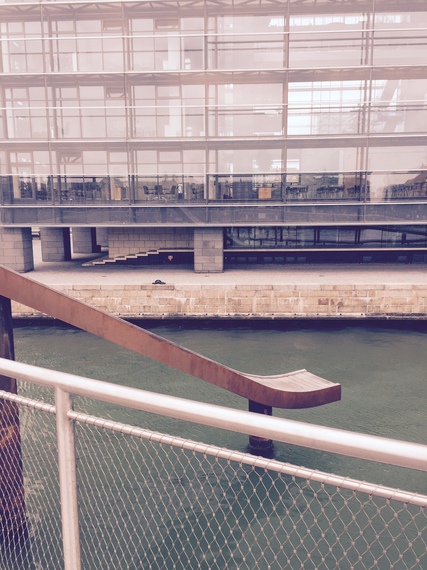 Harbor Bath with Boat Slide
We had dinner on picnic tables with hundreds of others by the Harbor Bath (an inland channel) replete with canoe slides and swimming at Papirøen - Streetfood (Paper Island - named after the newspaper distribution function it had for decades before being opened to the public a few years ago) and which is to be the site of his new Art Center project, a competition he learned he won when we were mid bite into our authentic-with-a-Danish-twist Cuban pork sandwiches. Copenhagen feels like a bigger, less dense version of Amsterdam, with modern, contemporary and historic all a jumble.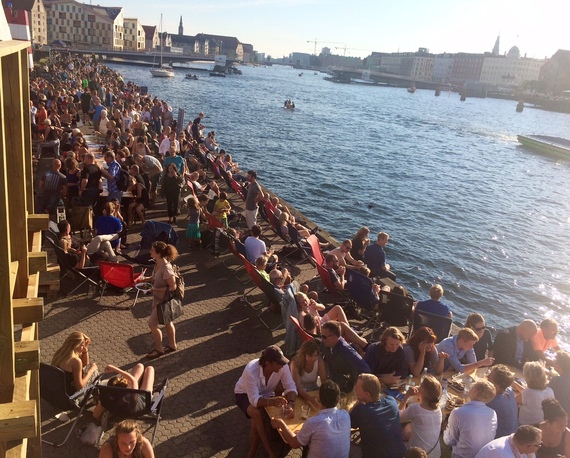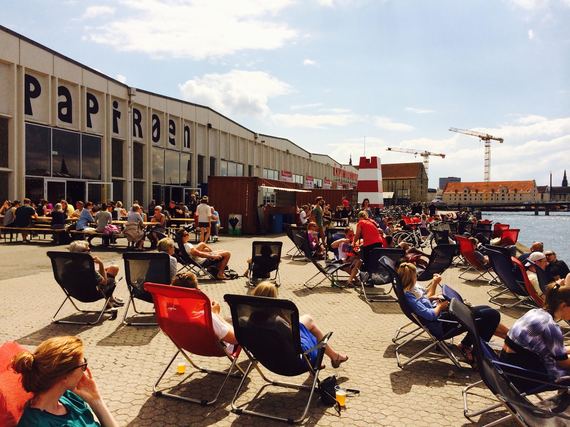 The Paper Island
After Weiss's tour of contemporary Copenhagen I felt bound to catch up with Danish history and made my first stop the next morning at Nationalmuseet which houses a top floor of all of Danish history in vitrines that rival the verisimiltude of the ones Teddy Roosevelt oversaw at the Museum of Natural History. You can't forget that Denmark was occupied by the Nazi regime and was thus spared but Denmark has a history of giving back to the people which is unsurpassed.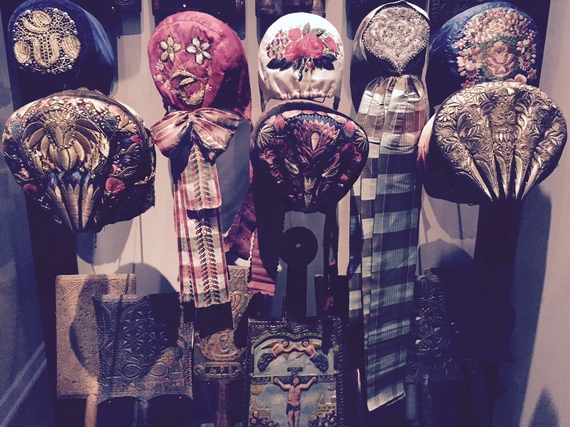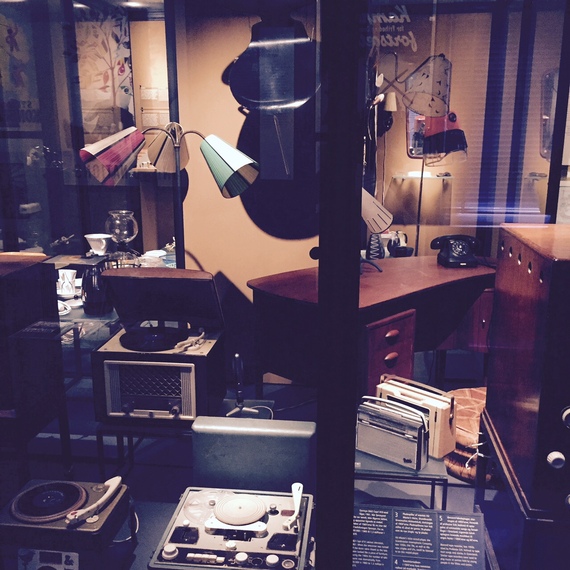 Nationalmuseet
I was staying not far from the central station at the charming Hotel Alexandra which boasts mid century modern furniture and a downstairs Vietnamese adjacent restaurant Le Le which makes early morning and late nights easy if you have for some reason missed one of the legendary Copenhagen restaurants. This is foodie heaven.
Its location made it very easy to take a daily excursion north of town where many of the fine museums are located.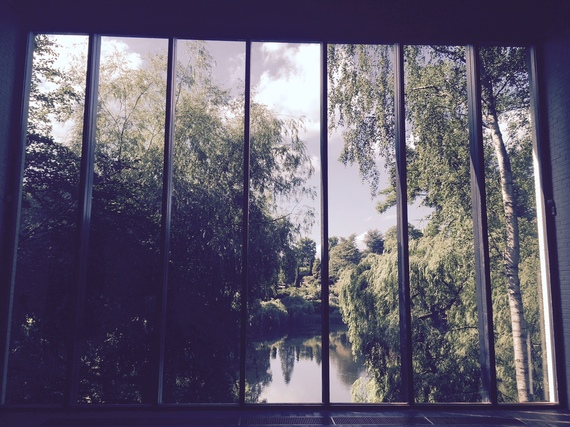 Louisiana Museum Giacometti Gallery
The Louisiana Museum (named after the original villa's owner's three wives all named Louise!) famous for its excellent collection of modern and contemporary art, its waterside location, its mid century architecture was my first stop. Founded by Knud Jensen, it is said "like Arne Jacobsen, he was a master at picking up on what was going on in the world and customizing it to a Danish context." Its director Poul Tojner says what you feel oozing out of its mid century, waterside pores, " For the Louisiana it has always been about maintaining the elite as a benchmark of quality without becoming elitist, just as the museum wishes to be popular without being populist." The permanent collection is excellent, the temporary exhibit on Dane Poul Gernes exhilarating and it was a pleasure to learn about this artist new to me.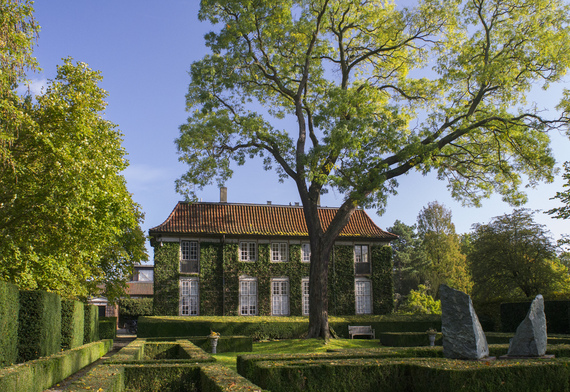 The original Ordrupgaard Villa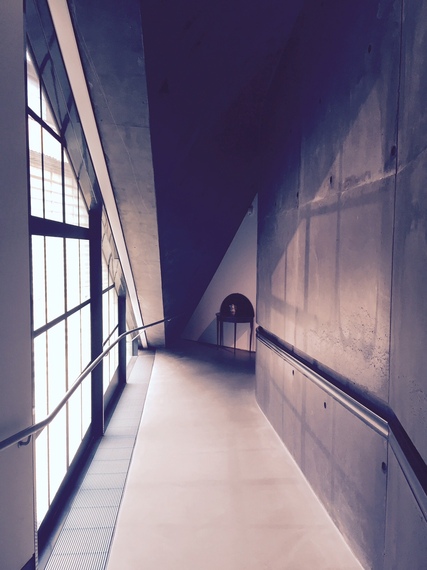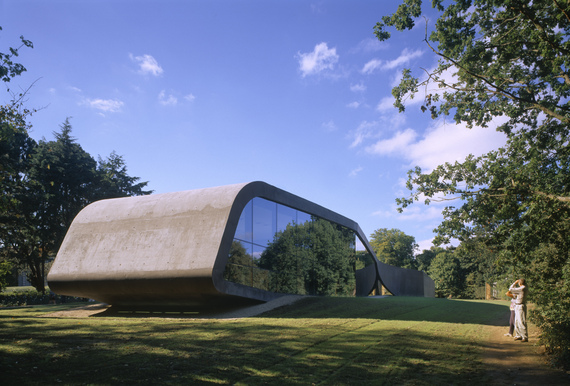 Zaha Hadid's addition to the Ordrupgaard, her only project in Scandinavia by Roland Halbe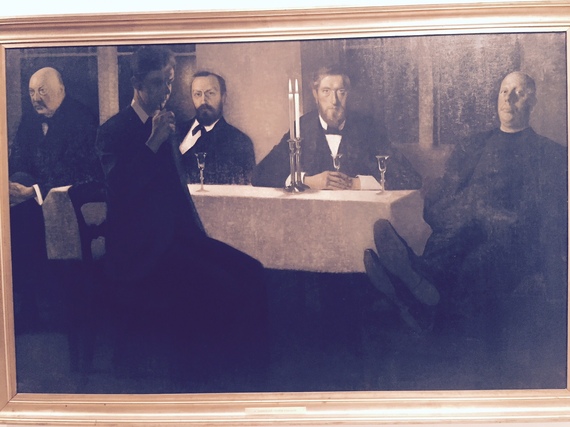 Vilhelm Hammershoi
The Ordrupgaard Museum a charming authentic 18 century Danish house and its futuristic Zaha Hadid addition, though entirely disparate from the original villa, had an exhibition by another early 20th century Danish painter I was not familiar with, Vilhelm Hammershoi, but who had an impact on me like Manet, a quiet black and white studiousness that is immensely appealing. Next door was the vintage home of Finn Juhl, the Danish architect known for his mid century designs including the first UN Trusteeship Council (no longer extant) and many interior pieces. It was just the way I like my artists' homes, as if Juhl himself could walk out any minute and offer you a coffee and pastry.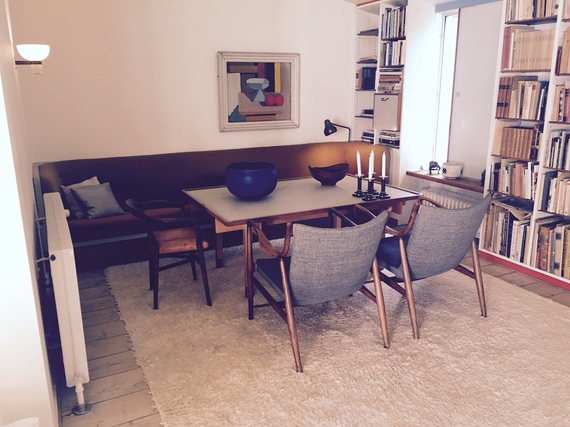 Finn Juhl house
I felt similarly at Karen Blixen's home and museum, as I am a fan of her work (Out of Africa, Babettes Feast) and her life, (She said she made a pact with Lucifer in order to be able to write) and understood how even the pull of Africa could not undermine the pull of Blixen's native land. A victim of her husband Bror's syphilis (like Gauguin, she took arsenic to counter the effects which then bred a lifelong series of aftereffects of their own), Blixen returned to her home in Rungsted Kyst which you can access by foot through a wooded trail past her gravesite and gardens to live and write all of her important works. Here Blixen received the Danish poets and writers and gathered her African memories.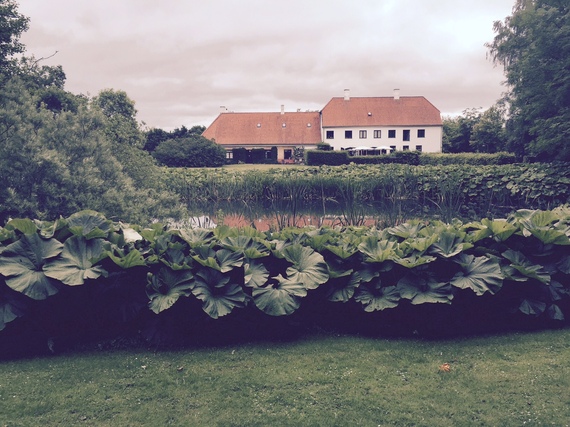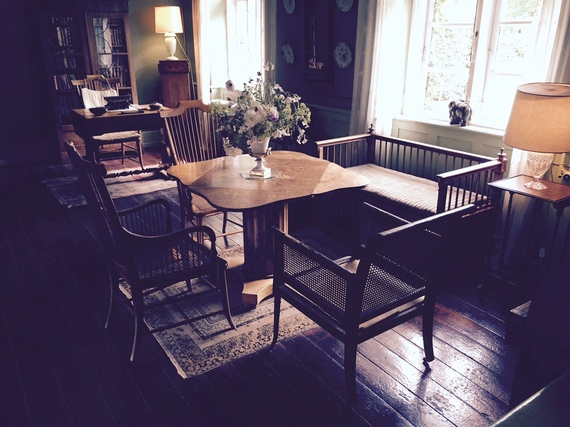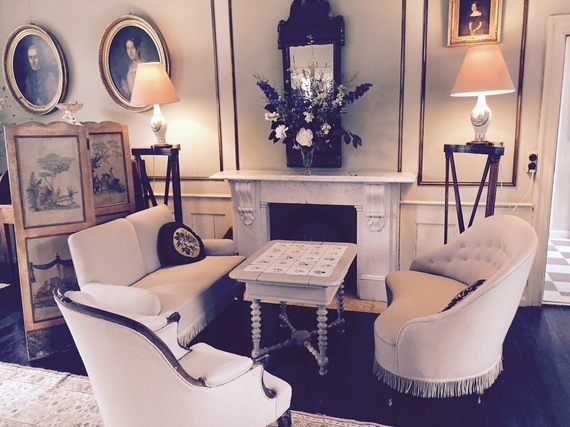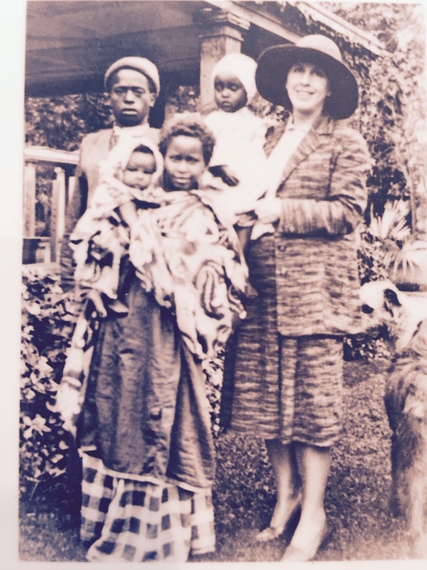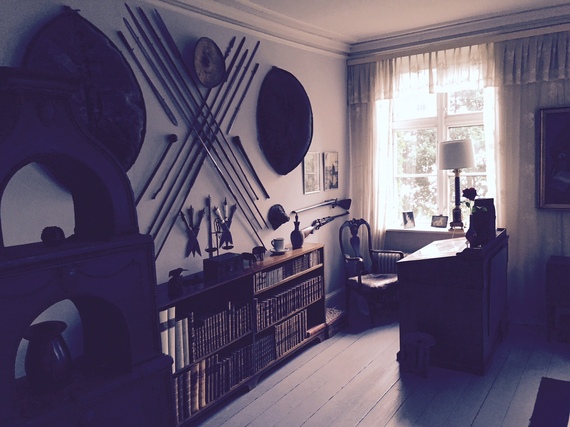 Karen Blixen museum, Blixen's writing room with chair that Dennys Finch Hatton used in Africa, Blixen in Africa on her farm, Blixen room with African artifacts

The Maritime Museum and Culture Shed also designed by Ingels sits mostly below ground so as not to obscure Kronborg castle of Elsinore (aka Hamlet's) just across the waterway. It's well done, financed largely by the shipping companies traditional to the area, with the exhibition design the perfect match to Ingels bold strokes.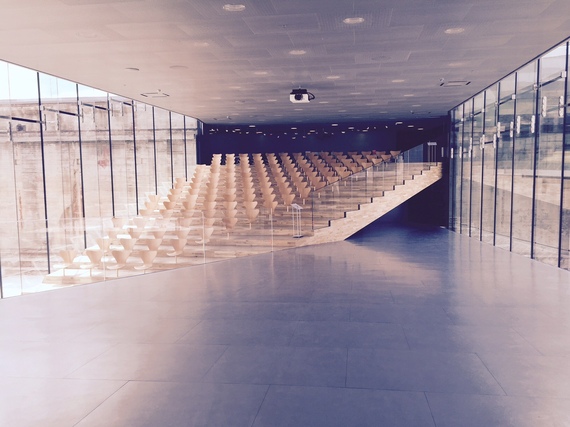 BIG Maritime Museum
I did not miss out on contemporary Danish design back in the city, finding both refreshment and clothing at Salotto, Bakkekilede, and a number of stores in the upscale area not far from the Danish Design Museum which also gives an excellent accounting of this tiny country which has had an oversized impact in the world of design. (Think Georg Jensen!) Alas many of the private galleries were closed when I finally was able to visit but there is a thriving contemporary arts scene and the Kunsthal Charlottenborg is the locus of many of the up and coming young Danish artists. The revitalized meatpacking district is home to many hip restaurants.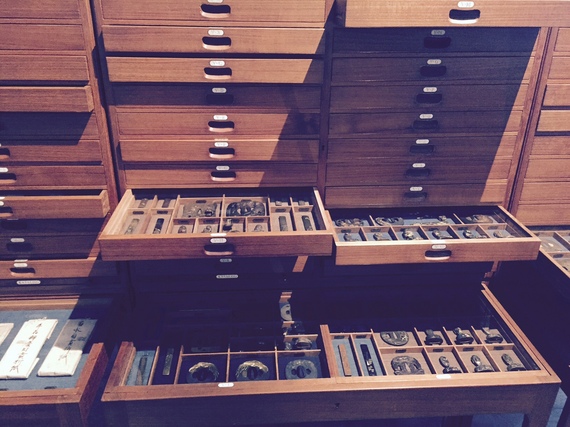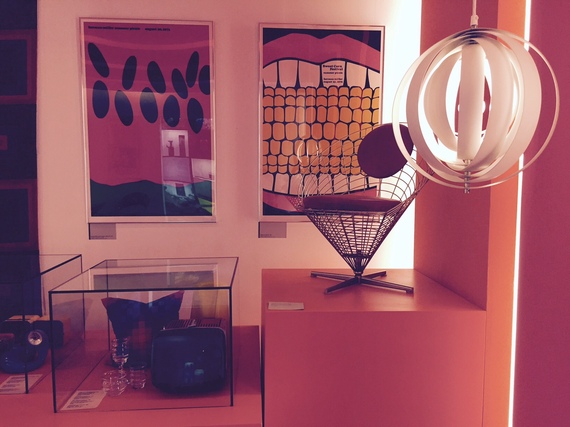 Danish Design Museum
I reluctantly gave up a reservation at Noma, rated number one in the world, for lunch fearing it would eat up too much time but visited the lovely waterside site. Normally I stay as far away from tasting menus as possible but as this is the vogue in Copenhagen's high end restaurants I indulged twice and was very happy I had. Relae, one of Christian Puglisi's four restaurants with its built in wood silverware tray below each diners seat was a thrill not only for its wild and surprising combinations but the truly international kitchen staff that both cooks and serves. The Spaghetteria is a more casual but no less culinary minded spot as course after course arrived with delicious carpaccios of fish and meat and a rabbit ragu topped pasta.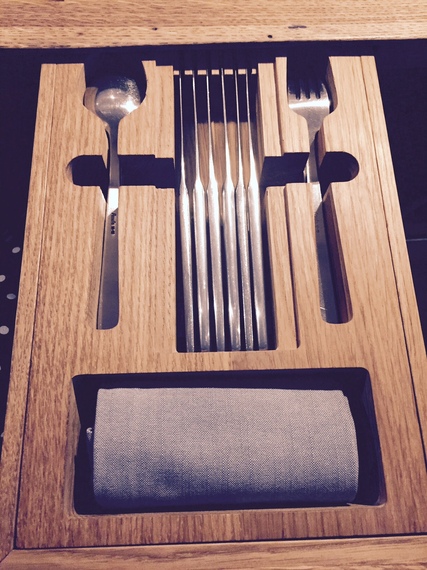 Pull out wooden silverware tray at Relae restaurant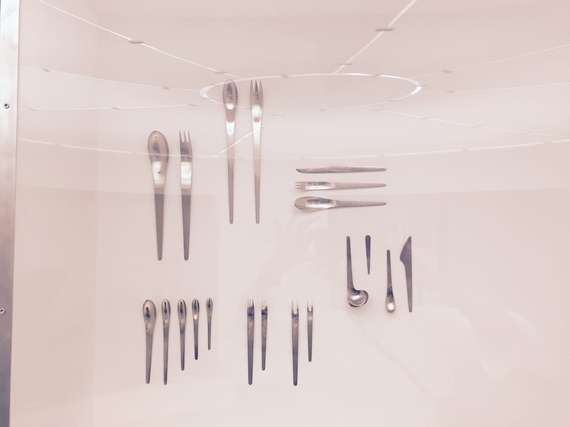 Arne Jacobsen's classic silverware at the Design Museum
Next to me there was a table of young women, all lovely, in their early thirties celebrating a pending baby and a birthday. We ended up toasting each other and I was able to ascertain that each in some way worked for a government-funded agency.
This is what happens when you live and work in a socialist, paternalistic society and I think it's fantastic and I don't know why Hillary would sidestep away from some of the positions she took when going mano a mano with Bernie. Perhaps taking a page from the Copenhagen playbook, we can throw some dollars back to the states to create affordable housing, pleasant open spaces, alluring museums and parks, tasty food--all of which feed and depend on each other.
My stay was bookended by another dynamic Danish cultural figure, Piv Bernth, the head of drama at Danish television and show runner for The Killing (the original Danish version, in my humble opinion far superior) and Borgen (about the consensus in Danish politics) as well as many others. She now heads up all drama production and was eager to weigh in on matters cultural if not political. They do not rely on American coproduction financing but generate most things internally. "We can't be worried about what the Americans will want because we don't know. The more local [we keep things], the more global [they will be]"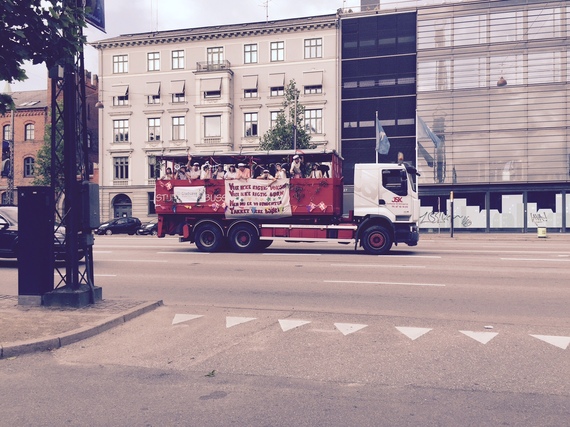 Graduation Vans invade the city
I was in Copenhagen the day of Brexit. It seemed hardly anyone there was paying attention. It was also Graduation Day and just about every Danish high school senior was out on rented wagons, singing and drinking their way to the next stage of wonderful life in Copenhagen. The Danes have their own currency and seem very focused on building up their own culture and taking care of their own citizens. You could call it xenophobic or you could call it wisdom. Or you could say that Bernth's dicta about thinking locally and being therefore more global holds true in the larger sense. It's a reversal of Trumpism, the closing of borders. It's just saying, what we do we believe we do very well and the market will determine whether its exportable or not.
I got lost a lot. There was not one time that a passerby did not stop and take a great deal of time not only pointing me but occasionally accompanying me in the right direction. The population is truly the friendliest I have ever encountered.
But it's not all rosy. Denmark's government, like many others is listing rightward. This year they only admitted 500 Syrians. Next year will be 700. I found the city to be one of the most homogeneous I had ever been in. A Greek immigrant I sat next to on the plane from Athens told me to avoid Malmo as there were too many immigrants. Go figure.
---
For further information:
Louisiana Museum site louisiana.dk
Ordrupgaard Museum and Finn Juhl House ordrupgaard.dk
Design Museum Denmark designmuseum.dk
Karen Blixen Museum blixen.dk
Maritime Museum mfs.dk/en
National Museum of Denmark en.natmus.dk
Kunsthal Charlottenborg kunsthalcharlottenborg.dk
Museums and Attractions Copenhagen general listing cphmuseums.com
Relae Restaurant restaurant-relae.dk/en/manifest
Spaghetteria spaghetteria.dk
Salotto café and boutique thesalotto42.com
Bakkekilde Vintage cph@bakkekilde.dk
Copenhagen Visitor Services visitcopenhagen.com
Wallner Weiss wallnerweiss.com
Danish Pavilion at Venice Biennale dac.dk/en
The New Wave in Danish Architecture by Kristoffer Weiss and Ljeld Vindum amazon.co.uk
The Art of Many by Kristoffer Weiss and Boris Jensen arkfo.dk/en
Ved Stranden 10 Wine Bar vedstranden10.dk
Hotel Alexandra hotelalexandra.dk
See Part 1 of my Copenhagen CultureZohn
Also on HuffPost:
Calling all HuffPost superfans!
Sign up for membership to become a founding member and help shape HuffPost's next chapter