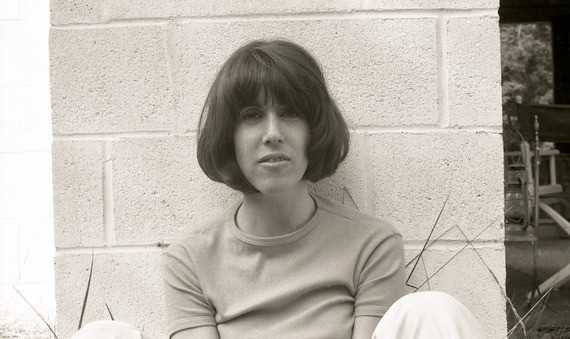 Nora Ephron in 1960s Photo Credit: Dan Greenburg/Courtesy of HBO
Nora Ephron, along with Joan Didion before her and Mary McCarthy before her, were my literary heroines, the Lit Supremes of the 20th century. Forget Emma Bovary and Anna Karenina (both created by men.) The characters of the Lit Supremes were talented women finding themselves in a world that had turned out to be a pretty cold place. In fact it seemed as if the more accomplished you were, the more you were apt to get it wrong.
Nearly every girl I know picked over the work of the Lit Supremes for clues to a way of being in this world we all admired, who remembered her first encounter with these three writers oddly akin to the way she remembered her first sexual experience: with a whiff of post-coital breathlessness. I read slowly and carefully, soaking up the cleverness, the clear-eyed (Mary) or dry (Joan) or self-deprecating (Nora) wit, and then there was this crescendo, I could hardly turn the pages fast enough to discover what startling things they -- or their characters -- did to handle their complicated lives.
Whether it was a fictional character or a piece of journalism, I sensed right away that these very smart women had something rare and precious to offer me that my mother did not: the truth about men and work.
Ephron died in 2012 leaving much sorrow but a great deal of affection and a diverse, ambitious, widely-acclaimed body in her wake. Ephron's son Jacob Bernstein's documentary about his mother, Everything is Copy airing on HBO on the 21st (and which has traveled the festival circuit), is one of many homages to her life and work. But as an investigation, it is moving in subtle, probing ways.
I had read Scribble, Scribble and Crazy Salad Nora's essay collections where I first heard about her mother's admonition to take notes because "everything was copy." Nora had gone to Wellesley, like McCarthy's college Vassar, its rep stood on turning out girls who were going to make a difference in the world. Ephron had been married and divorced to Dan Greenburg and then married and famously divorced to Carl "Watergate" Bernstein a journalist who allegedly betrayed her with the wife of the British Ambassador to Washington, but she made lemonade and wrote Heartburn and got revenge in print and then in a successful movie starring Meryl Streep.
Mary and Joan and Nora took themselves very seriously. They wanted to be writers from an early age, all three the smart girls in the front row. Mary and Nora were extroverts, Joan an introvert, the queen of understatement and witholding; Nora the queen of overstatement and oversharing. Mary got into trouble; Joan didn't. Mary was pretty and liked sex and needed a lot of attention; Joan was willing to be the observer. Nora was scruffier, not afraid to reveal how she felt about her breasts (not enough) and her neck (too much). Mary was Catholic and an accidental Communist; Joan was from a family of hardscrabble California settlers; Nora was Jewish and liberal, yet the three had a similarly bold way of looking at themselves and at life that made me jump.
Any one of them were models not just for their work but also for their messy lives, which proved the inside-the-box life was not worth living as it gave you little material to work with. Everyone always assumed when all three wrote novels they were thinly-veiled romans-a-clefs anyway and they were usually right. Trying to pick apart what was real from what was made up was one of the more inviting things about their work. You didn't have to choose, they suggested, it was all a great big heap of copy to be scooped out in measuring cups according to your own recipe.
All three considered themselves good cooks and liked to entertain. Joan made famous dinners in LA; Mary made famous dinners in Maine (I have a copy of a shopping list she made for stew ingredients alongside notes about Turgenev) and Nora, well Nora couldn't let a day go by without salting it with a tablespoon of something.
Nora shared my fascination with Mary McCarthy (and Lillian Hellman), two talented, ultra-competitive lit dames who hated each other. Nora even wrote a musical about them. A musical! Nothing daunted her. I recently met Cherry Jones who played McCarthy (very well) and we commiserated about these kind of fearless women gone missing: The bench is not as deep as it should be.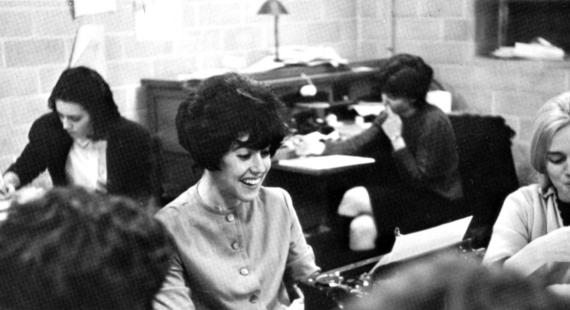 Nora Ephron Photo Credit: Wellesley College/Courtesy of HBO
Nora knew she was special. I met her only a few times, but was thoroughly intimidated by her biting wit and the fact that she knew everything and everybody. I remember feeling sorry for her sisters (no slouches themselves) because you could never be as great as Nora. That you could go from mail girl to journalist (New York Post, "I thought I was Brenda Starr or Lois Lane") to essayist (Esquire) to book-writer (Scribble Scribble, Heartburn, I feel bad about my neck, et al) to screenwriter (Silkwood, Heartburn, When Harry Met Sally) to director (Sleepless in Seattle, You've Got Mail etc) to theater/musical writer (Imaginary Friends, Lucky Guy), and be insightful and witty about almost everything was impressive. Nora had her greatest fame as a writer/director in Hollywood but she had kept at the acerbic essay writing, which morphed eventually into blogging for The Huffington Post.
"When you slip on a banana, people laugh. But when you tell about it, it's your laugh," Nora summed up her attitude about her self-revelatory approach. Mike Nichols -- among many candid interview subjects -- tells Jacob Bernstein who is a style and social columnist for the New York Times, "She knew what she wanted and she did it." (I didn't know she had gone to high school with Barry Diller who remembers her firing him at the newspaper when she was editor-in-chief. I am quite sure nobody else has ever fired Barry Diller.)
Seeing Jacob Bernstein interview his father is particularly poignant, especially his confession that his father's outsize betrayal of Ephron "affected" the way he viewed him for a time. "In writing it funny, she won," [over Bernstein] says Nichols about the painful situation. "Tough is good" insists editor and savior Robert Gottlieb who housed her when she was fleeing Bernstein and the scandal. "She had an overwhelming need to have success," he says -- and ample talent to back it up.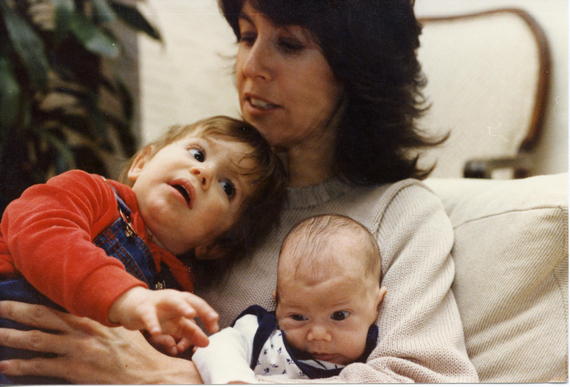 Jacob Bernstein, Nora Ephron and Max Bernstein in 1980 Photo Credit: Courtesy of HBO
Bernstein talks with her good friends, her colleagues, all more or less remembering the same woman who could be judgmental and sharp-elbowed as well as warm and caring. All say she mellowed after her marriage to writer Nick Pileggi who is not part of the documentary, (understandably) but whose absence leaves something of a hole. (The film 45 Years with Charlotte Rampling and Tom Courtenay came to mind, the fact that every marriage has its yin and yang, and the question of the shifting balance who is really supporting whom often something that can never be truly ascertained by an outsider.) Nora had acolytes in the current generation as well and forged a relationship with Lena Dunham whom she clearly felt was carrying on her tradition of love/slash/burn/write/show/tell.
Rob Reiner says she knew more about the women and men and how they relate to each other than anyone he knew. "How we feel about love is shaped by the movies" said Ephron. Ephron who was brainy and brilliant but not beautiful (more so later in life when she did something about her neck and more) was typically wry about her own needs, "In my sex fantasy," she allowed "nobody ever loves me for my mind."
Some of her work had great success, other efforts less so. Still she carried on. "you don't learn anything from failure" she claimed.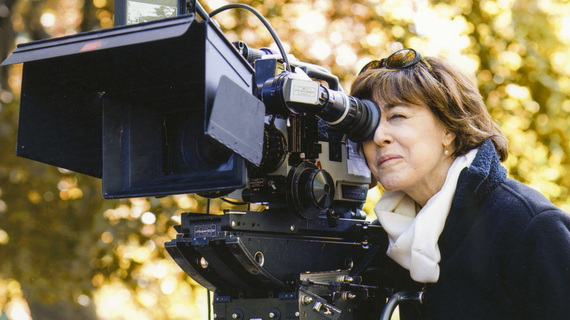 Nora Ephron Photo Credit: Courtesy of HBO
What is the cost of "everything is copy"? Ephron's parents were both alcoholics; their family life was mostly good until their Hollywood screenwriting careers went off track. This was something Nora was determined not to replicate.
In the end, however, she did not allow her death to be copy. She told practically nobody she was sick -- for six years -- except her closest family. Her friends, including Mike Nichols who was himself ill, were kept in the dark. Meryl Streep calls it an "ambush". Many of them resented this, but others just took it to be part of the same impulse to control things that had ruled the rest of Nora's life. "Who's gonna tell us what to do (now)?" they ask.
Since her death, I've reread the collected works and re-seen my favorite films Silkwood and Heartburn, (maybe because they star Meryl Streep who was as bold an actress as Nora was a writer and was maybe the only one Nora could see inhabit her skin.) I catch glimpses of You've Got Mail and Sleepless in Seattle when they are on television with their more saccharine but popular motifs.
Probably the most famous scene in any Nora Ephron book or movie is the one where Meg Ryan and Billy Crystal are sitting at Katz's Deli in When Harry Met Sally (directed by Reiner) discussing women faking orgasms, which Ryan then demonstrates in the crowded deli and which ends on the famous line (which Billy Crystal actually ad libbed) of the neighboring female diner to her waiter,
"I'll have what she's having."
When Harry Met Sally, written by Nora Ephron
That line could also actually sum up how I feel about Nora Ephron: I'll have what she's having: the ambition, the wit, the credits, the ability to cross over into many genres, the confidence, the recipes, the large and talented circle of friends.
Everything except the neck. I'm already beginning to feel really bad(ly) about mine.
Popular in the Community