About seven years ago, I began a crazy relationship with flamenco, a dance I had never had any intention of pursuing. I had been a Balanchine baby and my first love, ballet, though still the thing that made my heart soar, was also the very thing that drove me crazy with fury at my aging body.
But one flamenco class was all it took to make me feel freer, sexier, and more empowered than anything ballet had ever been able to import.
After years of studying in LA, I began studying in New York where many of the world class teachers from Spain have migrated. I began dancing almost every night, addicted to the intense, high energy in each class (small studios overflowing with other addicts in flouncy skirts or workout clothes) and the magnificent and generous teachers who gifted us all with their charisma and their astonishing footwork and bold arms.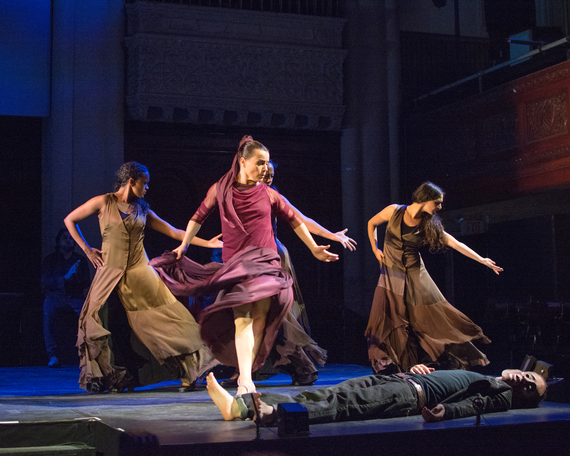 Soledad Barrio and the Noche Flamenca Company in 'Antigona'
Soledad Barrio is one of these masters, and right now, you have a chance to see an unusual example of her work in Noche Flamenca's Antigona at the West Park Church on 86 and Amsterdam in Manhattan. The church backrooms are where our classes are held, but Noche has built out a stage in the grayish luster of the domed, faded elegance of the church itself. It is an ideal setting for this classic work.
To be with Sole in the studio is like being with a poet, a guru, a firebrand, a seeker and a whirlwind. Sometimes she promises to go slow but can't help herself and goes so fast most of us can't keep up. Sole has been studying ballet and tap in her non existent down time and she imports into her interpretation of flamenco some of the different qualities these disciplines bring.
Antigona, directed by her husband and partner Martin Santangelo, shows some of this energy as well as much more. Based on the Sophocles play, it also is a unique hybrid of Living Theater, Mabou Mines, Flexn, and flamenco.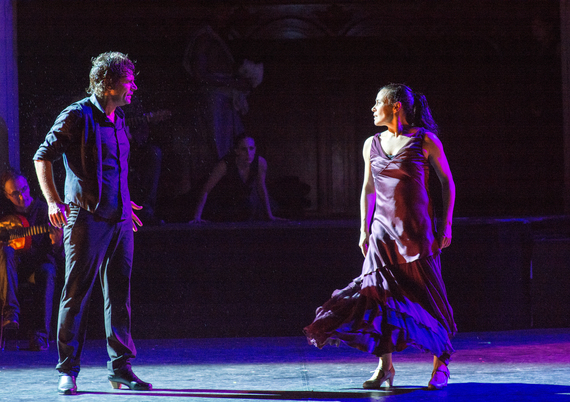 Juan Ogalla and Soledad Barrio
The Noche company has workshopped this all over the country and have brought us an intense drama of family and betrayal. The Greeks may have codified explorations of fratricide, matricide and incest but Santangelo has re-invented it so that it hits you in your gut as well as having moments of macabre levity.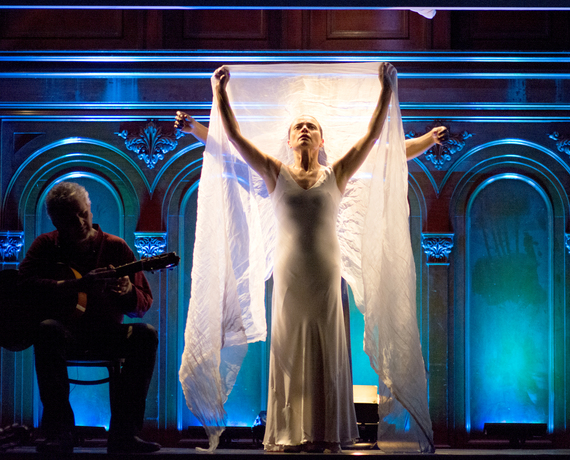 Sole is a force of nature, and I say that unequivocally. Her arms are as liquid as any Russian Prima Swan Queen, her feet unimaginably swift and precise. But it is her soul that is on display here more than anything.
Her mother's family survived the Franco years. Family and passion. Isn't that what this season is all about?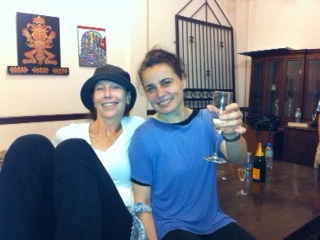 To get tickets to Antigona, go here. Images of 'Antigona' by Zarmik Moqtaderi
Calling all HuffPost superfans!
Sign up for membership to become a founding member and help shape HuffPost's next chapter