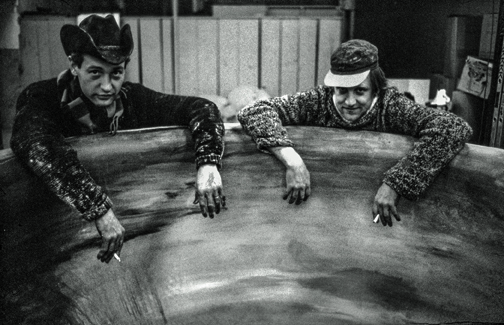 David Weiss (left) and Peter Fischli (right) in their Zürich studio, ca. 1987, courtesy the Fischli Weiss Archive, Zürich
I know I am not alone in standing in a gallery filled with conceptual art and scratching my head. I am used to this sensation by now. For a long time, it bothered me that I did not "get" everything and that I had to have it explained to me. Now artists seem to have realized that many of us feel this disorientation with their art and provide long, involved wall labels, accompanying books, curatorial and docent walk throughs. If you do not go out and see contemporary art almost daily, (this week you can remedy -- or be further confused -- at the Armory and sidebar art fairs) you risk being left behind.
Since I can't do that, I am left either to my own muddleheaded-ness, the brilliance of an accompanying friend or a big sit down with a dense catalog.
At the Guggenheim now, you can avoid all this by seeing How to Work Better, the playful but substantial retrospective of Fischli/Weiss, a Swiss duo that worked from 1979-2012 when Weiss died of cancer. All kinds of associations popped into my head as I climbed the Frank Lloyd Wright ramp, still, for my money, one of the most fluid ways to see art in the world: Dada, Duchamp, Readymades, Existential, Alfred Jarry. The exhibition brought me back to the '70s in France when I was learning about structuralism, and existentialism and every other kind of -ism even though the two artists did not start to work together until the '80s. They were influenced also by Rudolf Steiner and his theories of Anthroposophy (do not ask me to explain this, but Google it instead) as many of the artists of the time were similarly engaged with his mystical theories.
Nancy Spector, the curator of the show, writes in the extensive catalog that Fischli/Weiss acted as "whimsical philosophers who pondered all questions great and small," who playfully investigated the everyday. They first met in Zurich during the early days of the punk music scene as graphic artists.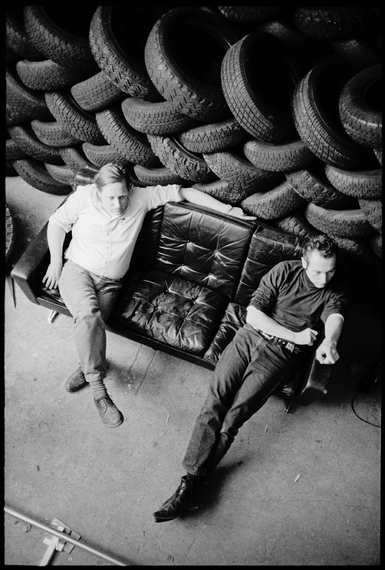 David Weiss (left) and Peter Fischli (right) in their Zürich studio, ca. 1987, courtesy the Fischli Weiss Archive, Zürich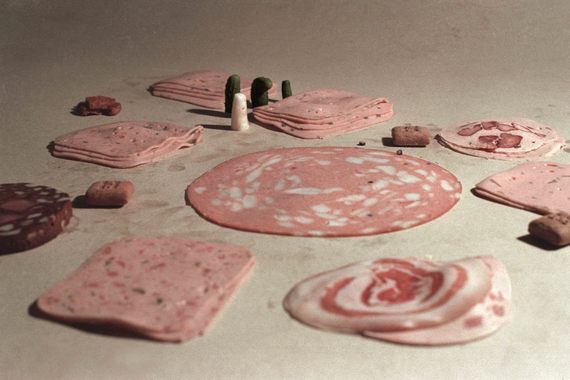 Peter Fischli David Weiss at the Carpet Shop (from Sausage Series) 1979
They began with Sausages a project that took everyday objects and created a world in miniature, then went onto filmed project The Least Resistance where they acted as Rat and Bear, wry opposing personas they were to return to later in their careers. They had both come to LA and were fascinated with Hollywood mythmaking, posing as directors so a costume shop would rent them the costumes (one has never been returned.) Both projects spoofed notions about the art world and drew them closer together because of the deeply satisfying dialogs they had with each other to arrive at these destinations.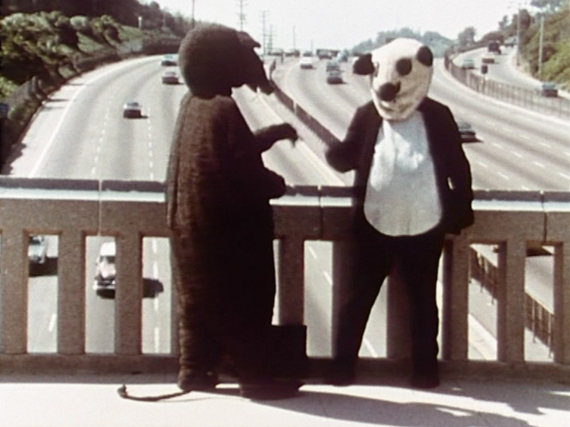 The Least Resistance, 1980-81
Suddenly This Overview, the section of the retrospective that most engaged my attention, was designed to be an uber encyclopedia but which would be filtered through their personal sensibilities. In this compendium which they began in 1981 but added to over time, Fischli and Weiss decided to unpack the history of the world in a series of small unfired clay sculptures.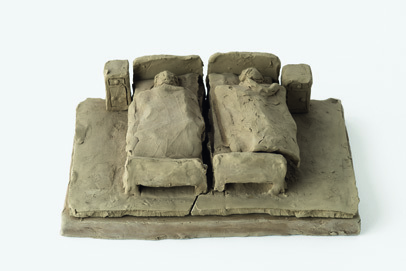 Mr. and Mrs. Einstein Shortly After Conception of The Son, the Genius Albert (from Suddenly This Overview, 1981- )
Eventually, over 150 pieces were created, many of which are on display mid way up the ramp (be forewarned, for those of you who generally ride to the top and walk down at the Gugg, don't do it for this show as they will make you go down and back up to again to see this fragile section which takes over the ramp.)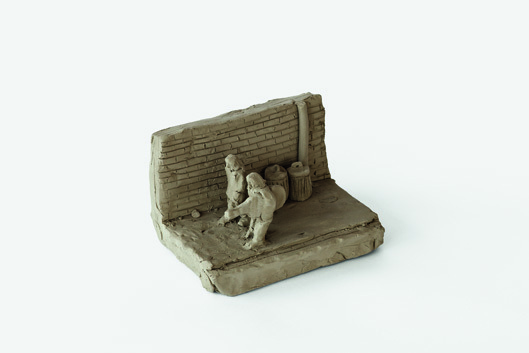 Mick Jagger and Brian Jones Going Home Satisfied after Composing "I Can't Get No Satisfaction" courtesy Jason Klimatsas/Fischli Weiss Archive, Zürich
The idea was to punch holes in the notion of opposites, of myths, of science, of history: small things were to loom large, and vice versa.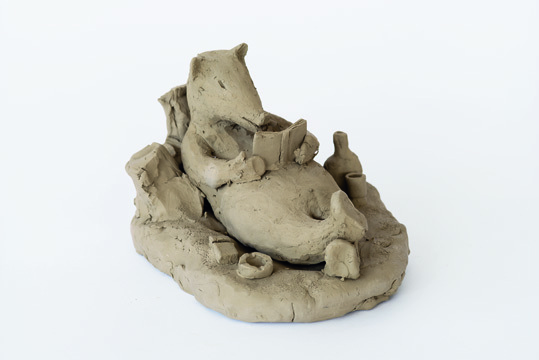 Book and Reader (from Suddenly This Overview, 1981-)
"Suddenly This Overview relates to other, later works in Fischli and Weiss's oeuvre in that it shares in their self-consciously encyclopedic impulse to map the world -- a task that was ultimately impossible to achieve," says Nancy Spector. Nevertheless they have made an ingenious attempt.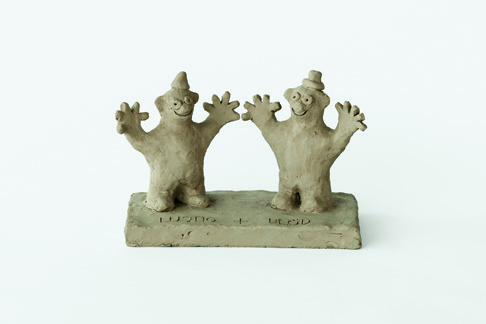 Popular Opposites: Funny and Silly I (from Suddenly This Overview, 1981- )
I saw people just walk by and look at the tiny models without really studying the labels. But precisely what is so compelling about this series are the pungent and witty titles without which the pieces look like splendid models for Claymation but miss the LOL humor that the artists impart.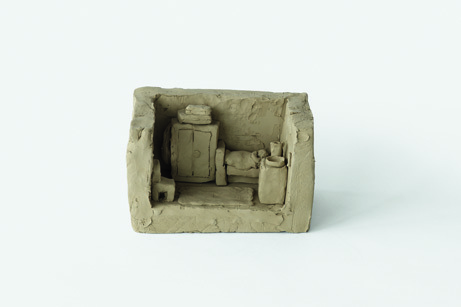 Anna O. Dreaming the First Dream Interpreted by Freud I
They are not just objects but ciphers through which the Fischli/Weiss irony is on ample display. The pieces were done singly and jointly, their work process was as fluid as the pieces demanded. Perhaps these works spoke to me because I appreciated the words as much as the mini sculptures; indeed, it is a case where word and image are conjoined in perfect disharmony.
The Way Things Go excerpt
Probably their most well-known piece is the Rube Goldberg type film The Way Things Go, an excerpt of which I have posted here which looks seamless but actually has 23 sequences filmed over two years and runs a half hour. Spector says, "Part of the merriment for Fischli and Weiss was the "pleasure of misuse" a phrase which stuck with me as it so aptly describes the opposites that intrigued them and to which they so deftly gave form.
The later work did not capture my fancy nearly so much, looking like piles of studio detritus which if you don't read about you don't understand that each piece is a handmade reconstruction and not the actual thing. The artists wanted to poke fun, to demystify their own practice as well as that of others. They wanted to erase the lines between high and low and in this respect I am their ardent admirer.
Go play hooky at the Guggenheim with Fischli and Weiss.
Calling all HuffPost superfans!
Sign up for membership to become a founding member and help shape HuffPost's next chapter