Bulletin! The city of Los Angeles, home to long aborning/failed dance initiatives has risen, phoenix-like -- or Firebird-like if you prefer -- from the ashes.
William Forsythe and USC Kaufman dancers and staff
Last week in the space of days, I was able to see choreographer William Forsythe present a riveting lecture-demonstration about his process with his wildly talented multi disciplinary sophomore class at the new Glorya Kaufman School of Dance at USC and Benjamin Millepied instruct the ballet conservatory class at the Colburn School.
Forsythe and Millepied, recently of Paris Opera Ballet collaborations, have chosen to make their permanent dance homes in Los Angeles. (Millepied is back with his LA Dance Project). Two of the most talented, sought after choreographers and company directors in the world! I am pinching myself.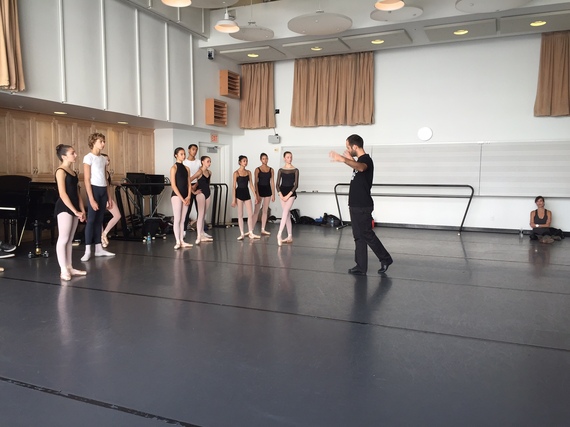 Benjamin Millepied and Colburn School Dancers
The Colburn School Dance program, headed by Jenifer Ringer Fayette and her husband James, ex NY City Ballet dancers mounts a performance every spring to show off its dancers. But throughout the year the Fayettes are nabbing their former colleagues to teach their students. Millepied is followed in coming weeks by Teresa Reichlen and Tyler Angle (NYCB) Peter Boal (Pacific Northwest Ballet Director) and Helgi Tomasson (SF Ballet director).
The dance students at these creative academies are of course the true beneficiaries of this munificence. But we the public have some ancillary benefits.
Next weekend, along with Houston Ballet, these professional companies will present an all Forsythe program at the Music Center. This weekend, you can catch Forsythe choreography at LACMA for a site-specific work.
The only thing that compared were this week's performances of Jerome Robbins ballet Dances at the Gathering at NYC Ballet itself. This ballet, which I first saw in its original production, has not aged. To see Sara Mearns, Tiler Peck, Ashley Bouder (fresh off baby), Megan Fairchild, Amar Ramasar and Jared Angle so brilliantly inhabit this seminal work set to Chopin piano music is as Tiler Peck puts it " a gift to dance" and for us, to watch. The notoriously demanding Robbins would be smiling to see the 1969 work so carefully burnished. (the link includes interviews with the dancers and new video footage)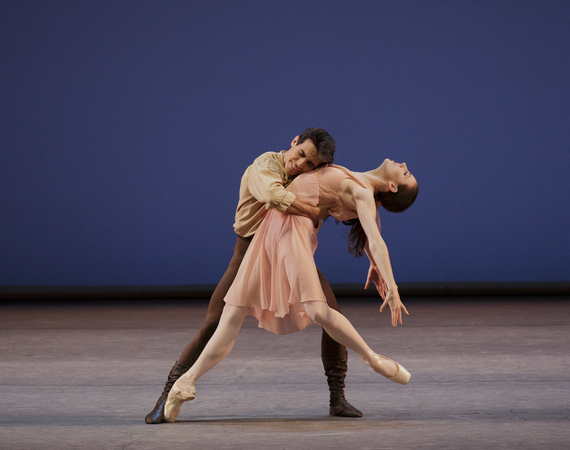 Tiler Peck and Joaquin de Luz, Dances at a Gathering, Paul Kolnik, 2016, courtesy NYC Ballet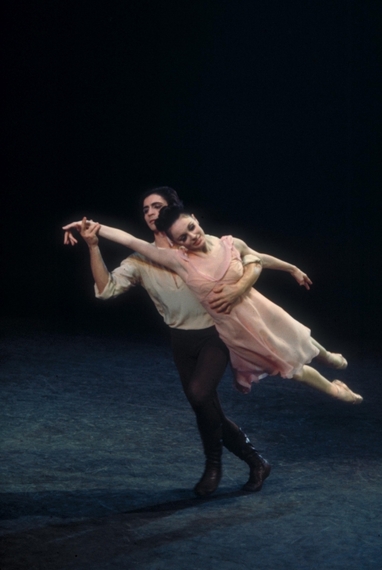 Patricia McBride (who originated the Tiler Peck role) and Edward Villella in Dances at a Gathering, 1980 , Martha Swope, courtesy NYPL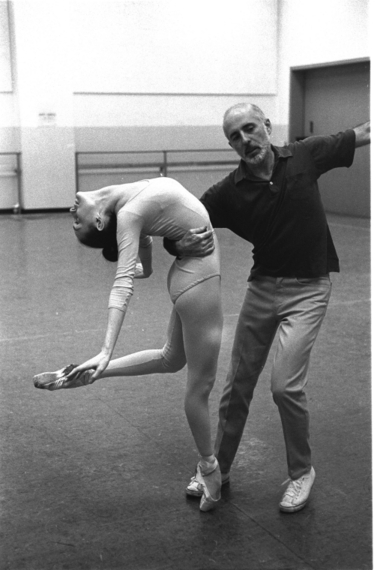 Patricia McBride rehearsing with Jerome Robbins as he choreographed, Martha Swope, 1969, courtesy NYPL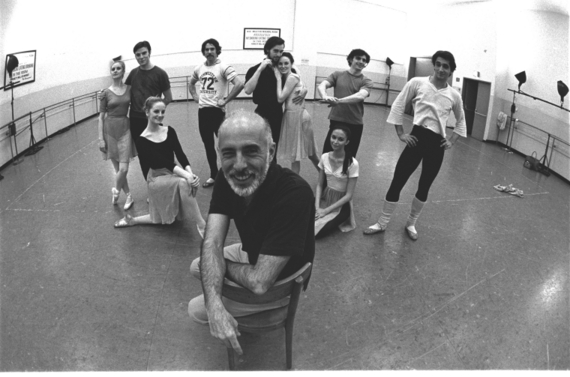 Jerome Robbins rehearsing with original Dances at a Gathering cast, Martha Swope, 1969courtesy NYPL
The art world is bursting with art fairs, museum shows and gallery openings. All well and good. But these dance moments are truly evidence of a dance renaissance in America and I, for one, am very grateful.
Calling all HuffPost superfans!
Sign up for membership to become a founding member and help shape HuffPost's next chapter