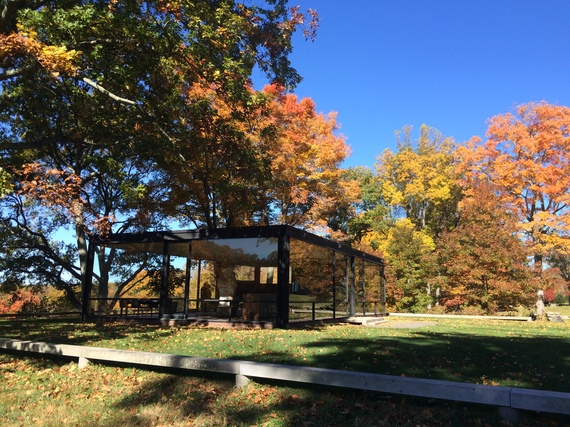 The Glass House designed by Philip Johnson, photo by Christa Carr
When I was growing up in New Rochelle, known more for being the first northern city to have court-ordered integration than for its beauty, we used to hear about places like Darien and New Canaan in Connecticut which had reputations for elegance and refinement e.g. where rich people lived, not mixed race or mixed religion suburbs. In all those years, I never once had occasion to visit these bucolic towns.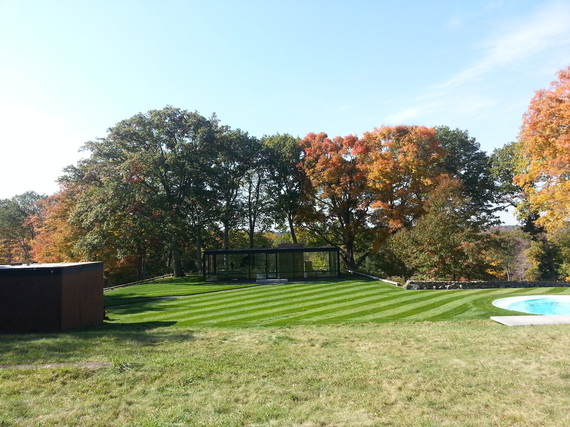 View of The Glass House by Christa Carr
Last week therefore, for the very first time, I went to New Canaan and was bowled over not only by the perfect pristine fall beauty on display and the old-moneyed estates, but above all by two extraordinary structures, Philip Johnson's home, The Glass House, and the newly opened Grace Farms River by the Pritzker-winning Japanese firm, Sanaa, which stand only four miles from each other in harmonious, generation-spanning synchronicity.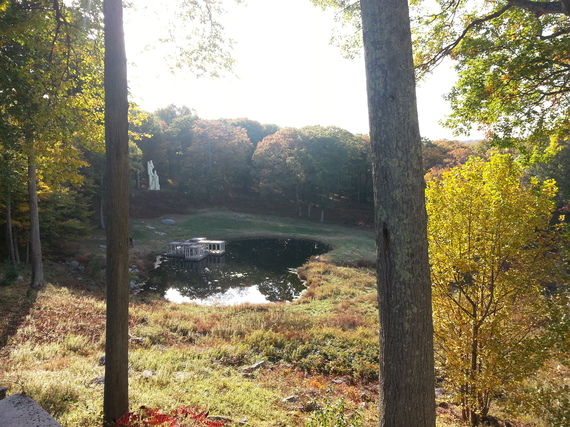 View from the Glass House by Christa Carr
I had been especially motivated to finally see The Glass House after my recent trip to the Chicago Architecture Biennial where I had made a detour to Plano to see Mies van der Rohe's Farnsworth house. In the subsequent blog, I made reference to The Glass House as a "clone" of the Farnsworth House and shortly received a stern email lecture from a zealous member of the National Trust Press department for using the "c" word.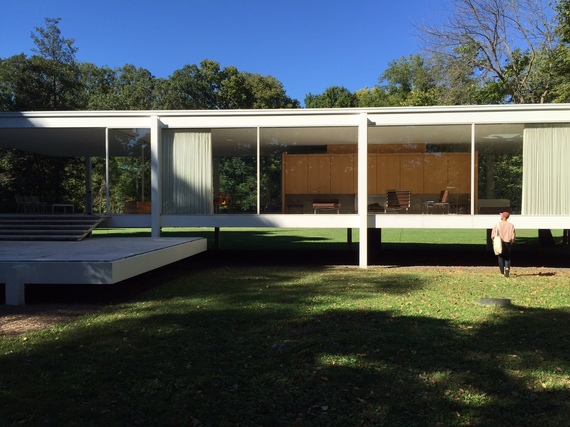 The Farnsworth House by Mies van der Rohe
Johnson saw Mies's plans for the house and was "inspired" by them but finished his house first, let me now set the record straight.
It was pointed out to me that there are differences in grading and column supports, things professionals might be more apt to notice but for the rest of us, the similarities are indeed striking. These houses are kindred in many ways from their transparency to their nubby white bedspreads, their settings in wooded glades, and their determined expression of indoor outdoor. If the rumors are true about Dr. Edith Farnsworth and Mies getting it on, I could not help but wonder, how was it making love for all the world to potentially see? (Johnson built a separate brick bunker behind the Glass House with another bedroom.)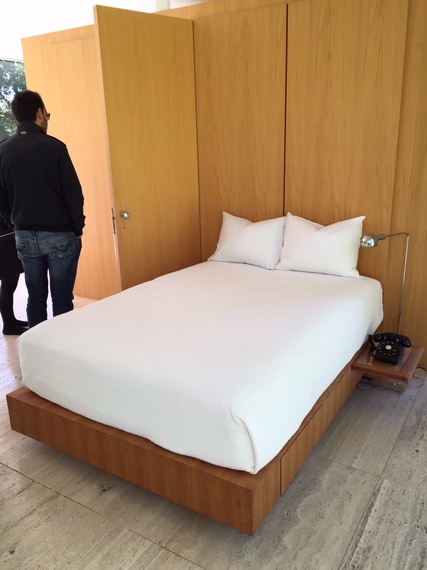 Dr. Edith Farnsworth's bed (reproduction)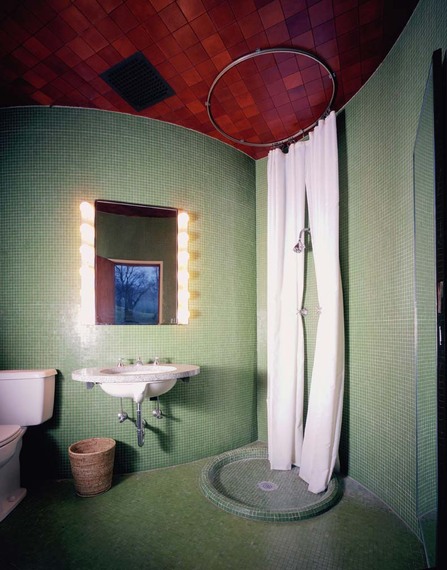 Philip Johnson's bathroom, image by Julius Shulman
There are other structures on the Glass House property but like much of Johnson's later work, they are playful and po-mo rather than clean and modernist and the original house still remains the piece de resistance. The sculpture center is under renovation so things have been moved about but a few pieces from Johnson's collection are now scattered in these other buildings.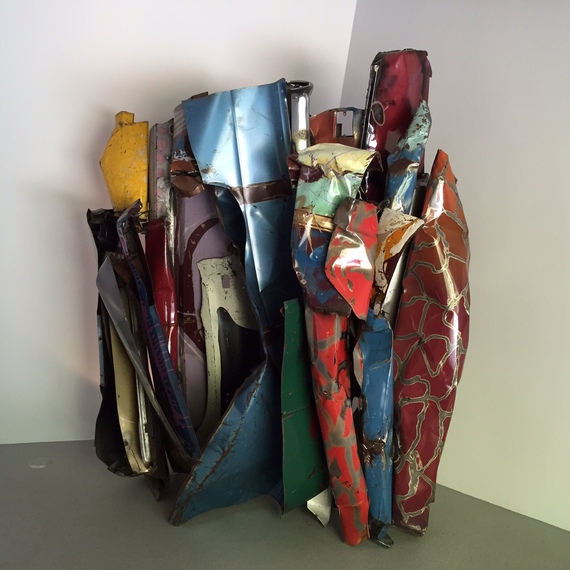 John Chamberlain sculpture
Grace Farms River is also glass driven, not a private machine for living, but which the trustees (largely Sharon Prince and her family) who made it happen describe instead as a very public "platform" for community engagement.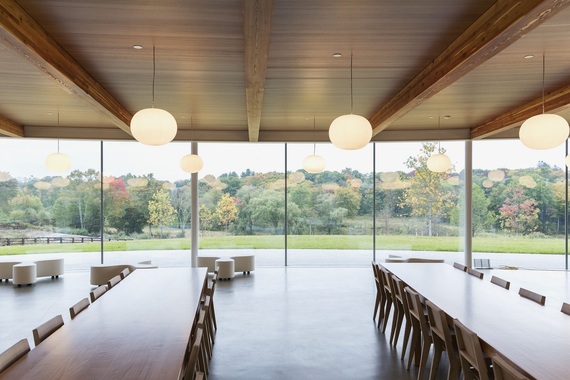 The River, Commons, image by Dean Kaufman
First: the building. It's wonderful. Sanaa was hired before they got the Pritzker and the choice of this firm for this setting was therefore prescient -- and has proved genius. It resembles their Rolex Learning Center in Switzerland but expands upon it and it has the advantage of a farm-like setting which enhances every bit of landscape (now studded with fall high color). It is also the first time they have used wood as a primary building element.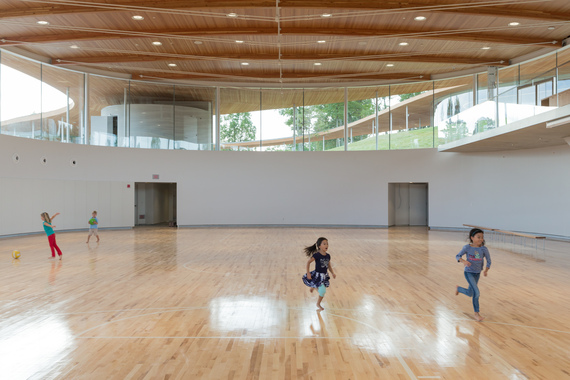 The River Court, photo by Iwan Baan
And what choices one has in interacting with it. Though I worried about what would happen trekking from pavilion to pavilion in the snow (they are making arrangements for stowage), right now one can walk the graduated paths or gambol on the lawns with ease, play basketball in the below-ground gymnasium, study or read in the library, attend a performance at the beautiful sanctuary (with a special booth to house wailing children and their parents who still might want to hear and see the event), retreat to areas for contemplation or eat a scrumptious vegan carrot muffin.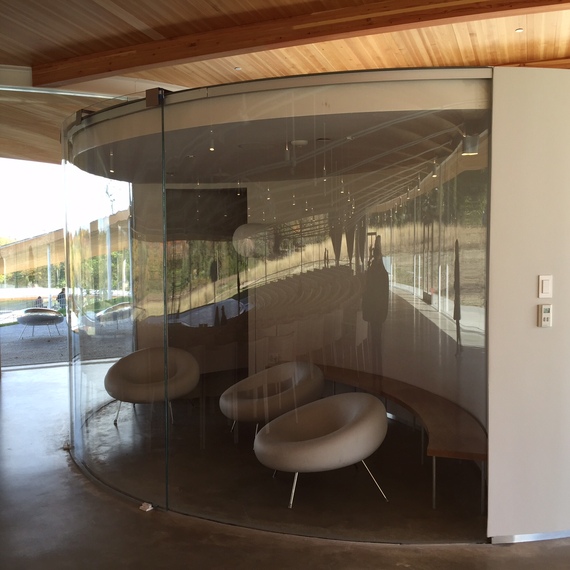 Listening Booth for crying children and their parents, River Sanctuary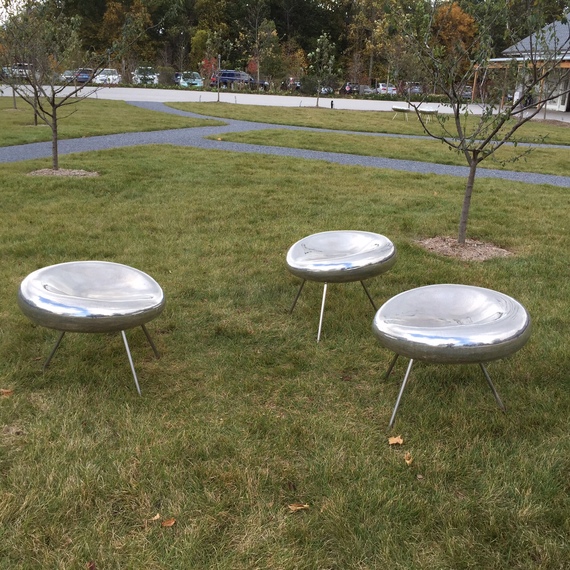 River stools designed by Sanaa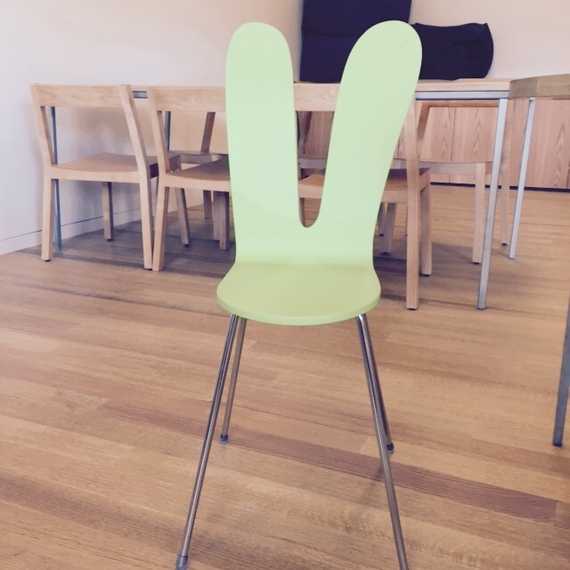 River Mouse Chairs designed by Sanaa
The whole thing makes you feel spiritual and reflective in the best possible way. The Sanaa designed seating is especially wonderful as are the art projects studded throughout the River and outdoors.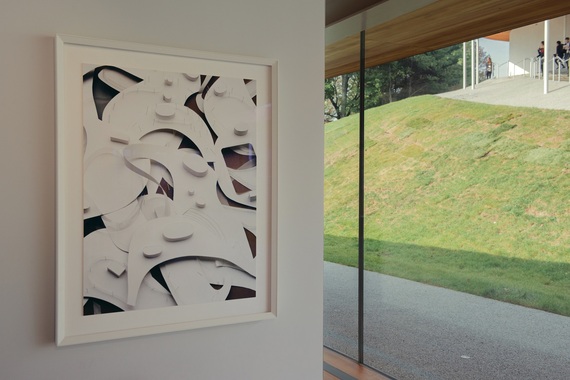 Thomas Demand, Farm 58, image by Jonah Rosenberg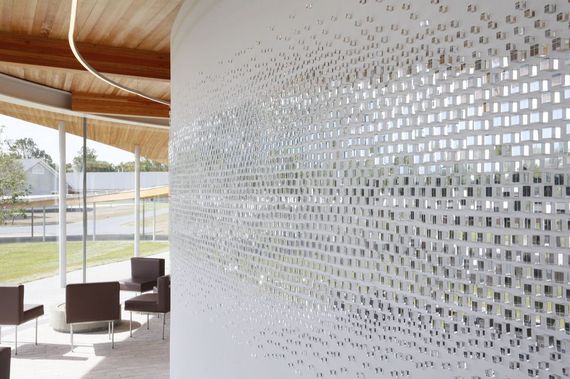 Teresita Fernández's Double Glass River (2015), image by Iwan Baan
The programming is in flux. The staff reminds me it's early days when I ask about specifics for the space and mostly define possibilities for community engagement. An upcoming work session about human trafficking in Connecticut open to the public seemed an odd opening choice given what I know about the history of New Canaan, but clearly the center is being programmed to combat some of the town's previous reputation for exclusivity. Large, vaulted ceilinged studios in made-over barn structures are designed to welcome community groups seeking space for meetings, art projects, and interactions amongst themselves. The word collaboration is much used.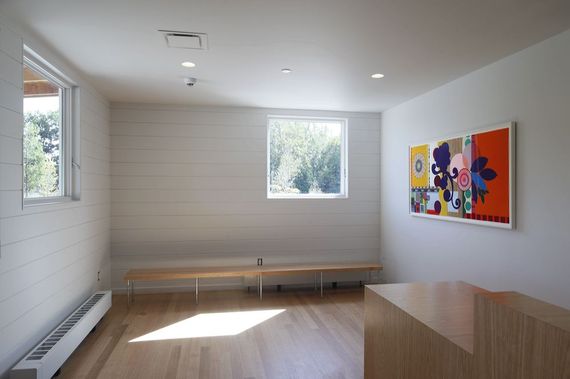 Reception area at West Barn, featuring Beatriz Milhazes' Canela (Cinnamon) (2010);image by Iwan Baan
How will the church which spawned the River and whose principals are the guiding spirit behind its genesis actually make itself felt? I was told there is no overlap, it is non denominational. And how indeed in a community which is so upscale will it be seen as a true partner, especially as many neighbors were up in arms about the project? I nevertheless admired the great ambition of it all, and hope that they will find their way to truly engage with the greater public.
The road between the two masterpieces is studded with modernist gems as New Canaan became also a place for other architects (the Harvard Five) to try their hands at this modernist domestic stripped down aesthetic. Once every other year they are open to the public (next time fall 2016) and I plan to return then.
They say Chaucer was the first person to coin the adage "People who live in glass houses should not throw stones," referring to finger pointing and personal culpability. But first Johnson and now Grace Farms have made themselves vulnerable and exposed though they have split the difference by building in fairly remote, private settings. Dr. Farnsworth was said to have become fed up with looky-loos who had made their way in spite of the inaccessibility. The ubiquitous high-rise glass towers built all over the world control access by their height. Perhaps the very notion of glass structures has become oxymoronic. But the Sanaa River at Grace Farms is, I think, a true attempt at being transparent.
Me, I like glass but I also like walls. Where could Philip have put his post its? And think of the window washing bills. You have to be a special kind of person to build a glass house. These two structures invite contemplation of what that really means.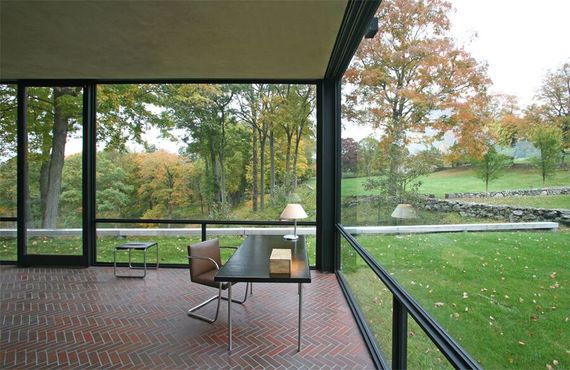 Philip Johnson's Glass House desk image by Robin Hill
For details about visiting The Glass House go here.
For details about visiting Grace Farms, the Justice Initiative, go here.
For details about the November 21 joint study tour of both sites (highly recommended) go here.
For details about the one day 2016 modernist house tour in New Canaan go here.
To see my interview with Sanaa go here.
To see my blog on the Chicago Architecture Biennial go here.