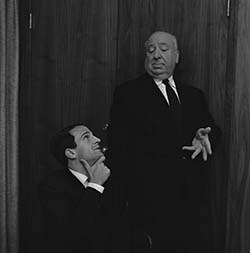 Hitchcock and Truffaut meeting at Universal Studios, photo by Philippe Halsman
In this day and age of digi-communication, it is very easy to access libraries and materials, printed and video, that help us understand the great creative minds of the past. What is much less common is the possibility of hearing directly from the artists themselves, especially in conversation with each other.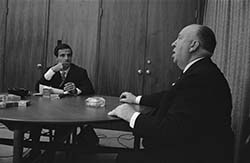 Truffaut and Hitchcock by Philippe Halsman
In 1962, Francois Truffaut was just 30 and not afraid to admit that he still had much to learn though he had been a film historian and critic and his first three films were already considered masterpieces of a new, more spontaneous style of filmmaking. As with fellow French filmmakers Jean Luc Godard and Louis Malle, he studied forgotten American films as well as international ones for what they could impart.
He took it upon himself to resurrect the artistic contributions of one of his heroes, Alfred Hitchcock, whom he had met when he was still a film critic in 1954,but who by then was slipping into kitsch tv-land with his very popular tv series (available on Netflix) but all but lost to the younger generation which had missed his significant long form contributions from the silent era through the '50s. What he really wanted was to study Hitchcock frame-by-frame and hear from his idol more about his decision making process. He approached Hitchcock and they agreed to meet in Los Angeles.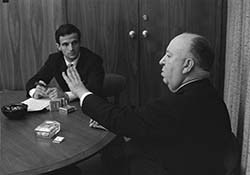 Hitch and Francois, by Philippe Halsman
These meetings which began on Hitchcock's 63rd birthday, became the subject of a favorite book, Hitchcock/Truffaut, revered (torn apart, highlighted and dog-eared) by directors like David Fincher, Wes Anderson, James Gray, Paul Schrader, Olivier Assayas, Peter Bogdanovich, Martin Scorsese, Arnaud Desplechin and Richard Linklater and by film fans world over.
Now the book has again been "torn apart" as the subject of a new documentary Hitchcock/Truffaut by Kent Jones in which testament to the book's power is lovingly given and which in its own way also pays it forward to us, which in the end is what film history -- and all creative endeavor -- is all about. One steals from the next.
In many ways, also a sub rosa film biography of Hitchcock's work, it's an homage to a book as much as these two auteurs, how a book can make sense of things, how one artist can view another and learn, how sharing information can be the greatest gift of all.
Hitch, notoriously difficult with actors and crew, allowed himself to be drawn out by the younger, New Wave Truffaut because he respected him, his craft, and his eagerness to learn. He was also immensely flattered, and eager to participate in the creation of his legacy. Truffaut took him seriously.
Truffaut approached the book as if he were making a film, calling it a "livrefilm." In the early days of films, especially in France, picture books based on films were a normal part of the release. This book was the highest form of that dead art.
The two men lived for and through cinema according to the film and it shows. Cigars in hand (Philippe Halsman documented their one week meeting at Universal Studios in Hollywood), they chat through Truffaut's right hand woman and interpreter Helen Scott. This ménage a quatre delivered a solid.
Kent Jones, the director, channeling Hitch via Francois, takes us through the great Hitchcock films and it is a carefully rendered and fascinating experience. Hitchcock was highly conceptual, and planned and storyboarded everything. (Attention conceptual artists: See this film for pointers as well.) As is faithful to the book, Jones focuses on Hitch rather than Truffaut, so that a short parallel bio of the younger man leaves you wanting more (see the French Cinematheque's masterful documentation of Truffaut to remedy this.)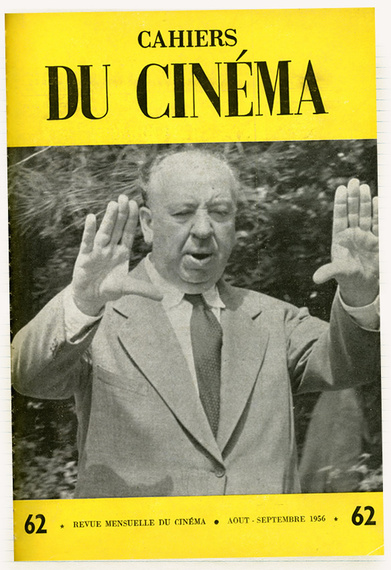 Two images from the French Cinematheque website
Like the recent film bio of Peggy Guggenheim which took an old audio track as its spine, an audio file of the Universal sessions (though occasionally blurred by Scott's simultaneous translation) makes for a lively document. Jones is able to show clips as their conversation progresses (an advantage over the book itself).
Hitchcock's penchant for contracting or expanding time is a wonderful lesson for any artist in any medium.
Though he depended on the proscenium in a way that contemporary filmmakers no longer do in this day of handheld and who-can-get-the longest-tracking-shot, Hitchcock's way of using the camera as a participant was novel. Fincher calls out Hitchcock as an "iron umbrella" of a filmmaker. And we are reminded that Hitchcock thought actors were cattle and that he felt any of his leading ladies were fair sexual game.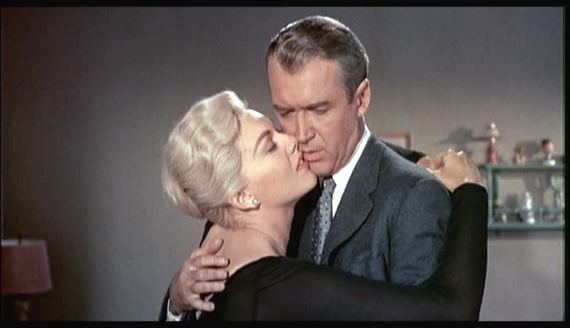 Kim Novak and James Stewart in Vertigo
But with especially long sections on Vertigo (the filmmaker's fave) and Psycho (the public's fave), we are brought along with the two masters as they parse and diagram their way to cinematic history and the function of mass emotion.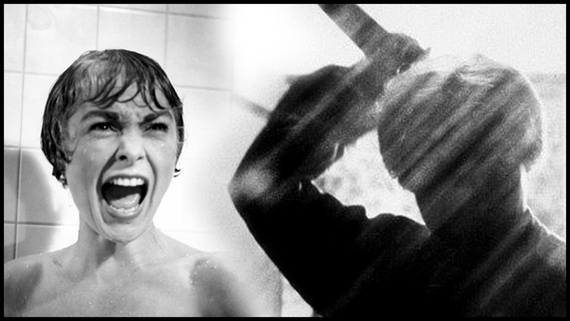 Janet Leigh in the shower scene in Hitchcock's Psycho
Hitchcock died not entirely reassured, despite many late life accolades, that he would enter the pantheon of the cinematic greats. When I worked at the New York Film Festival, I remember the physically imposing Hitchcock when we honored him and how daunting it was to be around this hero, huge in stature as well as girth. In contrast, when I was assigned to pick up Truffaut at the airport (in a mini skirt) as I spoke French, Truffaut was less imposing and accessible -- (though he also fell in love with his leading ladies.) Two different styles of personality and filmmaking conjoined in the book, and in this film, in the best possible way. Truffaut said, "In America, you respect him [Hitch] because he shoots scenes of love as if they were scenes of murder; we (the French) respect him because he shoots scenes of murder like scenes of love."
Jones -- whose day job is as head of the NY Film Festival -- reminds us that Hitch was an artist who drew on camera and pretty much puts the question of whether Hitchcock was an artist to rest-if it hadn't been already. How would Hitch and Truffaut have rated this film? I wouldn't want to be Kent Jones (or Serge Toubiana, head of the Cinematheque and his collaborator) and have them looking over my shoulder. It's well done, (a bit of an annoying sound track which Truffaut could have fixed, no problem), straightforward and most importantly, extends the metaphor of passing hard-won knowledge down.
Truffaut, who with his New Wave colleagues refocused attention on the greats of American filmmaking, certainly succeeded at freeing Hitch from his rep as light entertainer in the book. Truffaut died tragically at 52 just a few years after Hitchcock who had lived to be 80. What would 30 more years of Truffaut have brought? One can only regret the the lack of a similar set of conversations with him.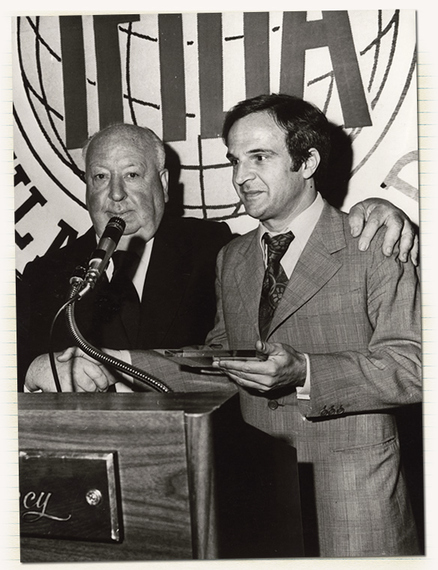 Truffaut and Hitchcock -- the friends and admirers
Hitchcock was a master at creating characters that had deep secrets. Truffaut was able to extract some of the secrets that Hitchcock himself had kept. What a gift.
The film opens on Wednesday, Dec 2 in NY, on Dec 4 in LA and nationally on Dec 11.
Calling all HuffPost superfans!
Sign up for membership to become a founding member and help shape HuffPost's next chapter