Some of the London Calling Group, at Wheeler's, Old Compton Street, London 1963: Lucien Freud second from left, Francis Bacon, Frank Auerbach, Michael Andrews, copyright The John Deakin Archive, animated sequence by Paul Rousseau and Charlie Behrens
Just in time to wake you from midsummer somnolence comes London Calling, a tightly-focused exhibition of six post-WWII, mostly London-based artists at the Getty. It is thrilling, and I say that knowing that hyperbole about art is at its possible zenith.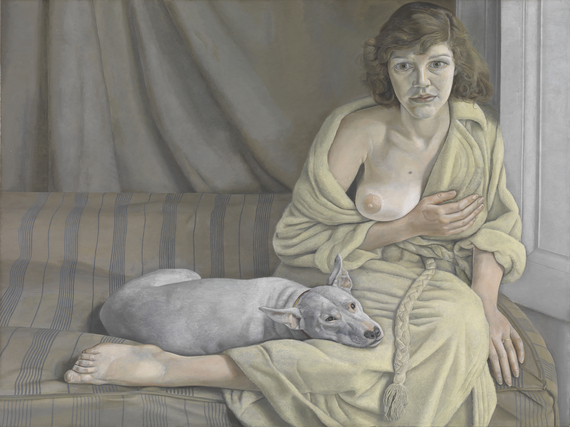 Girl with White Dog, 1950-51, Lucien Freud
Though the show is a primarily a loan show from Tate Britain, never at the Tate have I felt the intensity of these six artists together. London Calling (I see its 1979 The Clash, but I remember it as the Kinks... Help...)is a revelation.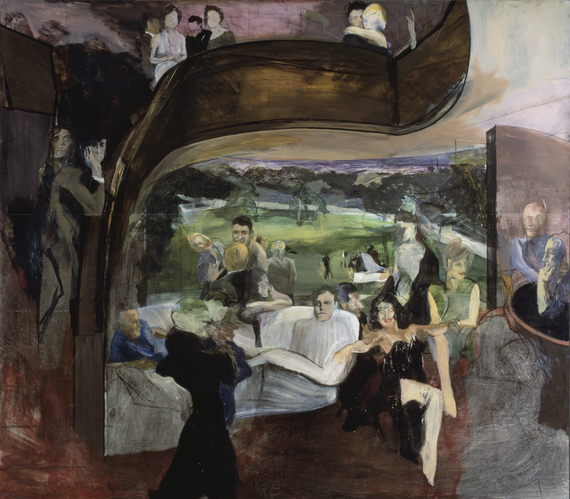 The Deer Park, 1962, Michael Andrews
The group -- Francis Bacon, Lucien Freud, Michael Andrews, Frank Auerbach, R.B. Kitaj and Leon Kossoff -- wasn't really a group, more a loose affiliation of like-minded friends who orbited each other in the post-war years in England, but subsequent exhibitions have conjoined them further still.
Auerbach said, "It was sexy in a way, this semi-destroyed London." And this exhibition feels sexy too in its simultaneous rawness and lushness.
What did they have in common? Four were Jews who ended up in England, leaving Berlin (Freud, Auerbach), Russia (Kossoff) or the U.S. (Kitaj). Art school in London, as students or teachers (Slade, Central or Saint Martins) was often the meet point with the exception of Bacon who was largely self taught. They shared a desire to paint reality -- often figurative -- going as far away from the Abstract Expressionists as possible -- even though some of the works are expressionist in the extreme. Many were more influenced by the French artists -- Picasso and Balthus. Everyday life was what they wanted to capture even if they rendered it in a gripping, guttural way.
Bacon, possibly the most famous of the lot, is here represented by some classic work but also some smaller drawings and paintings that have every bit of the coiled intensity of his larger triptychs.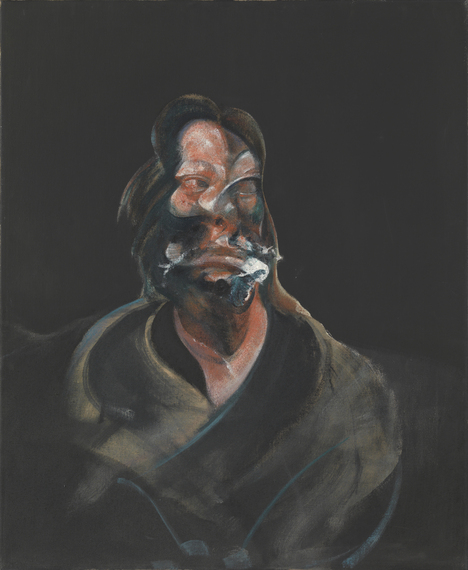 Portrait of Isabel Rawsthorne, 1966, Francis Bacon
Kossoff painted urban scenes of swimming pools and churches that verged on Monet-like high impressionistic Rouen cathedrals.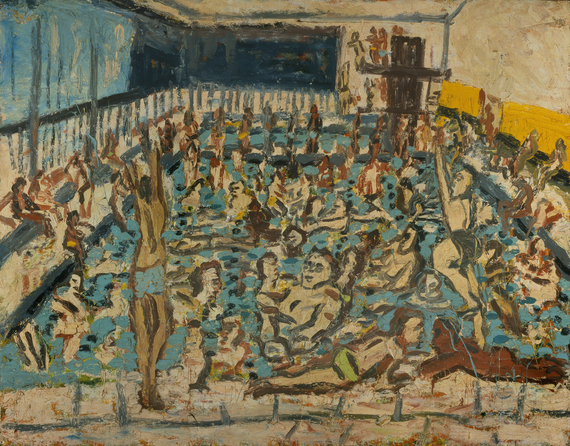 Children's Swimming Pool, Autumn Afternoon, 1971, Leon Kossoff
Kitaj, the sole American, incorporated text and collage in his painting, some of which reminded me very much of German Expressionism, but the late self portrait with his wife is the most haunting representation of alone together I have seen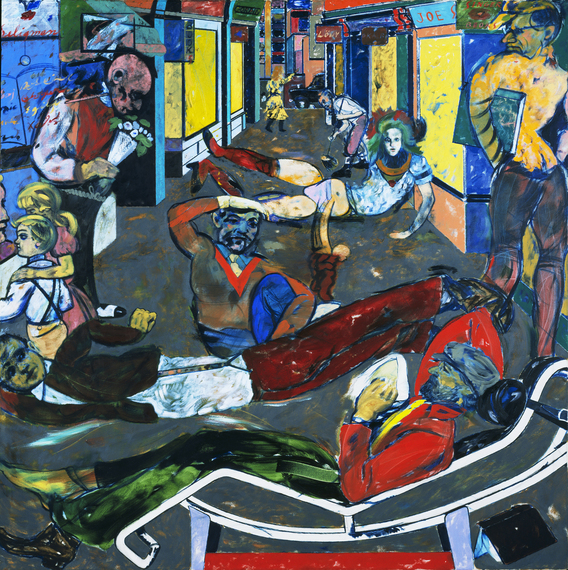 Cecil Court London WC 2, 1983, R B Kitaj
Freud's small work on view Boy Smoking is one I'd not remember seeing that packs the most intensity.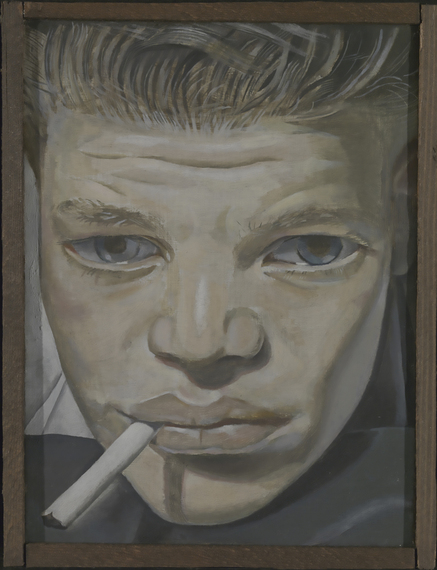 Boy Smoking, 1950-1, Lucien Freud
Two of the artists reminded me of the Bay Area Figurative Painters, Andrews of Diebenkorn in his transition from figurative -- Deer Park to Ocean Park -- and then Whistler. Some of it is just plain beautiful on its own.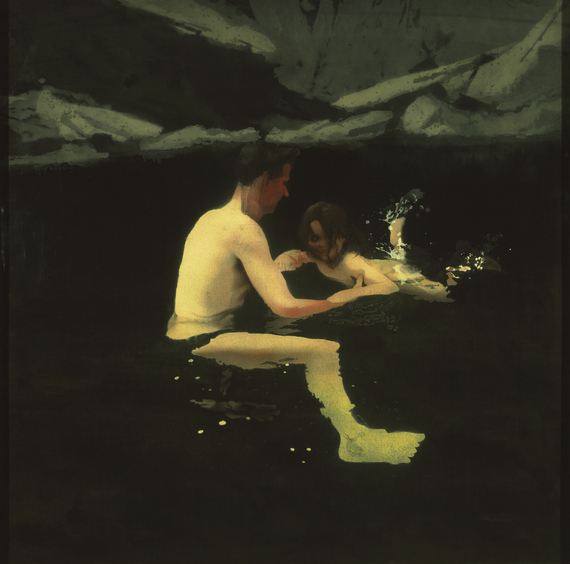 Melanie and Me Swimming, 1978, Michael Andrews
And Auerbach recalled David Park in his use of impasto which then went totally full-on encrusted and wildly gorgeous.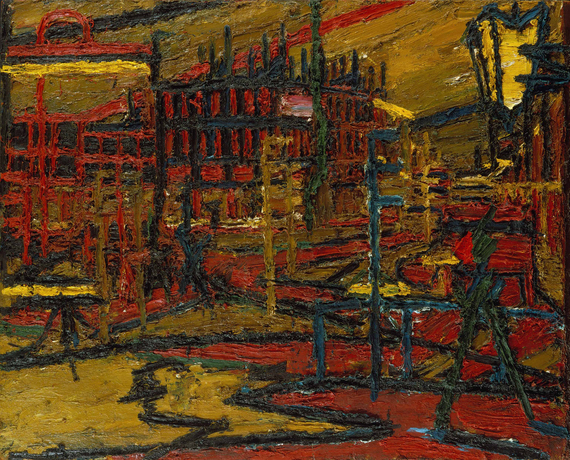 Morning Crescent with the Statue of Sickert's Father, 1966, Frank Auerbach
These painters were not the only ones who were feisty. The Angry Young British writers and British New Wave filmmakers (Tony Richardson, John Osborne, John Schlesinger, Harold Pinter, Kenneth Tynan, Karel Reisz, et al ) feel of a piece with this mini-school and could be the subject an even more sweeping future exhibition about post war England.
For the moment however, London Calling is just about perfection and should not be missed.
Images courtesy of the Getty. The exhibition is open daily until November 13
The John Deakin Archive is a wonderful resource for this period as Deakin was an eyewitness to the London Calling Group
REAL LIFE. REAL NEWS. REAL VOICES.
Help us tell more of the stories that matter from voices that too often remain unheard.