With all the hand wringing about aging audiences and the effort to bring young hipsters e.g. Huffington Post-style readers to opera and classical music the way they are now flocking to contemporary art, a certain overly complicated mindset has ensued.
There are really just two ways to do it: Make productions reach into the hearts and minds of this audience. Make it affordable.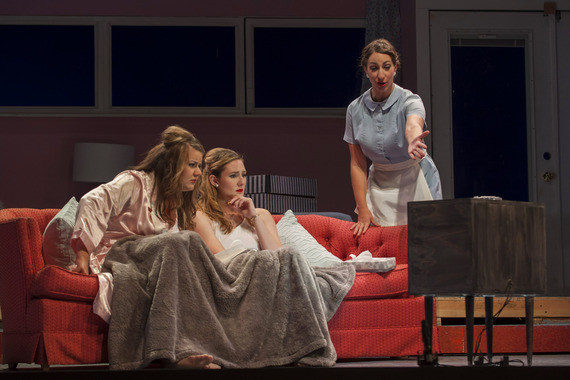 Yelena Duacheck, Sofia Selowsky, Samantha Hankey bemoan their twisted love matches while they watch tv and eat popcorn in the Aspen Theater production of Mozart's Cosi Fan Tutte Photo by Alex Irvin
I just saw a captivating example, James Robinson's absolutely brilliant production of Cosi Fan Tutte at the Aspen Opera Theater. They need to take this on the road!
Cosi is the perfect "starter" opera. Mozart is at his tuneful best, Da Ponte's libretto about love and deception between two young couples immediately sympathetic, amusing and charming. It was my first opera (at the jewel-like theater in Spoleto) and it's still my favorite.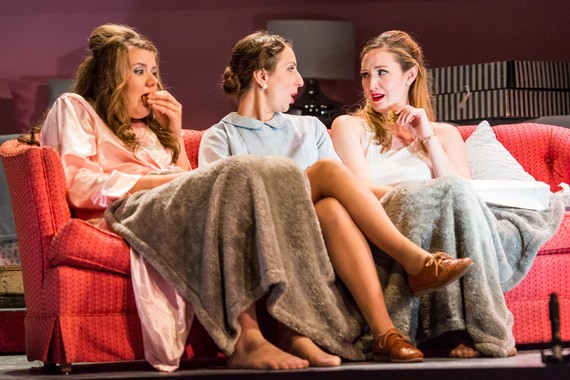 But Robinson has made it into a confection that brings out every bit of wit and cleverness. On a relative shoestring. He has moved the whole thing to the '50s-'60s. The scenic design by John Kasarda -- mid-century digs and furnishings -- and the vintage-style costumes by Summer Lee Jack are spot-on, and it is laugh-out-loud funny. The excellent chorus also move sets and the whole thing has an air of Mickey-and-Judy-let's-put-on-a-show that makes you feel involved from the outset.
Singers Yelena Dyachek (Ukranian, now at USC), Geoffrey Hahn (an environmental studies dual major!), Paul Han (Korean Indiana U doctoral candidate), Samantha Hankey (Juilliard Kovner fellow), Fan Jia (Chinese Juilliard student), Sofia Selowsky (Houston Grand Opera) and others prove that there is an up and coming group of wonderful singers that can still be gotten at a price.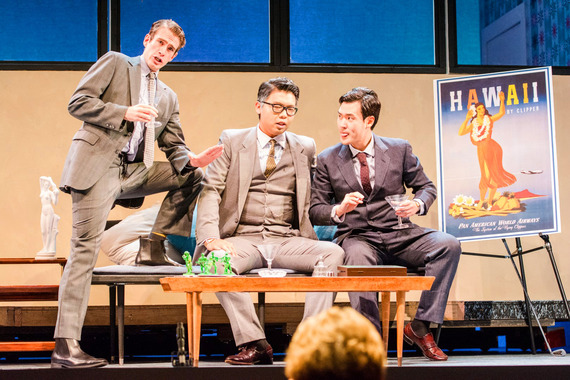 Geoffrey Hahn, Paul Han and Fran Jia scheme and commiserate in Cosi Fan Tutte Photo by Alex Irvin
Peter Gelb: Take note! Though the Met audiences expect their (significant) money's worth, with all the union troubles this year, bringing productions like this one for a "newcomers" series at the Met with reduced prices could be an answer to building new audiences. Just sayin'.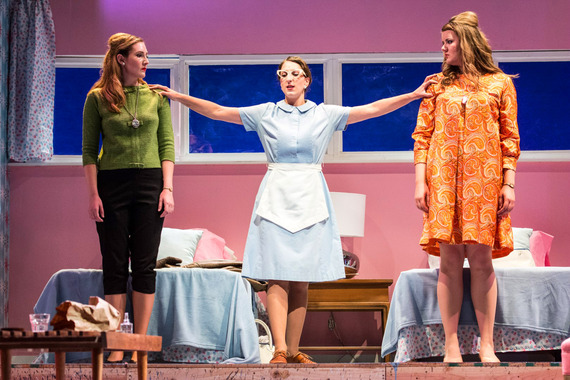 Calling all HuffPost superfans!
Sign up for membership to become a founding member and help shape HuffPost's next chapter