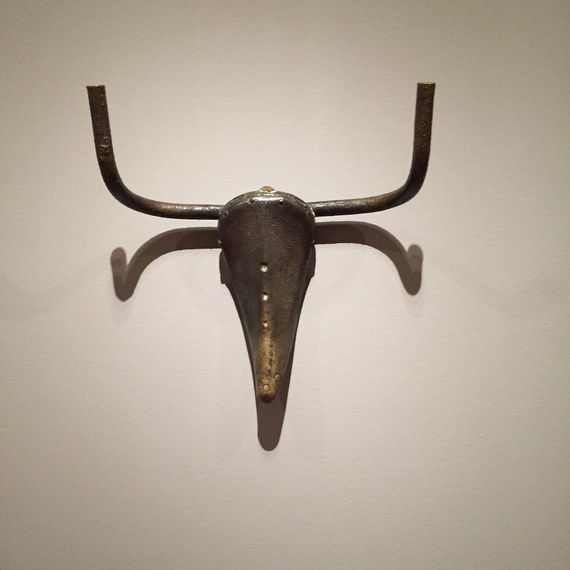 In 1980, the Museum of Modern Art mounted an historic exhibition in collaboration with the nascent Picasso Museum in Paris, the splendid pile of the Hotel Sale in the Marais. The two institutions sorted through the things Picasso had held onto for himself, the work of other artists which had inspired his own work, the things he understood to represent moments of singular creativity or breakthrough, or simply personal things that reminded him of the many women he had loved and even more who had loved him in return.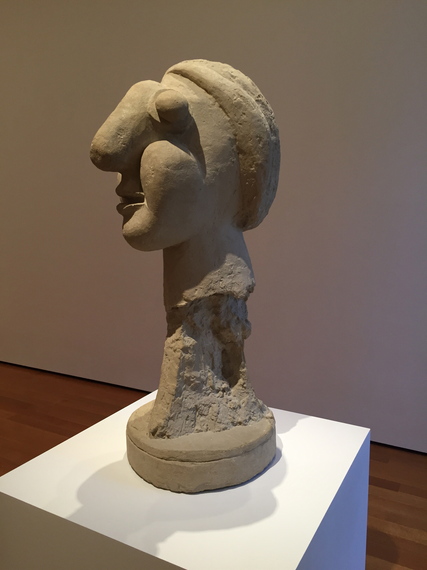 I remember seeing this exhibition come to fruition as I was running back and forth between the two institutions working on a documentary for PBS. I remember thinking at the time that the sculpture was perhaps even more rewarding and personal than the painting, though perhaps not quite as famous. I remember especially seeing Paloma Picasso's dolls (alas, not on display here) and thinking that Picasso, with all his notorious behavior must still have been a wonderful father to have.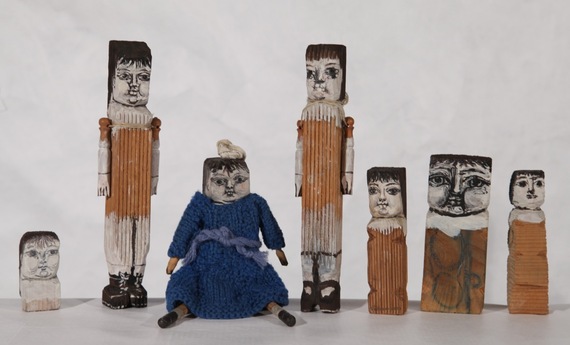 Now, the two institutions have once again collaborated on a vast sculpture show which makes even clearer just how groundbreaking the sculpture was. But to my mind, more than anything, it shows how clever and engaged Picasso was with the immediate world around him, that his method of bricolage, taking things from this and that to craft his sculpture was so original and so charming. Picasso had a great wit, and though he took his work, and himself, very, very seriously, he managed to be able to get up every day and see things anew.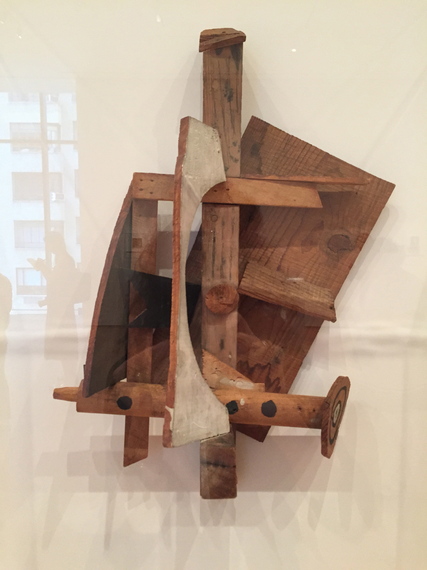 Mandolin and clarinet, 1913
The manufacture of the sculpture was sporadic, and changed each time he went back at it. New materials, a new woman, a new home, the war, the amount of space he had, even if he had heat, all these disparate elements informed his choice of media and method. He improvised and cobbled together things that struck his fancy, transforming these scraps into other real objects: He was not a minimalist or an abstractor. The curators remind us of his "profoundly democratic gaze, ever alert to the sculptural potential of things in the world"
"For those who know how to read, I have painted my autobiography," was Picasso's opening line of our documentary. This new exhibition proves definitively that the quote could be amended to include the sculpture.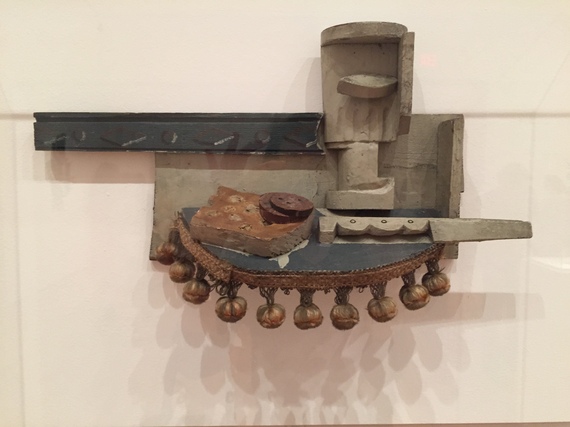 Witness the fabric tassel. The toy car of his son. A jumprope. A pram. A colander from the kitchen. A ceramic bowl. Sand and glue, gloves, string, thread, nails, in boxes, fir. The curators call him a ragpicker, but in contemporary terms, I know Picasso would have loved the Santa Monica Airport Sunday flea market.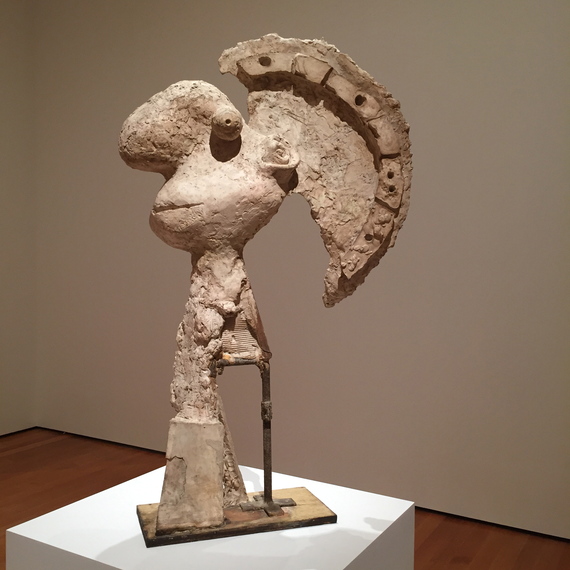 The women and children jump out, especially the singular features of his mistresses which grew correspondingly, I am convinced, with the amount of time he spent away from them, longing to be in their presence again even if he had been absent only a night. Why look at how monumental Marie Therese -- whom we know from her blonde, sinewy, sexually aware, often sleepy self in the paintings -- became when Picasso transferred her to sculpture.
One rarely uses adjectives like sweet and charming with Picasso, but here one can. Playful and witty, even in the larger pieces that eventually adorned large squares or courtyards, Picasso did not have the word "boundary" in his vocabulary. He did have wood, metal, iron, ceramic, marble and bronze in his vocabulary, but the sentences he made defied dictionary definition.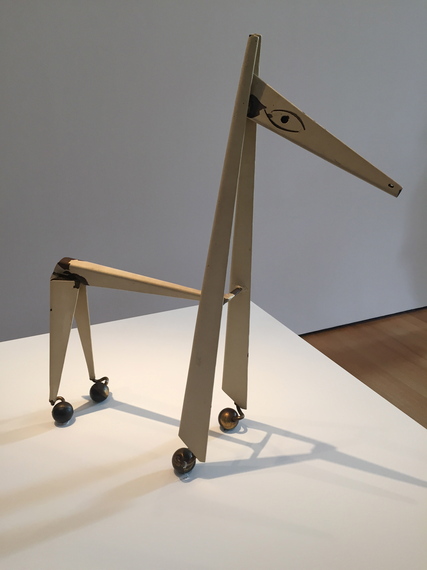 Many of the sculptures represent collaborations with other artists, and certainly inspirations from them. As he worked alongside Braque to break through to cubism, so he worked alongside Julio Gonzales for example, to achieve his sculptural transformations. One also sees Giacometti, Degas.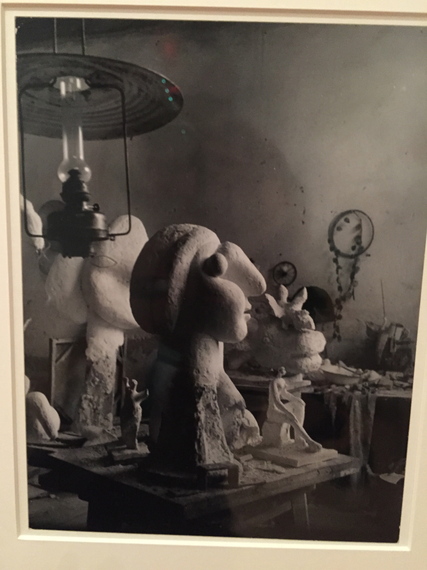 Brassai, Picasso's studio, 1932
MoMA has also kept the works together as they must have been in the studio, so we really have a visceral sense of being in the studio with him, turning this way and that to view the work from yesterday and the day before. This is lucky for us, we get the sheer breadth of the work as well as the practically day-by-day progressions. In this, the photographer Brassai was instrumental (as were others later on) in recording the sculpture in situ. The presentation at MoMA is austere, but welcome in its focus squarely on the work, only failing in the plexiglass sheaths for the smaller works which confounds the spontaneity with which they were so clearly created.
He held the sculptures particularly close. He lived with them or near them, and was ornery about lending or selling them. Or sometimes, it was the fact that he hadn't been offered enough money to be willing to part with them.
As soon as you are done with this floor, take the escalator up one flight to the painting and sculpture galleries and go to the Picasso gallery. Remind yourself of how prolific this man was, and how simultaneously he was painting painting painting to get at the essence of a thing. See especially the shocking Demoiselles D'Avignon, the working girls who looked at Picasso with the same hauteur and arrogance that he surely stared back at them. His painting in general is able to go deeper, in my view, and stays on the tongue longer, but I don't smile nearly as much with recognition.
"I paint what I see" is also attributed to Picasso . "I sculpt what I see" is its easy parallel.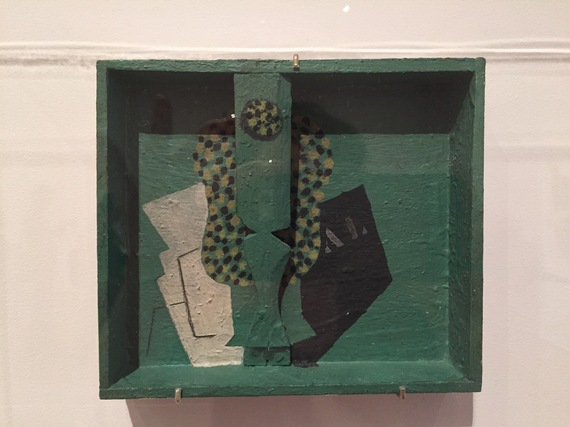 Glass and Newspaper, 1914
You think you've seen everything there is to see about Picasso, and then you see this. Even in Antibes and Paris at the Picasso museums this summer, I was newly surprised. Each time, there is more. For years artists have been inspired by Picasso. I imagine a whole new generation seeing this show and being similarly stimulated. The two curators, "les Annes" (Anne Temkin and Anne Umland) as I heard one member of the Picasso family call them at the vernissage, are only the latest women to have become besotted with him.
Please see my previous posts on Picasso and his work:
All photos by Patricia Zohn
Calling all HuffPost superfans!
Sign up for membership to become a founding member and help shape HuffPost's next chapter