Photo by Henry Leutwyler (c) 2010.
As a principal dancer and more than ten year member of New York City Ballet, I've started countless seasons with class taught by my boss, Peter Martins. In fact, most seasons start this way. There is also another familiar aspect to that first day of work; a question I've come to ask more and more: 'Who are the newbies in the corner?'
I'll start by introducing myself and giving a little background, so you get to know me. I started with New York City Ballet as an apprentice in June 2000 and was given a contract that October. I've been a principal dancer since January 2005 and I'm 26 years old. I came to New York and the School of American Ballet from the Central Pennsylvania Youth Ballet, where I studied for eight years. I followed the path of many dancers, including Sean Lavery, Darla Hoover, and most recently Adam Hendrickson and Abi and Jonathon Stafford. I spent one year at SAB, concluding with the annual workshop and started my apprenticeship with the company immediately.
Since I was very young when I started with the company (16), I was used to knowing all the new dancers who joined for years. These dancers were close to my age, some older, some younger, and were in my circle of friends or close to it. As I've gotten older and further away from that age group, I find that I know fewer and fewer, until finally this year, I knew none of the new girls. I do know the boys though. This is due to the fact that I take only the men's class at the School of American Ballet so that I can practice jumping and turning.
I guess part of the reason I do not know the girls is that I missed the workshop performances the school gives in early June this year. I'm sad that I did, because I so enjoy watching and picking my favorites and seeing what happens to them and seeing who makes it. My favorite example is from the workshop in 2008. The school was performing Concerto Barocco and there was this eye-catching girl in the corps de ballet. I found myself watching her sometimes instead of the principals. She had a beautiful technique and special something that made my eye keep going to her. This girl was Lauren Lovette, a dancer who just received her corps contract with New York City Ballet this year. She has been used by new choreographers already and I still enjoy watching her.
It has been startling for me to look in the corner of the room during class and see unfamiliar faces. People I've literally never seen before. Yes, New York City Ballet is big with about 90 dancers, but the vast majority have been there for years, so we certainly know everyone. I have to admit, it's somewhat fun to watch new people in class. Their nervousness, or confidence.
I guess this is an inevitable part of, for lack of a better phrase, getting older. Yes, I know many of you are thinking, "you're 26! you're not even close to old!." But I am 10 years into my career. I'm almost at my halfway mark. How old were you at 10 years into your career? I don't think it's an age thing, just experience and maturity. I think that also, what I'm really feeling with not knowing these new apprentices is that maturity gap. I don't relate to them any more. And it's hard to remember exactly that feeling of my first class with company. I can describe it, but I can't really feel it anymore. I feel instinctively more judgmental towards them than understanding, which I don't like. I am feeling the generation gap.
One feeling I do remember is that nervousness of those first Nutcracker performances with the company. And I say nervousness for a couple reasons. One is that it is most likely the first time you are performing multiple roles in one evening. And two, there are 40-something performances you have to perform in under six weeks. At the start it is daunting, to say the least. I also have a very vivid memory of my first big role in The Nutcracker. I was 17 years old and given the opportunity to dance the Dew Drop Fairy. How exciting! It is turning and jumping and bending. All things that I love to do. I had performed this role as a teenager at my home school of CPYB and had watched it for two years in New York. This was my second Nutcracker and I had spent my first performing every show of Chinese and watching every waltz of the flowers wishing I could be dancing Dew Drop. So, of course, my chance comes, as it happened two days before my 18th birthday, and I was a bundle of nerves and excitement. I run out for my first entrance to that beautiful harp, sucking up every moment, and what do I do at the end of the second eight counts of dancing? Fall! I fall on my face on center when no one else is moving on the stage. Embarrassing? Yes! I'm on the ground staring at the gray marley floor, looking up at the conductor, Maurice Kaplow, and he has stopped waving his baton to gape. But embarrassing as this seemed, I got up and laughed. My first feeling was disbelief, then the need to get up, then "screw it." I thought, "well, even if I miss my turns, it can't get much worse." I think this moment became a model for my attitude towards disasters on stage for my career. Slip, fall, forget choreography, it's all part of live ballet. You move on, forget, and trust it will be better. Then later, you have a good laugh. I even have a picture of my now infamous Dew Drop fall. I am dancing Dew Drop on opening night this year. But not a performance of The Nutcracker goes by that I don't think about that moment.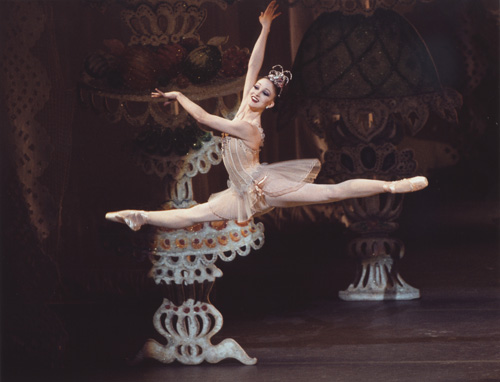 There will always be faces I don't recognize at the start of seasons. But I promise to not judge too harshly and to learn all their names! I will never forget my own rocky beginnings and share the newbies wonder and delight--and the challenges--of The Nutcracker and the first years of our careers.
Ashley Bouder will be dancing Dew Drop on opening night November 26 at 8pm, then Sunday November 28 at 1pm and will also dance the Sugar Plum Fairy at other performances. Check www.nycityballet.com for availability of The Nutcracker.