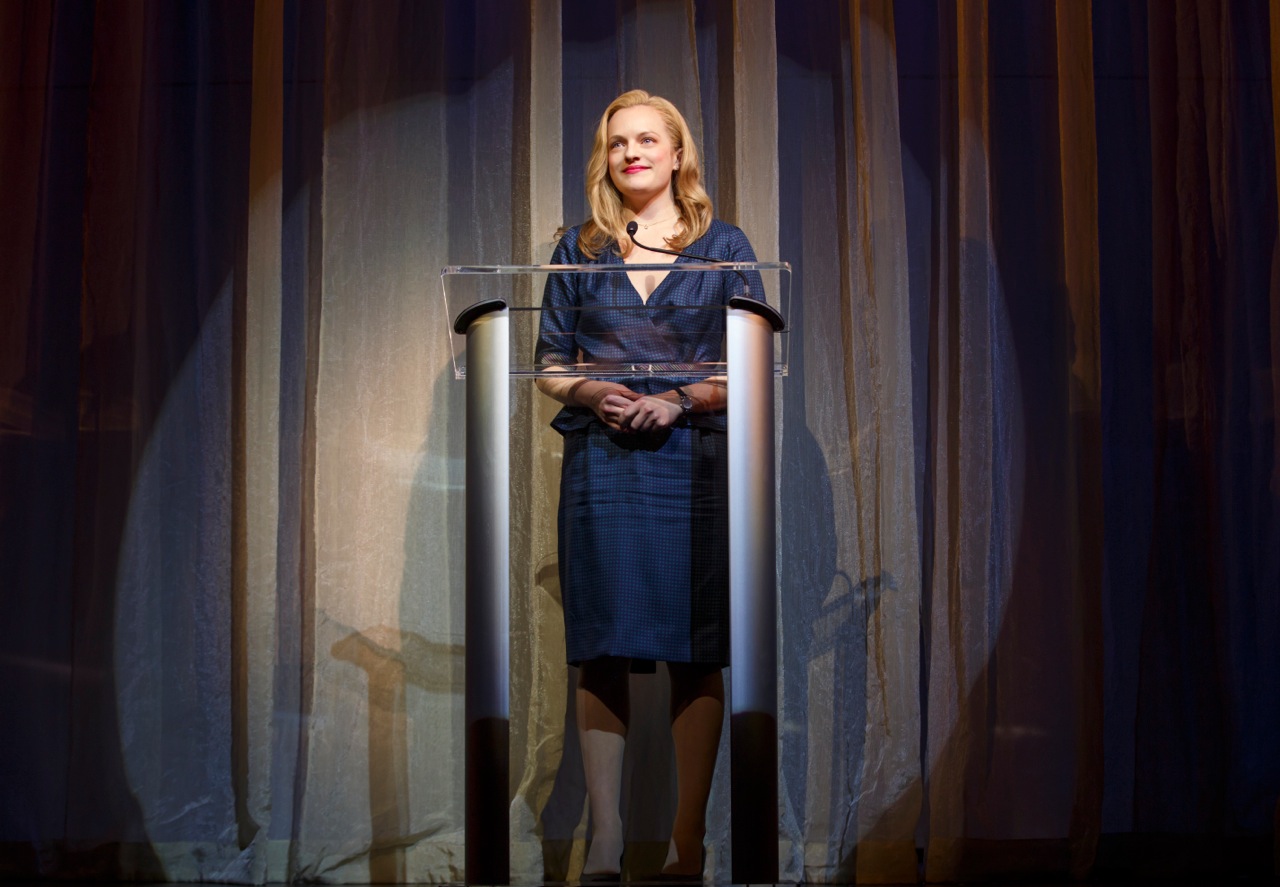 Elisabeth Moss as Heidi in The Heidi Chronicles Photo by Joan Marcus
In 1988 I took a friend with me to see Wendy Wasserstein's play The Heidi Chronicles at Playwrights Horizons on 42nd Street. Wendy and I had worked together on a comedy pilot that I produced for PBS and out of that grew a proposal we made to Sundance for a film project.
Two years earlier, I had moved to Los Angeles with my young family to work in the movie biz-- with mixed results. Wendy was still living the artistic life in NY, fiercely dedicated to her work--with spectacular results. I missed NY, the single-mindedness of work, the close-knit overlapping creative communities, the feeling I could do anything if only I put my mind to it. I felt estranged from old friends all of whom were talented, ambitious women. I admired Wendy, and I felt close to her even though our paths had diverged. She was very busy and sought after and I missed her, and by extension, my old self. Where had that young, idealistic woman gone?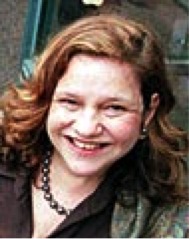 Wendy Wasserstein
We went backstage afterwards and then Wendy came to dinner with us across the street. Midway through the meal I burst into tears and confessed to Wendy how much she meant to me and how sad I was that we had fallen out of touch. She was a bit taken aback but she tried to reassure me that we were indeed still friends. "It's just that I feel stranded," I felt like parroting back the defining words Heidi recites in her speech to Miss Crane's reunion class. "And I thought the whole point was that we wouldn't feel stranded."
"I thought the point was we were all in this together.''
'That's probably the kernel of the play,'' Ms. Wasserstein said in an interview with the New York Times on the eve of the play's opening. ''That's why it was written,'' she continued... "What happened to these movements? What happened to this feeling of a generation together?''
A new production starring Elisabeth Moss opens soon and I can tell you it hasn't lost its relevance...or its kick. Though the topic -- feminism and its discontents -- is well worn, Wendy's writing is so funny and fresh, it shines a renewed light on its themes no amount of "leaning in" can. Wendy's spoonful of sugar (or in her case, Sweet and Lo to accommodate her endless dieting) makes the medicine go down and makes this play both a pleasure and essential for 20- and 30-somethings of today.
The play had pointed up the reality that though women had made strides, sisterhood was sort of dead in the water.
What's missing is the 'We,' she said in the interview, "the making sure that not only can you pursue your potential, but that others can too. It's the thinking about others, as well as about 'me.' 'One reason the ''We'' is missing", she said, is the "differences between movements and what it is to take something to heart - to be a true believer and to live your life by something.And sometimes I look around now and I think, 'Where are those ideas?' I mean those ideas about 'we,' about making this a better society. I don't see them. There isn't that to hold on to.''
Wendy herself had worked steadily and successfully withstanding a series of complicated relationships with men and had finally decided to adopt a baby on her own. I had been trying to retain independence thinking I could somehow control my career and "have it all" (we have to think of another expression!) I had an independent production deal at the time and had made New Line get me an office near my house so I could also carpool and go to the after school games and then go back to work) -- with consequent mixed results in both arenas. Already the whole notion of "opting out" had reared its ugly head. I was trying to do everything, and guess what, you can't.
"I read all the stuff about a gentler, kinder life, and all of that, and I find it very upsetting", said Wendy at the time. "Are they saying that the women who decided to fulfill their potential have made a mistake?"
Wendy spoke with her 26-year-old niece,
...and she said, 'Weren't you scared to begin a career so late?' And I said, 'No.' You have to understand that in my generation what we did was we spent our time finding ourselves. And a lot of us are still spending our time finding ourselves. A lot of us - even those married and with children - still sit around and think, 'What am I going to do when I grow up?' ''
It's scary that the conversation has so little changed. Isn't "leaning in" just another way of saying feminist without the baggage that word has for so many? I do wonder if Wendy would have still chosen such a traditionally "feminine" profession for Heidi today (Art Historian with an emphasis on women artists). Now maybe Wendy could have written her as a tech entrepreneur, or a gender studies professor.
No, on second thought not gender studies. I recently met a gender studies professor in Cuba, Serbian-born who teaches in Arizona, in the tower of the faded art deco splendor of the Bacardi building. As we gazed over the tops of another Revolution with very mixed results, she proudly told me that she had never read Ernest Hemingway when I recommended his home as a wonderful site to visit. She went on to say she was a lesbian and had no interest or intention to read any male 20th or 21st century literature whatsoever. I was dumbfounded. This is what gender studies professors are teaching our students? She countered by asking me if I had read--and here I confess I can't remember their names-two more obscure feminist writers. "No," I said, "but I'd like to." I thought we had long ago shed this angry-bird feminist caricature. She walked away in a huff.
On the day after International Women's Day it seems like a good time to take stock. Many friends and colleagues have risen to the top of their professions and are still every bit as ambitious as they their younger selves, so much so I now think another kind of latter stage biological clock is ticking. I hate that sometimes to get "on the calendar" of a friend takes months of emails instead of days or weeks. Many of us did have families and continue working. Others did not have children and continued with their careers without distraction. Inevitably, time and distance took their toll. I can't recall the last time I had a conversation about feminism in a really constructive way, or asked the question that Heidi poses at her high school reunion, "Women, where are we going? "
To be honest, like Heidi, I miss sisterhood more than I miss feminism which I already feel is something I have incorporated in my very fiber. Nowadays, I am more apt to be talking about life choices with the women involved with my sons (all uber-professionals, only one with children so far) than with my friends. But because our choices have already been made does it mean we can't continue the conversation and have eyes and ears for the Next Generation? Wendy made this issue and the fact that it's all connected central to her play. Feminism is impossible without sisterhood. Renewed observations that Heidi's world is rarified (Vassar, Yale, Hollywood, NY Hospital, Art History, et al) cannot be denied: Wendy wrote what she knew. But that doesn't mean it's any less applicable. Now that we do have some "power", shouldn't we be making sure that the issues we care so deeply about are still front and center?
About the casting of this play and this production. As the play is still in previews I feel one must wait to nit pick. Suffice to say, Jason Biggs (Orange is the New Black) as Scoop and Bryce Pinkham (who was new to me) as Peter are really outstanding and almost steal the show right out from under Elisabeth Moss. I think Wendy would have very much approved of casting Moss but I think Moss is still finding her way. And to be fair: Wendy wrote Heidi as the conflicted character who feels sad and lost and sometimes you can get impatient with her--not Moss--for not standing up for herself more. Heidi is interrupted by the brilliant and loquacious men in her life-- and by life itself. Joan Allen the original Heidi said, "...she's not a feminist. She throws her hat into the ring of feminism, but basically she's a humanist.'' There are points where I felt weighted down by the on-the-nose polemics but these are much obviated by the really strong characters and strong performances. And the laughs. Above all Wendy liked making people laugh.
In a very brief and admittedly ad hoc non-scientific survey, I asked some younger theatergoers who were standing in line near me before the show why they were there. The man behind me said pointing to her, "my wife is in the industry". Another man said he had been having a drink across the street with his wife when they saw the marquee with Elisabeth Moss's name on it and because he likes "Mad Men I decided to take a chance." A young woman with a friend said they had seen something on Facebook. So far so good: the marketing, the industry buzz and the social media stuff is working. Afterwards I asked a group of four young women what they thought. They all looked at each other--in sisterhood?-- and said, "I liked it". I asked them if they found the period referents (easy for the Boomer Generation but more elusive for the Next Gens) frustrating. "We got most of them", said another. "It didn't bother us". Finally I asked them the all-important question, why were they at the show. "Our friend wanted to see it and she organized a posse of us". This was the best news of all. This would be the news that Wendy would have wanted to hear.
Do go see this play. If you are a daughter or a niece, go online and get your own ticket. You're old enough to hear Wendy's message even if you don't know who Eugene McCarthy or Trotsky is or can't hum Be my Baby and the Shoop Shoop song. (Which you should know by the way--go to I tunes to warm up)
And for my generation, Wendy's generation, pick up the phone and call a friend today. Meet for a coffee or a tea and continue the conversation.
As Heidi's friend Fran says in the play "Either you shave your legs or you don't".
REAL LIFE. REAL NEWS. REAL VOICES.
Help us tell more of the stories that matter from voices that too often remain unheard.