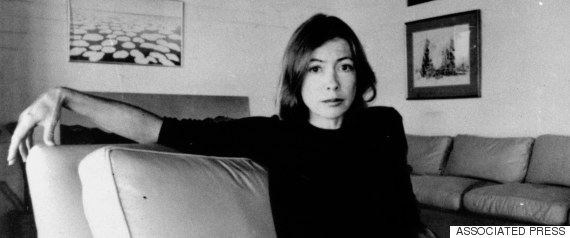 For certain women, Joan Didion's books are a kind of Bible. They sit on my shelf in the section devoted to authors who have been my--and thousands of other womens'-beacons. Not just because I am a writer, in fact quite the contrary. The books became important to me first as a teenager who liked to read and was curious about things on my mother's shelf, then again when I moved to Los Angeles to become a producer, and then as some close to me began to age.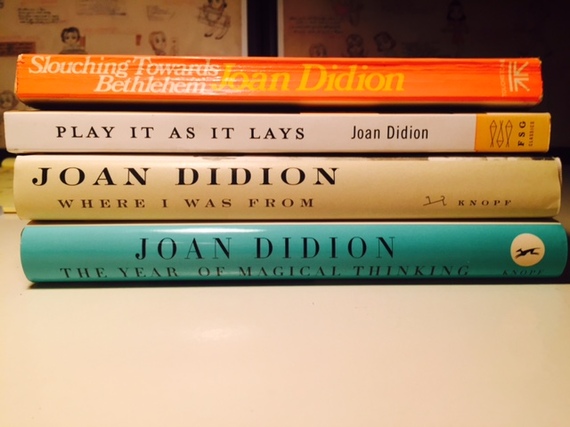 Joan Didion is now 80 and still working. Many female writers have paid homage to her, each approaching her very personally. I can hardly get into the car on a down day without thinking about driving off into the desert like Maria in Play it as it lays. It's almost impossible to read her without being reflective about one's own life. Not everyone agrees about Didion--is she elitist or just a Sacramento girl who made good in Hollywood--but last year she was in a fashion campaign for Celine and the impetus for a Kickstarter campaign for a biographical documentary by her nephew Griffin Dunne.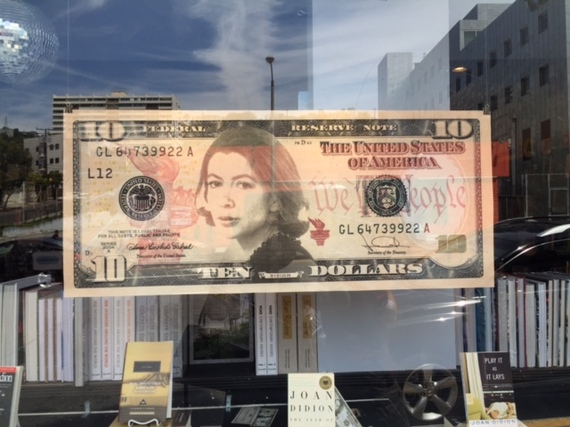 This week, one of the last truly independent bookstores standing in LA, also a beacon for writers and readers, Book Soup, decided to pay homage to Didion in a novel way. As it has now been determined that a woman will replace Hamilton on our ten dollar bill--even as he is having his own renaissance on Broadway--Rob Bieselin, a graphic designer and his colleagues at the store decided to mount their own kick-ass campaign, one for Didion to be the face of the ten dollar bill. A young man! #Joanontheten.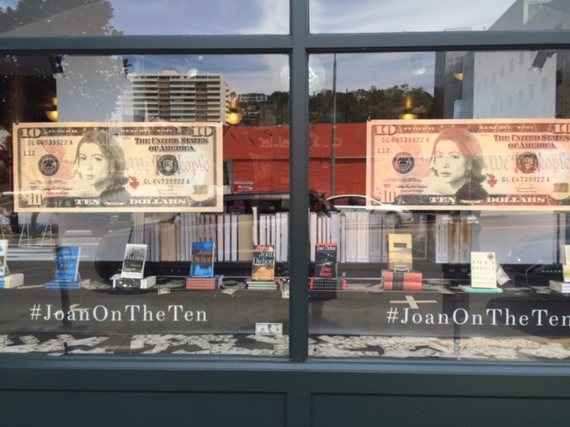 The windows of the store display Didion's books, the bills, and other photos. It's delightful and very smart. It reminds us both about Didion and her importance as a writer of fiction and non fiction, and of the importance of the physical weight of books and how influential bookstores--and writers-- still can be.
When I went there today to make sure to get some Didion Dollars before they ran out, I learned by chance that a woman had today tried to pass one of the bills off at a gas station!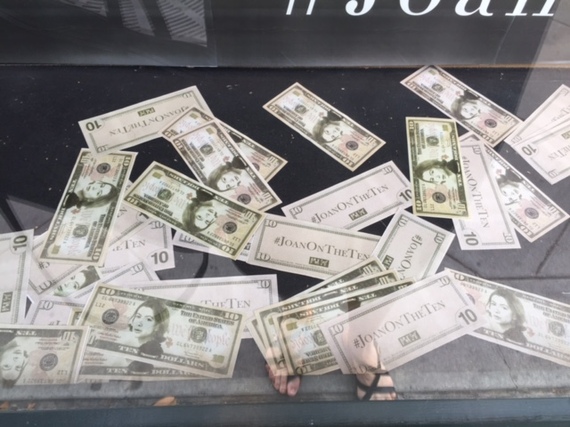 Though no living candidates are eligible, the notion has caught on social media and in these dog days of August, people-already tired out by the presidential campaign shenanigans and by the heat-have found new inspiration both from the dollars and Didion herself.
When we finally bought a home here in Los Angeles after many years in NY, it happened that it was across the street from the Didion-Dunnes. Alas, they had just decided to sell theirs and move to NY. When I heard this news, I felt extremely foolish. Here I thought I was making a wise career and lifestyle move--good for the children-- and one of my heroines was doing the exact opposite. I had re read the chapter in her essay collection, Slouching Towards Bethlehem called Good Bye to all That, when she had written about leaving New York and it was one of the things that made my move seem possible.
I was despondent for a few weeks, especially when I spied her wraith like figure from time to time going to and from the mailbox, and I regretted the cups of sugar I would not be able to borrow, and the rides we might have taken, and all the things we might have discussed and especially the wisdom she might have imparted.
My copy of Slouching was my mother's and the chapter on Self-Respect has her checkmarks and underlining for emphasis. In an interview she gave at the New York Public Library after her most recent book about her daughter was published, Didion said she resisted being thought of as some kind of a self-help author. But the truth is we all pick over her work like crazy for clues to a way of being in this world we admire.
I applaud the bookstore for its canny activism and I applaud Didion for being worthy of such an accolade. Too bad no living candidates are allowed on our currency. Who makes these rules anyway?
Calling all HuffPost superfans!
Sign up for membership to become a founding member and help shape HuffPost's next chapter