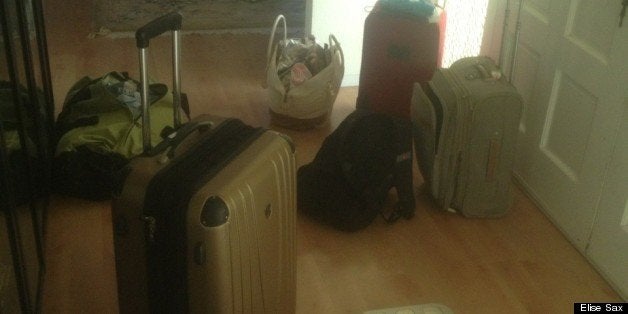 It became quickly apparent in preparing my two sons for our epic journey to Europe for two-and-a-half months that they didn't give a damn who Ann Boleyn was and cared even less about the Marshall Plan. I would have to be sneaky about culturing them. Shoving information in their face during commercial breaks would never work. Besides, they were still angry at me for planning the trip in the first place.
Their biggest complaint was the amount of time we would be away. Even by European standards, a ten-and-a-half week trip is long, but I figured the cost of the journey was in the plane tickets to Europe -- I had secured a home exchange for the month of August -- and who knew if we could ever get the chance to return?
So, our epic journey really was an epic journey. As I wrote the last half of the third book of my Matchmaker series, the planning details for our trip mounted. Instead of a tourist with a guide book and suitcase of wash and wear, I would have to be more like Sir Richard Burton, packing to explore Africa in search of the source of the Nile.
Richard Burton didn't pack as much as I did.
I've traveled my whole life, and I've never learned to pack. I'm the world's worst packer. To add to that, I had to bring clothes for cold weather and hot, and well, there was the flip-flop argument.
Here's a riddle: How long does it take to convince two Southern Californian boys that they can't wear shorts and flip-flops in London and Paris?
Give up? Yeah, so did I. it was inconceivable to my kids that only dark colors, jeans or slacks and closed-toed shoes were appropriate wear.
"Your basketball shorts and flip-flops mean one thing," I tried to explain to them. "Steal my mom's purse."
Lesson one: What's cool in one place isn't necessarily cool in another. Cool is in the eye of the beholder, and we were about to encounter a whole new batch of beholders. I let my boys keep their surfer chic and packed continental cool as well. I figured when they met the Europeans, they would quickly adapt.
I'm all for dancing to the beat your own drummer and being a unique individual, but sometimes, it's good to let go and dance along with someone else. Letting go of the baggy shorts was a good place to start.
So, that's the way we made our way to the airport in Los Angeles with five large suitcases and five carry-ons and my kids complaining the whole time that I was a terrible mother. It was at that moment I told them they would have to turn off their phones and slip them into airplane mode for the entire summer. And no, we wouldn't have English-language TV, and no, there would be no video games.
They almost jumped out of the car. They almost refused to walk into the airport with me. Armed only with the promise of Wifi in our apartment in London and the 500 million Starbucks in the capital city, they hopped on board the Virgin Atlantic flight with me and took a leap of faith that maybe Mom wouldn't ruin their lives.