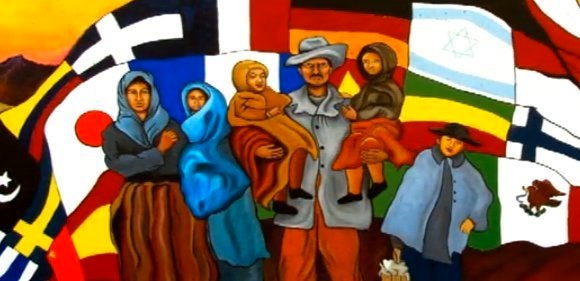 This is the 9th Autumn that has seen major league gallery exhibitions in Culver City. Actually the Gallery district is at the border of Los Angeles and Culver City, with the Los Angeles galleries on La Cienega, North of Washington, enjoying a far less restrictive city code apparatus than their fine art brethren stuck under the microscope on Washington Boulevard.
The neighborhood was baptized by Blum and Poe Gallery's September, 2003 opening and has subsequently seen a never-ending parade of dealers and galleries getting into the game or taking their exhibition schedule to the big time.
Building on a decade, countless artist reps and dreamers continue to sign leases and go about modifying this conglomeration of warehousy spaces that were previously cabinet-makers, muffler shops and other cinderblock hovels of commerce that hold the charm of dental offices in their architecture and the pain therein with some of the art they exhibit. Some not all of the time and all of them not always.
Like it or not, though, Culver City is the epicenter of the Los Angeles art scene. On Saturday, September 10, the galleries kicked off the new art "season," traditionally the big new show of the year. Checking out everything midweek the following week, here are the top 10 shows that my four eyes could spot.
#1 Group Show PHOTOGRAPHY INTO SCULPTURE at Cherry and Martin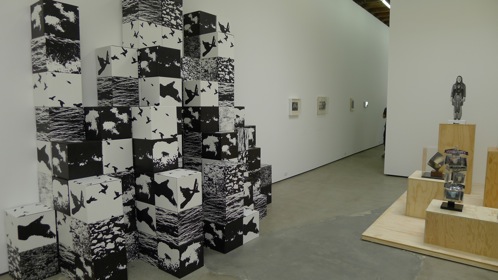 Usually survey shows of any formal subject confined to an era are nerdier endeavors than Star Trek conventions. But not this selection and display of a cacophony of Dada-inspired technicians bent on finding interesting 3-D forms with a then-still-fascinating medium.
#2 Solo Show GOOD BARBECUE by Patrick Wilson at Vielmetter Gallery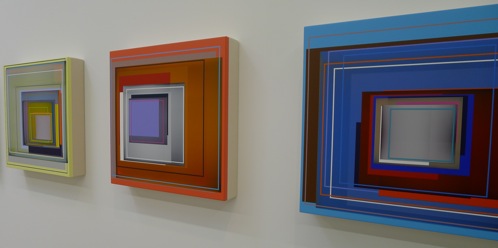 Modernism's grandest break with art history was not its pursuit of the minimal but its abandonment of technical virtuosity. Wilson remains the most ambitious, dextrous and mind-bogglingly precise painter working in abstraction in many years... maybe ever. If you never imagined a mesmerized audience staring at a descendent of Malevich with the "how does he do it" look in their eyes usually reserved for photorealists, get down and see this nearly sold-out show.
#3 Daniel Desure at Carmichael Gallery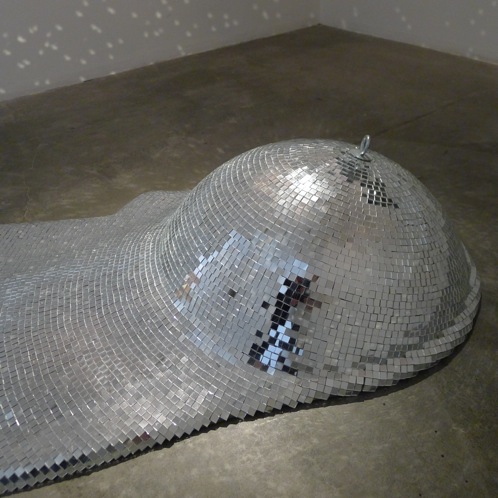 Part of a larger exhibit entitled Now Not Never, Desure's sculpture of a disco ball melting on the floor satisfies the dilemma of sculpture. How does a familiar object get re-presented to an audience anew? Here it was done with poignant poetry.
#4 Solo Show DESTROYED by Moby at Kopeikin Gallery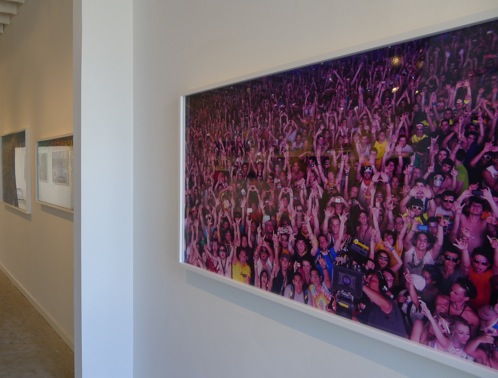 This is an instance where not knowing ahead of time benefitted. The gallery features an array of photos of large crowds of cheering people. The intrigue sweeps over the ignorant. Are they sports fans celebrating a no-hitter in Cleveland or a goal in Sao Paulo? No, they are unadorned of the team gear and banners that pollute sports fans. Is this a religious revival? They look enraptured, joyous even, but the occasional bathing of the masses in exotic purple lighting looks far from Billy Graham's choice for a blessing.
They are crowds seeing the world's most famous DJ, Moby, and he takes a shot of them at their most frenzied celebratory pose for the camera. The uniformity of each picture is not dulled as the exalted joy being expressed is an all-too-rare mounted, framed and exhibited sentiment. And to be able to experience the pure happiness of these moments without any of that darn racket those kids are dancing to was an added plus! (say that last line in a cranky "Get Off My Lawn" old man voice)
#5 Solo Show RED TIME by Betye Saar at Roberts And Tilton Gallery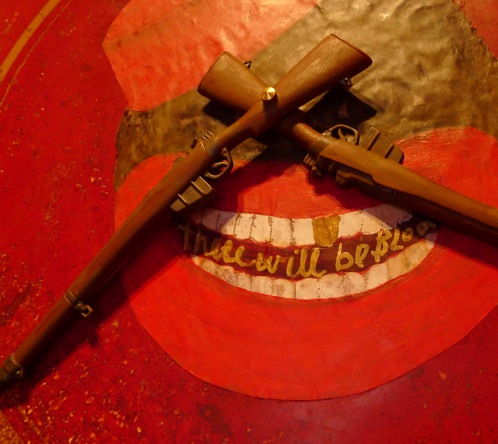 A major commercial gallery solo show by an artist who will be featured in SEVEN (count 'em, seven!) museum-level institutional group shows in the coming Pacific Standard Time town-wide art history survey funded by the Getty Center. And why not, Saar is the shaman-queen of Los Angeles assemblage.
This show is an installation that functions as a mini-retrospective of a living legend who has always combined the overtly hand-made personal with the political. A closer glance at the Negrobilia clock that was this fabulous installation's centerpiece reminds us why the installation room is painted red: There Will Be Blood.
#6 Tandem Solo Shows by Chad Robertson and Ali Kheradyar at Western Project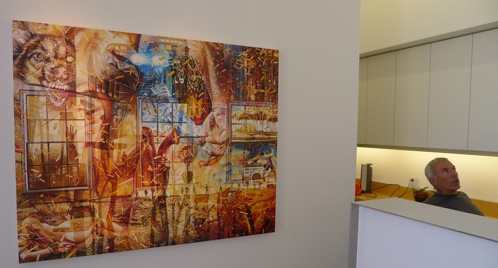 Two vastly different solo shows. Chad Robertson is a painter of epic psychological dreams played out as sociopolitical megatrends. His layered visions of interconnected destinies reveal that the sum of the parts out-brush-strokes the whole.
The photographs of Ali Kheradyar are simple exercises in the dying of one's pubic hair. Presented as a whole, the sameness of it all, of everyone trying to be different by conforming, is a brilliant meditation on the biological reductivism and subsequent loss of individuality of removing one's pants.
#7 Solo Show THE RAG FACTORY by John Outterbridge at LAXART Gallery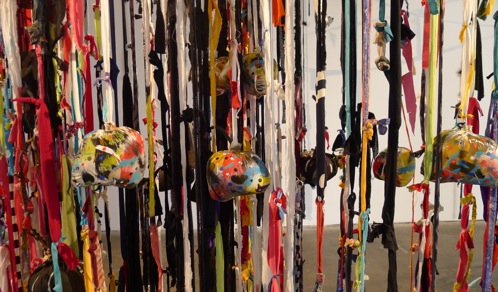 This show is a brilliant meditation on the industrial manufacturing pulse of the inner city, presented in a poetic sculptural form. The harsh angles and solid forms of large-scale minimalism are made soft by the cloth of the rag trade.
The brutalist lines of Outterbridge's monuments are deconstructed with hand-knotted improvisational passages that skew the dehumanized championing of formal emptiness that is the karmic bane of modernism. Such a tribute to the working man and woman is oddly out-of-place in a gallery world that is as far from the 9 to 5 world as it gets, but that doesn't mean the beautiful gesture is not unwelcome.
#8 Solo Show HOLD THE LINE by Kaws at Honor Fraser Gallery



At first I thought this show was an insipid attempt by the artist to corner every possible market that may or may not exist within contemporary art. He attempted this by mimicking the most superficial aspects of art/product that are out there and made it his own with the addition of a few stylistic additions of his own brand.
But then I realized that this show signifies that three generations of graduate level art school lectures about the evils of the art market have amounted to a toilet flush in the scheme of things. Kaws is hardly the cause, he is the symptom, the art world has a cold sore named Capitalism that flares up now and again and is incurable.
#9 Solo Show by DJ Hall at Koplin Del Rio
A sprawling collection of photorealistic paintings by the LA staple of getting it right on canvas, DJ Hall, mines the infinitely fertile territory that is America in the 1950s. From Mouseketeers to the poetry of an idyllic gardening scene emblazoned with the phrase When Women Wore Gloves, these pictures are familiar and yet fresh. A sketch of a young girl entitled Self Portrait at 8 years and 56 sums up the continuing hold that mid-century America has on the population: We change, it stays beautifully the same.
#10 Solo Show by Joel Kyack at François Ghebaly Gallery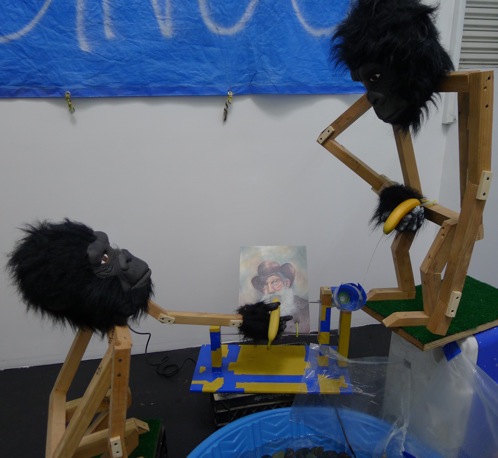 In the long art historical lineage of sculpture that addresses gorillas urinating into a machine that forces Charles Darwin to eat a banana, Joel Kyack has revived this tired genre by using two by fours to substitute for the simian body form and has introduced the element of a kiddie pool to collect the water that stands in for the gorilla banana penis urine.
For those of you that are tired of seeing yet another sculpture of two gorillas interacting with the father of evolutionary theory in this classical pose done innumerable times in the past century, look yet again, as Kyack really moves this genre forward, despite so many in the art audience who thought that it was all played out.
So that is my top 10... tell me in the comments what your favorite art shows of the new season are...
All Photos by the author.
- - -
Want to see the art that Mat Gleason thinks is the best? See Top Ten Now, Mat's survey of the 10 most interesting unrepresented artists in Los Angeles at Avant-LA. The show is at 1835 S. Main St, LA 90015 - located across the street (North) from the Art Platform art fair. Avant-LA runs concurrently with Art Platform: September 30 thru October 3.
Related
Popular in the Community