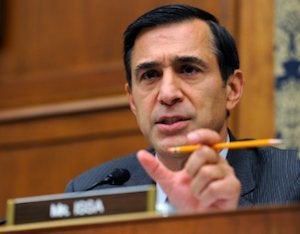 Elijah Cummings, the top-ranking Democrat on the House Oversight and Government Reform Committee, approached his Republican counterpart to urge a hearing on the foreclosure crisis. Chairman Darrell Issa (R-Calif.) agreed to a hearing, said Cummings, but it won't be what he had in mind.
"I asked Mr. Issa for the foreclosure hearing and it sounds like it's going to turn into a Freddie Mac-Fannie Mae hearing, as opposed to the robosigners, as opposed to the failure of banking institutions to modify loans," Cummings (Md.) told The Huffington Post.
The foreclosure crisis, depending on whom you ask, was either caused by reckless Wall Street greed unleashed by deregulation, or the government's intervention, through Fannie Mae and Freddie Mac, into the mortgage market.
"I have no problem addressing Fannie Mae and Freddie Mac," Cummings said, "but I also want to look at all the rest of this stuff."
Issa spokesman Kurt Bardella told HuffPost that no hearing has yet been scheduled and that Issa doesn't plan to focus exclusively on Fannie and Freddie. "I think Mr. Cummings is misinterpreting something along the way," Bardella said. "We're not looking to limit ourselves to one hearing on Fannie and Freddie and that's it."
However many hearings there are, Cummings said he wants to know "whether or not there has been a deliberate effort, as has been alleged by some public officials," that banks are improperly foreclosing on homeowners who are "in the midst of modifications and they found out they have a foreclosure sign on their door."
At least a dozen homeowners have told The Huffington Post that they have been foreclosed on while still in the middle of mortgage modification negotiations. Cummings said the same thing has happened to many of his constituents.
In December, said Cummings, he held one of his periodic foreclosure events that bring together struggling homeowners to speak with representatives of the banks which hold their mortgages. About 700 of the roughly 1,000 homeowners who attended, he said, were able to reach a modification agreement.
Cummings said that the committee should call attorneys general who have been investigating fraud. "You've got to talk to the attorney generals of Florida and Nevada who have said, based on their investigation, that there is fraud, that people are being dealt with fraudulently," he said. "That's my concern, particularly when you've got eleven million people about to lose their homes by the end of 2012. Eleven million."
Florida Attorney General Pam Bondi has identified extensive fraud in the mortgage market, with multiple people forging the same signature and affidavits being filed on behalf of long-busted banks such as Lehman Brothers and IndyMac.
Calling all HuffPost superfans!
Sign up for membership to become a founding member and help shape HuffPost's next chapter