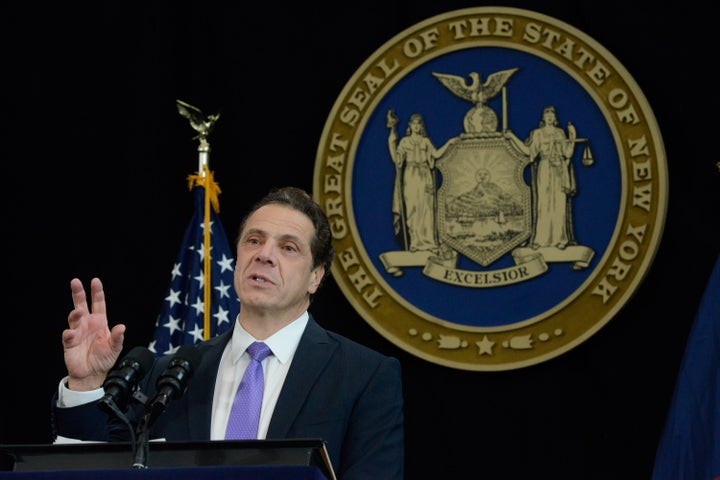 New York Gov. Andrew Cuomo (D) received nearly $113,000 in campaign contributions from the oil and gas industry from January 2015 to mid-January 2018, and headlined a gala funded by big oil companies in May.
But the governor told activists at a fundraising event Wednesday night that he would stop accepting fossil fuel donations.
An 18-year-old activist with the climate justice advocacy group Sunrise Movement asked Cuomo if he would sign the No Fossil Fuel Money Pledge, which obliges candidates to refuse any contributions over $200 from fossil fuel companies' political action committees, executives or front groups.
"Yes, I'm there," said Cuomo in a video of the exchange obtained by HuffPost.
Then on Thursday, Cuomo walked back the remark, claiming he misheard the question.
"It is our understanding that the governor was asked whether he believes in moving off of fossil fuels and toward renewable energy," a spokeswoman for the governor told HuffPost after this story was first published. "He responded affirmatively."
Cuomo's initial statement came the day after Democratic socialist Alexandria Ocasio-Cortez toppled a 10-term incumbent, Rep. Joe Crowley, in the Democratic primary in New York's 14th Congressional District, which includes parts of the Bronx and Queens. She raised over $300,000 in small donations and successfully painted Crowley, who outraised her 10 to 1, as a corporate shill.
Ocasio-Cortez, running on an avowedly left-wing platform, is campaigning with Cynthia Nixon, the progressive aiming to challenge Cuomo in September's gubernatorial primary.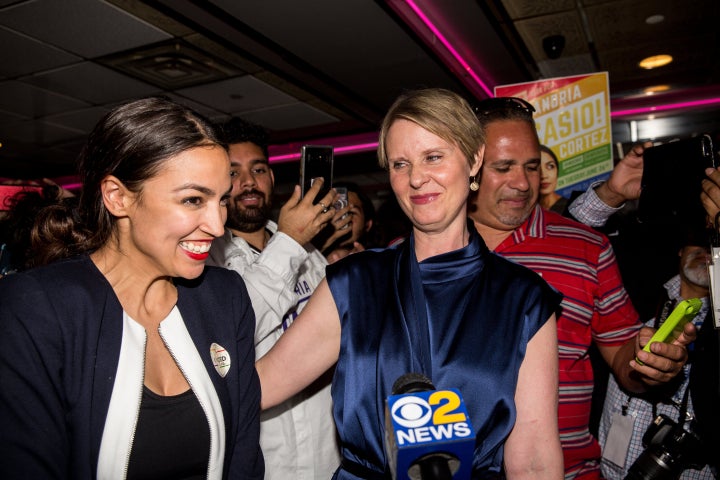 Nixon has sworn off any corporate donations, signed a pledge against fossil fuel money and announced one of the most ambitious climate platforms of any Democratic candidate in the country, including eliminating oil, gas and coal use in New York by 2050 and fining polluters.
In a statement to HuffPost, Nixon called on Cuomo to return the money he'd already accepted from fossil fuel players if he planned to stop taking the industry's contributions.
"If he's going to sign the pledge, he should return the donations," she said.
Nixon's candidacy has become a rallying cry for New York environmentalists frustrated by Cuomo's support for building new fracked gas infrastructure and his refusal to back thrice-introduced legislation billed as the most progressive climate proposal in the country. In April, more than 1,500 protesters marched on the state capital to demand the governor reject new fossil fuel infrastructure and move toward 100 percent renewable energy, with some calling on Cuomo to support the legislation, named the New York State Climate and Community Protection Act. But the latest legislative session ended this month without a vote on the bill.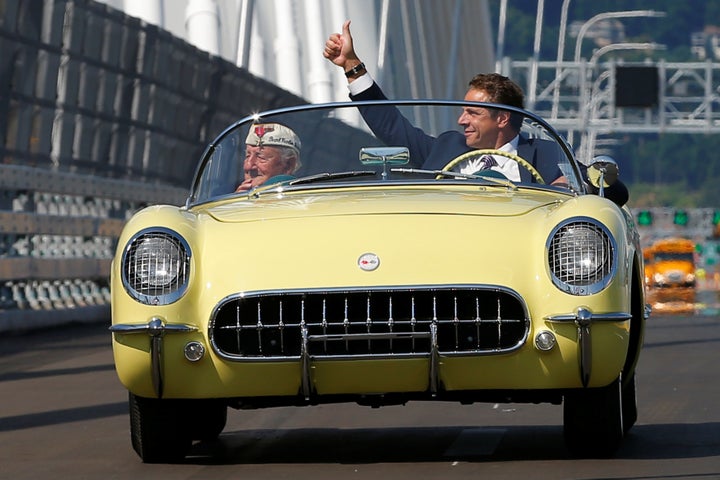 The governor is not the first establishment politician to walk back a more progressive stance on fossil fuels. In 2008, then-vice presidential candidate Joe Biden told an environmental campaigner at a rally that he opposed any new coal plants in the United States, including so-called "clean coal" power stations. A month later, he reversed course.
"Governor Cuomo woke up in Alexandria Ocasio-Cortez's world this morning," said Matthew Miles Goodrich, political director of Sunrise in New York, before the governor's change of heart. "He finally seems ready to accept that voters are no longer forgiving of politicians who take money from the millionaires responsible for superstorms like Hurricane Sandy."
Cuomo has a checkered past with the fossil fuel industry. Despite butting heads with environmentalists demanding climate action that matches scientists' increasingly dire warnings, Cuomo put a statewide moratorium on hydraulic fracturing, or fracking, for natural gas in 2014. In 2015, he announced a plan to cut the state's greenhouse gas emissions 40 percent by 2030. Last year, he vocally opposed President Donald Trump's withdrawal from the Paris climate accord and vowed to increase New York's renewable energy production, mandating that half the state's electricity must come from solar, wind or hydropower by 2030.
In March, he campaigned alongside former Vice President Al Gore, who touted the governor's environmental record. In May, he proposed regulations to end coal use in New York by 2020. On Thursday, the governor's office announced $275 million in new grant funding for clean water infrastructure projects.
At least 33 candidates in New York have signed the No Fossil Fuel Money Pledge, which is overseen by 17 environmental groups including Sunrise, Greenpeace and 350.org affiliates. More than 300 national contenders have signed, too.
This story was updated to reflect Cuomo's latest statement.
Popular in the Community