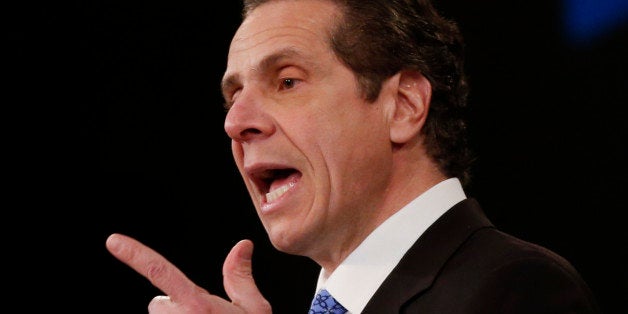 A new initiative by New York Governor Andrew Cuomo could pave the way for the appointment of special prosecutors in cases where police kill unarmed suspects.
"Underlying the American dream of economic opportunity is a foundational belief and trust in our justice system. But that belief and trust has been questioned, presenting a problem in both perception and reality," Cuomo said Wednesday, alluding to the Eric Garner decision and its subsequent fallout.
The call for independent review was part of a seven-point "fairness for all" plan that the governor outlined in his speech. In it, Cuomo also addressed making grand juries less secretive, proposing that district attorneys submit a public report in police death cases where officers are not indicted.
District attorneys previously critical of moves that would overrule their authority in favor of special prosecutors reversed their positions following Cuomo's proposal, according to Capital New York.
The reform package also called for police to be outfitted with new bulletproof vests and body cameras, and bulletproof glass for squad cars. While they supported the governor's call for new gear, some police union spokesmen accused Cuomo of "horse-trading" gear for impediments to due process.
"I reject the concept that [necessary equipment] be horse-traded for criminal-justice reforms designed to disrupt the due-process rights of law enforcement and promote the idea that cops must be guilty until proven innocent," Detectives' Endowment Association President Michael Palladino told the New York Post.
Patrick Lynch, president of the 23,000-member Patrolmen's Benevolent Association, told the Huffington Post that he's waiting for the proposed reforms to take shape before choosing a side.
"There will be an unusual mix of legislation as a result of the Governor's proposals and, as with all legislation, the devil will be in the details. We will monitor it closely and will reserve our opinion until we see what shape these proposed new laws will take," Lynch wrote in an email.
Prior to the speech, Cuomo spokeswoman Melissa DeRosa told the New York Daily News that "discussions are ongoing about a range of options [but] nothing has been finalized."
"So you can beat a person senseless, but if the person doesn't die than there's no special prosecutor?" Cuomo said in December. "That doesn't make sense either."
Calling all HuffPost superfans!
Sign up for membership to become a founding member and help shape HuffPost's next chapter
BEFORE YOU GO
PHOTO GALLERY
Eric Garner Chokehold Case