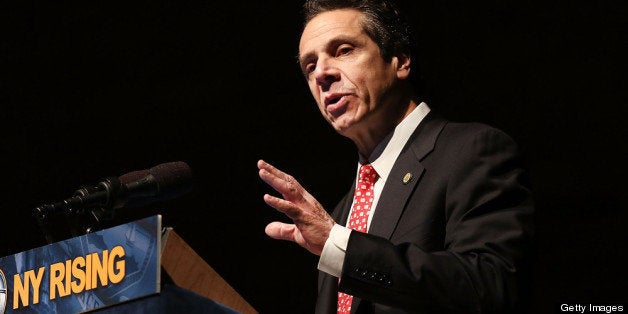 ALBANY -- On the heels of a New York City mayoral scandal, Gov. Andrew M. Cuomo Tuesday called for "open primaries" for political party endorsements in all local and state elections, allowing candidates from one party to run in any party primary.
As part of an election-law package, Cuomo also proposed a new enforcer of state election laws. And he called for permitting voters to change their party enrollment up to three months before an election or primary instead of the current one-year minimum.
Cuomo said the actions would help prevent corruption.
To allow open primaries, Cuomo called for eliminating a part of state election law that allows political party bosses to endorse a candidate from another party. Minor political parties, which have outsized influence because of such cross endorsements, bashed the governor's proposal to abolish the so-called Wilson-Pakula provision. The top Democrat in the state Legislature also opposed the idea.
The provision permits, say, a Republican county chairman to designate a Democrat or a Conservative Party member to run on the GOP line. The governor said such designations often go to the "highest bidder," especially when major-party candidates vie for minor-party ballot lines they believe will be beneficial.
"You've heard the expression 'pay to play?' This is 'pay to run,' right?" Cuomo said. "The allegations (are) that minor parties . . . have used campaign contributions to determine who gets the line and it's almost that the line goes the highest bidder."
Cuomo's plan also includes creating a new enforcement officer -- selected by the governor -- to investigate election-law violations. As attorney general and a gubernatorial candidate in 2010, Cuomo suggested giving the attorney general's office that power. Now, he says that office could be seen as too partisan and an "independent" monitor would be better.
New York is one of a few states that not only allow a candidate to appear on a ballot under multiple party listings, but permits a party to endorse someone not a party member.
Two weeks ago, Wilson-Pakula was in the spotlight as federal prosecutors charged state Sen. Malcolm Smith (D-Queens) and five others in a bribery plot that involved county chairman designating a spot for Smith in the GOP mayoral primary.
Cuomo's idea for reform: Any, say, Democrat could run in a Republican primary if he or she garners enough petition signatures from GOP voters to run.
"He clearly wants to destroy the minor parties," said Conservative chairman Michael Long. He said permitting open primaries and quicker voter-registration changes would allow well-funded, major-party candidates to usurp minor parties' ballot lines and "pervert" what the parties stand for.
Distributed by MCT Information Services
Calling all HuffPost superfans!
Sign up for membership to become a founding member and help shape HuffPost's next chapter
BEFORE YOU GO