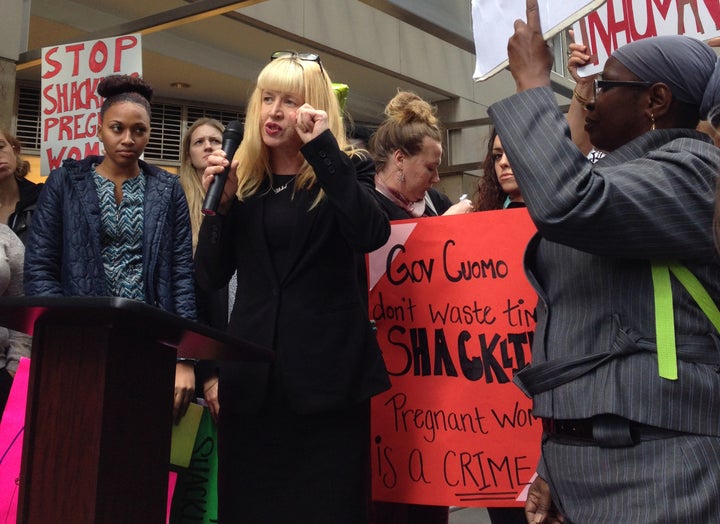 NEW YORK -- Advocates dressed up in fake pregnant bellies and wearing shackles rallied in front of the office of New York Gov. Andrew Cuomo (D) on Monday, pressing him to sign a bill that would strengthen a 2009 law that banned the shackling of incarcerated women during childbirth.
"Shackling pregnant women is one of the most offensive human rights violations imaginable," said Tamar Kraft-Stolar, the director of the Women in Prison Project at the Correctional Association of New York. The childbirth experience should be "filled with support and dignity," she said, not punishment. 
In 2009, New York passed a law that prohibited the use of shackles on pregnant women during labor, delivery and recovery. However, a disturbing report the Correctional Association of New York released in February found that women are still being shackled, in direct violation of the law. A survey taken after the legislation took effect found that 23 of 27 pregnant women who were interviewed said they were shackled at some point during their childbirth experience.
The 2015 Anti-Shackling Bill, which passed the state Assembly and the state Senate in June, extends the ban on shackling to include the entire duration of the pregnancy and an eight-week postpartum period.
It also requires correctional officials to tell incarcerated pregnant women about their rights under the law, and prohibits correctional staff from being inside the delivery room during the birth unless requested by the woman or medical professionals. 
A number of women who gave birth while incarcerated in New York spoke about their painful experiences. Tina Tinen, who served time at Bedford Hills Correctional Facility for Women while pregnant with her son, said she slipped and fell while shackled a few weeks before she went in labor.
When it was time to give birth, she said, she was shackled on her way to the hospital and immediately after the delivery. "The first person who saw my baby was the officer in the room, who watched his head pop out," she said. "It was disrespectful." 
Leading women's health organizations oppose shackling women during labor because the practice can lead to significant health risks, including "increased likelihood of falls, trauma and limited access for treatment during medical emergencies."
Calling all HuffPost superfans!
Sign up for membership to become a founding member and help shape HuffPost's next chapter