New York Gov. Andrew Cuomo (D) signed an executive order Wednesday appointing a special prosecutor to handle cases involving civilians who die at the hands of police.
"We have seen this all across the country where there's a lack of trust in the criminal justice system, triggered by a particular case," Cuomo had told reporters on Tuesday, according to Capital New York. "And the basic argument is always the same. That they don't trust the prosecution because of the connections with the police. And a criminal justice system doesn't work without trust."
Cuomo had previously said the executive order, which puts state Attorney General Eric Schneiderman in charge of prosecuting police-involved killings, would be in effect for just one year. But on Wednesday the governor announced the executive order would last indefinitely, or as long as the sitting governor of New York wishes.
Calls for such a special prosecutor grew loud late last year after a Staten Island grand jury -- overseen by District Attorney Daniel Donovan -- declined to the indict the officer involved in the death of 43-year-old Eric Garner. A viral video showed a New York City Police Department officer putting Garner into a department-prohibited chokehold, which proved fatal, during an arrest nearly a ago.
The grand jury's decision set off massive protests across the city and the country. Protesters argued there is an inherent conflict in having local district attorneys prosecute police officers with whom they work closely on other cases.
"We will be the first state in the country to acknowledge the problem and say we're going to create an independent prosecutor who does not have that kind of connection with the organized police departments," Cuomo said Tuesday. "And therefore you should have more confidence in the proceeding, because the perceived conflict or actual conflict doesn't exist when you have an independent prosecutor and in this state the law allows me to name the attorney general a special prosecutor, and that's what we'll be doing."
News of the executive order comes three months after Cuomo met with the families of those killed in police encounters. Among them was Garner's mother, Gwen Carr. In that meeting, the governor promised to sign an executive order if the state legislature did not establish a special prosecutor on its own.
The legislature failed to get anything done, and pressure has mounted in the last few weeks for Cuomo to act. Carr co-authored an editorial in the Daily News on Monday, accusing the governor of backtracking on his initial promise to establish a special prosecutor. The other author on the piece was Constance Malcolm, whose unarmed 18-year-old son, Ramarley Graham, was shot and killed by an NYPD officer who broke into their home without a warrant in 2012. A grand jury voted to indict the officer, Richard Haste, but the indictment was tossed out on a legal technicality. A second grand jury declined to indict Haste.
Carr and Malcolm accused the governor of wanting to limit the scope of the special prosecutor's power. They pointed to comments the governor made suggesting the special prosecutor would only handle cases in which the victim was unarmed.
"We know that whether or not someone is in fact armed and dangerous is often in dispute," they write. "The killing of Walter Scott in South Carolina, and the false initial police reports that he was fighting the police officer and had gained control of that officer's Taser is a clear demonstration that police departments' accounts can drastically differ from what actually happened."
Carr and Malcolm met with Cuomo on Tuesday afternoon in his New York City office to express their concerns. On Wednesday, Cuomo announced Schneiderman would prosecute cases in which law enforcement officers caused the deaths of unarmed civilians as well as those in which there are questions as to whether the civilian was armed or dangerous at the time of his or her death.
Before their meeting with the governor, Carr and Malcolm led a rally outside his office in midtown Manhattan.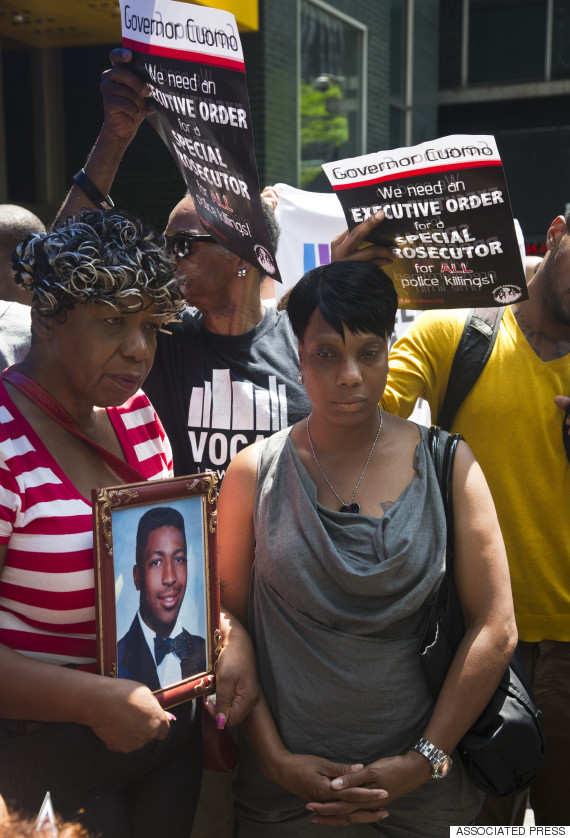 Carr, left, and Malcolm, right, at the rally Tuesday. (AP Photo/Bebeto Matthews)
"If we had a special prosecutor at the time of my son's death, I think it would've made a tremendous difference, but now we're asking for a special prosecutor for other families," Carr told reporters.
Malcolm choked back tears when talking to reporters.
"We don't want another family to go through it," she said.
"We [are] fighters," she added. "We continue to fight and we think we forced [Cuomo's] hand to do what we wanted."
In a joint statement Wednesday, Carr and Malcolm, along with three other mothers who lost their children in police encounters, said, "Today, Governor Cuomo is listening to our voices and those of other New Yorkers who support equal justice to enact an important reform to end this conflict of interest."
"Nothing will bring back the lives of our loved ones," the statement continued, "and this was never simply about our families -– it was about all those who come after us because we so deeply understand the pain and heartache of losing a loved one and then having their life not matter within our justice system."

Patrick Lynch, president of the Patrolmen's Benevolent Association, said in a statement that "given the many levels of oversight that already exist, both internally in the NYPD and externally in many forms, the appointment of a special prosecutor is unnecessary."
This article has been updated throughout to reflect that the governor signed the executive order.
Before You Go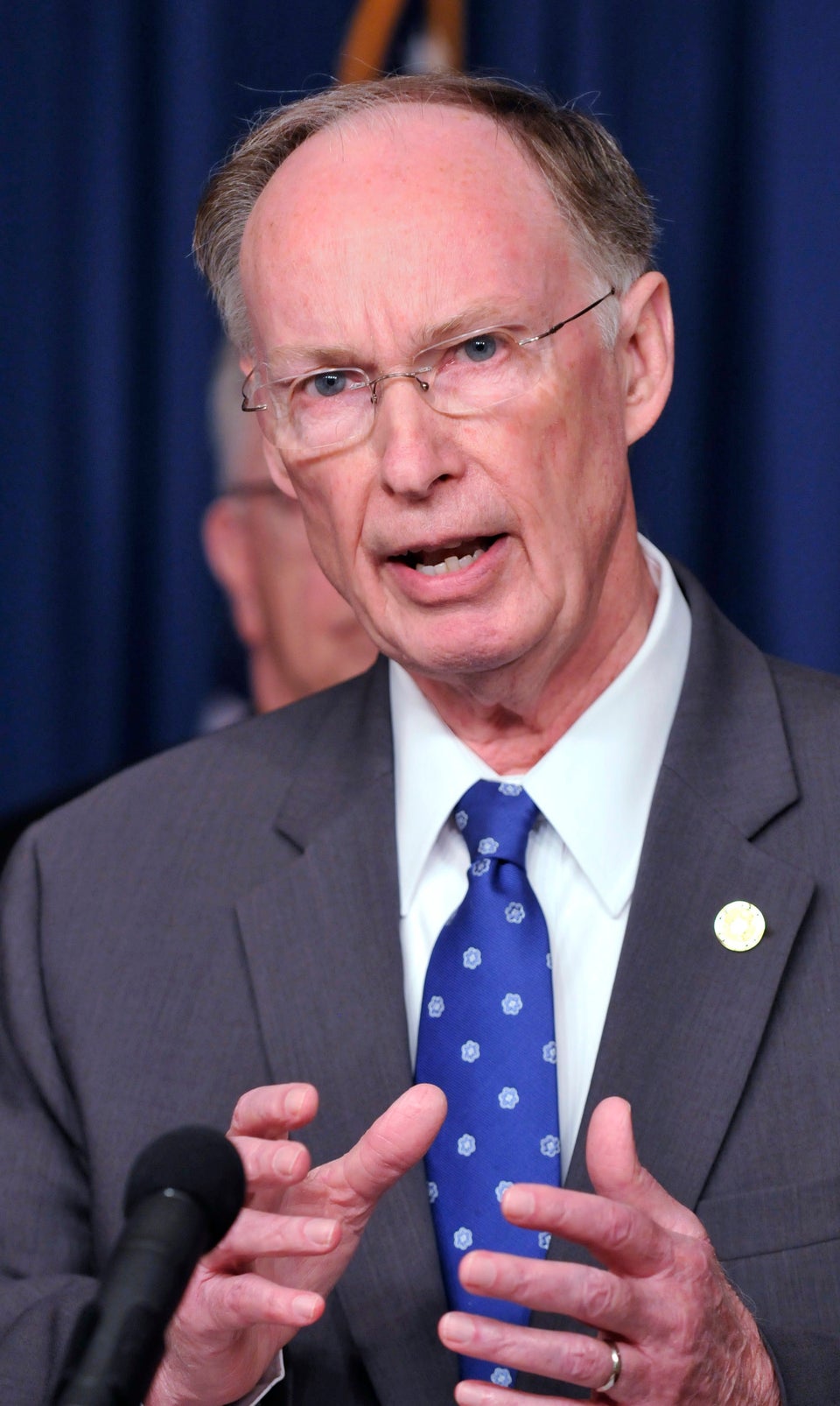 United States Governors
Popular in the Community