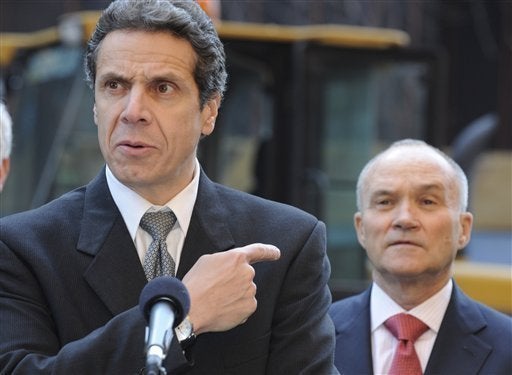 UPDATE 4:28 P.M.: As New York Attorney General Andrew Cuomo's 4 P.M. deadline has not been met, he will be issuing subpoenas. "Four o'clock has come and gone and we will be issuing subpoenas immediately," Cuomo said on a conference call. "I believe in transparency and disclosure ... this is taxpayer money ... We do want fairness -- we don't want absurd use of taxpayer money."
"The whole notion of performance bonuses is oxymoronic when it comes to AIG," he added. "It's adding insult to injury." He questioned why AIG claims their hands are tied. "Then let me see the contract, and let me see when you signed it and what the expectation was when you signed it," he said. He is looking into charges of fraudulent conveyance.
New York Attorney General Andrew Cuomo is demanding detailed information as to who at AIG will receive controversial bonuses and whether those individuals were involved in any way with the insurance giant's meltdown and subsequent need for taxpayer bailout funds.
In a letter directed to AIG's government-appointed CEO, Edward Liddy, and the company's board, Cuomo brings another tool to the push to get AIG to drop the $165 million in bonuses awarded to senior executives: the power of subpoena.
"Taxpayers of this country are now supporting AIG, and they deserve at the very least to now how their money is being spent," reads the letter. "And we owe it to the taxpayers to take every possible action to stop unwarranted bonus payments to those who caused the AIG meltdown in the first place. If you do not provide this information by 4:00 P.M. today, we will issue subpoenas and seek, if necessary, to enforce compliance in courts."
Cuomo's office had previously requested a "list of individuals who are to receive payments" under the AIG retention plan, "as well as their positions at the firm." But the request was rebuffed. They are now asking for a "description of each individual's job description and performance at AIG Financial Products," as well as contracts "you now claim obligate you to make these payments." Cuomo also wants a "list of who negotiated these contracts and who developed this retention plan so we can begin to investigate the circumstances surrounding these questionable bonus arrangements."
The goal, according to the letter, is to determine whether any bonus recipient was "involved in the conduct that led to AIG's demise and subsequent bailout," whether those individuals are essential to the company's future, and "whether such contracts may be unenforceable for fraud or other reasons" or considered "fraudulent conveyances under New York law."
"We were disturbed to learn over the weekend of AIG's plans to pay millions of dollars to members of the Financial Products subsidiary through its Financial Products Retention Plan," reads the opening of the letter. "Financial Products was, of course, the division of AIG that led to its meltdown and the huge infusion of taxpayer funds to save the firm."
Popular in the Community