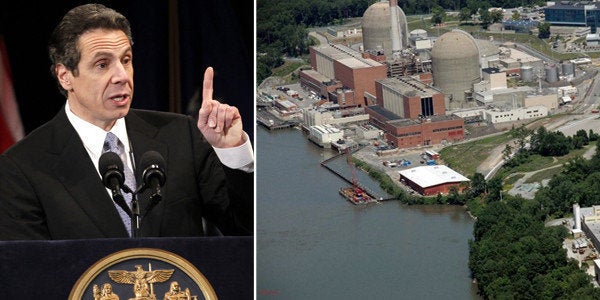 A report released by the Union of Concerned Scientists showed the Indian Point had many engineering vulnerabilities, which, they claim, the Nuclear Regulatory Commission have largely ignored. An MSNBC analysis of NRC data suggested that, of American plants, the Hudson River facility is the most vulnerable to a quake because one of its reactors is on a fault line, a report which irked New York' governor.
"The suggestion is that of all the [104] power plants across the country, that the Indian Point power plant is most susceptible to an earthquake because Reactor No. 3 is on a fault [line]," Cuomo said at a press conference.
"Frankly, that was surprising to me," Cuomo continued. "One normally doesn't think of earthquakes and New York in the same breath."
Cuomo said the plant, which is just 24 miles north of the Bronx, poses too grave a risk to New York City.
"It should be closed. This plant in this proximity to the city was never a good risk," Cuomo said.
MSNBC analysis of the NRC data places the odds of an earthquake disabling the core of Indian Point's Number 3 reactor at 1 in 10,000. That's much more likely than the 1 in 74,176 odds of the country's average reactor failing.
The Daily News points out that "In its 40-year history, Indian Point has suffered radiation leaks, useless warning sirens, transformer explosions and oil spills."
"I say only if a tsunami could make its way...up New York Harbor and the Hudson River, somehow avoid New York City, and drench our plant," Streets said. "It just doesn't seem very realistic to me."
The plants operating licenses are up for review in 2013 and 2015.
The NRC said Thursday that in light of the events in Japan, that the commission would do a review of the Japan data and act accordingly. "We're going to do a systematic and methodical review of the information, and if we need to make changes to our program, we'll make changes."
This article has been edited to clarify that the NRC does not rank safety of the country's power plants against each other, but respective to their own facility.
Related
Popular in the Community