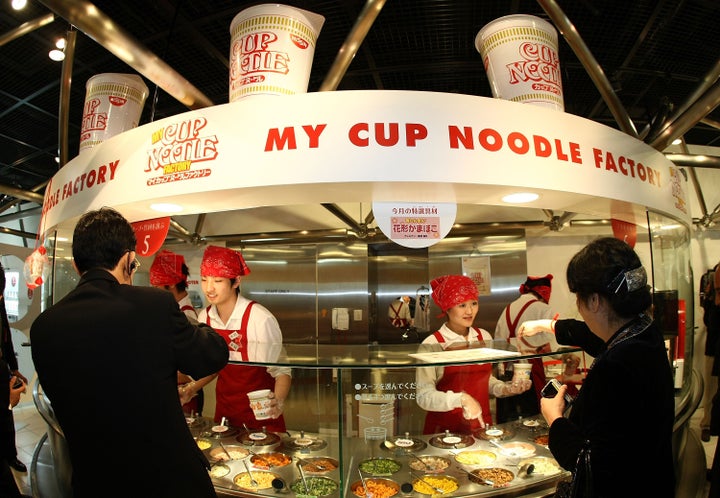 In 1971, Apollo 14 and 15 both landed on the moon, the Ed Sullivan Show aired its last episode and Amtrak started running trains between American cities. Walt Disney World opened in Orlando and construction began on the Superdome in New Orleans. Bangladesh was founded.
Two of these events (Bangladesh and Amtrak) have museums dedicated to them. But one momentous event in 1971 led to the construction of not one, but two, museums: the invention of Cup Noodles (known as Cup O' Noodles in the US until 1993) by Taiwanese-Japanese businessman Momofuku Ando.
The first, the Momofuku Ando Instant Ramen Museum, opened in 1999, in Ikeda in northern Osaka, Japan. It was popular enough to warrant an expansion in 2004. Popular exhibits include a recreation of the laboratory/hut in which Ando crafted his now-famous chicken ramen and an "Instant Noodles Tunnel" chronicling the history of the Cup Noodles. The Osakan museum looks humble and bunkerlike. Admission is free. The exhibits seem to be elaborate antechambers to the main attraction, a make-your-own Cup Noodle assembly line with an attached cafeteria.
The second, which will be called the Cup Noodle Museum, opens next Saturday in Yokohama, just outside Tokyo, and is far more grand. It features both an attraction called "the History Cube" and a "Momofuku Theater" for showings of CG movies about Ando's life -- in addition to a make-your-own Cup Noodle bar like the one in Osaka. The museum's art director, Kashiwa Sato, is also in charge of graphic design for Japanese retail behemoth Uniqlo. Here's a rendering of the museum from its website: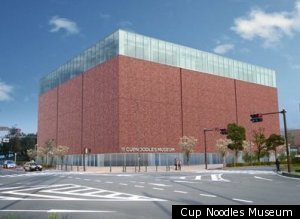 The Cup Noodle Museum's opening coincides with a celebration for the 40th birthday of Cup Noodles, which will be held at the Yokohama Museum on Sunday the 18th. The museum's grandiosity seems puzzling in the context of a typical instant ramen meal, under fluorescent lighting in a dingy dormroom -- but apparently, there are a lot of those dormrooms around the world. Nissin Foods, the company that makes Cup Noodles, had total global revenues of $4.8 billion in 2011.
Here's a video exploration of the original Instant Ramen Museum in Osaka.
Popular in the Community