Are cupcakes still trendy? Sometimes, in spite of the new outposts of Crumbs cropping up daily, I'm not so sure. I've been hearing word that macaroons, even eclairs, will soon succeed them in sweets-lovers' lives. I'm not so sure about this either. Still, just as they were perfect for parties in elementary school, cupcakes are great for celebrating twenty-something birthdays too, and I wind up pulling out my muffin tin constantly.
For my own 25th birthday, I received a copy of Rose Levy Beranbaum's new cookbook, Rose's Heavenly Cakes. It is beautiful and the cakes are beautifully photographed, and it's full of dramatic and original ideas. Strangely enough, Rose's first, and very famous, cookbook, The Cake Bible, might have been one of very few classic cookbooks my family didn't own while I was growing up. I don't know why it never sat on the shelf next to Nick Malgieri and Carole Walter. So I may be late to the party, but I'm a very eager guest.
Because Phoebe and I live in fear of the disastrous effects of having too few cupcakes (there were tears, believe me, at Phoebe's 23rd birthday when I brought 2 dozen carrot cake cream cheese cupcakes and the birthday girl somehow missed out), I was intent on baking copious sweets for a party we were cooking for, the party being held for our best friend Jordana's birthday. The cupcake recipes from Rose's Heavenly Cakes make 16 per batch, and because they call for things like 1/2 tablespoon sour cream, I didn't dare mess with the ingredient quantities. Instead of doubling, I simply made a third flavor of cupcake. But I wanted all three to be sufficiently different from one another. I spent at least a week's worth of breakfasts flipping through the "Small Cakes" chapter, and here are the mixes-and-matches I came up with:
*Chocolate Butter Cupcakes with Coffee Neoclassic Buttercream and White Pearl Sprinkles
*White Velvet Butter Cupcakes with Dreamy Creamy White Chocolate Frosting and Turquoise Sugar
*Yellow Butter Raspberry Cupcakes with Peanut Butter Buttercream (the surprise champion of the evening)
You can find the building blocks of these recipes in Rose's book, and so I'll refrain from posting the first two here. Just take my word for it that these are very, very good cupcakes. However, I think my modification of the yellow butter cake batter into a veritable PB&J Cupcake merits its own recipe (see below).
A note about eating cupcakes: I had no idea there were as many ways of eating a cupcake as an Oreo! Though I'd intended the cupcakes to be a step up from the childhood sandwich, trust our friend Evan to revert to the elementary school years: apparently, he's pioneered an icing-spreading method of eating cupcakes whereby he pulls apart the cupcake along its horizontal axis, affixes the bottom to the icing-covered top, and bites--first into a thinned layer of cake, next into icing, then into cake again. We're working with Evan on a diagram to illustrate this.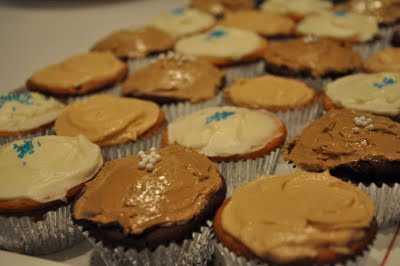 Yellow Butter Raspberry Cupcakes with Peanut Butter Buttercream
Makes 16 cupcakes
Adapted from Rose's Heavenly Cakes by Rose Levy Beranbaum
Ingredients
2 large eggs, at room temperature
2/3 cup sour cream, divided
1 teaspoon vanilla extract
1 3/4 cups flour
1 cup sugar
1/2 teaspoon baking powder
1/2 teaspoon baking soda
1/2 teaspoon salt
12 tablespoon unsalted butter, at soft room temperature
3/4 cup frozen organic raspberries
Preheat the oven to 350 degrees. Line a cupcake pan with paper liners.
Whisk the eggs with 3 tablespoons of the sour cream and the vanilla.
In a separate bowl--the bowl of a stand mixer if you have one--whisk together the flour, sugar, baking powder, soda, and salt. Add the butter, cut into rough tablespoon-sized chunks, and the remaining sour cream, and, using your hand-held mixer or your very strong arm if you don't have a stand mixer, beat this together for nearly two minutes. It will be quite creamy. Pour in the egg mixture in two parts, beating for nearly a minute after each. Fold in the raspberries, still frozen.
Distribute the batter among the liners (if your pan holds 12, remember you'll be making about 4 more). Bake for 20-25 minutes, until the cupcakes bounce back when pressed lightly.
Cool completely before frosting.
For the Peanut Butter Buttercream:
Ingredients
1/2 cup smooth peanut butter, at room temperature
scant 1/2 cup cream cheese, at room temperature
4 tablespoons (1/2 stick) butter, at room temp
2 teaspoons sour cream
1/2 cup plus 2 tablespoons powdered sugar
1 teaspoon vanilla extract
In a food processor, beat all the ingredients until very smooth and uniform in color. You can store the buttercream in the fridge, but use it at room temperature. It goes on very smoothly with a knife if, like me, you're not into piping.
Related
Popular in the Community