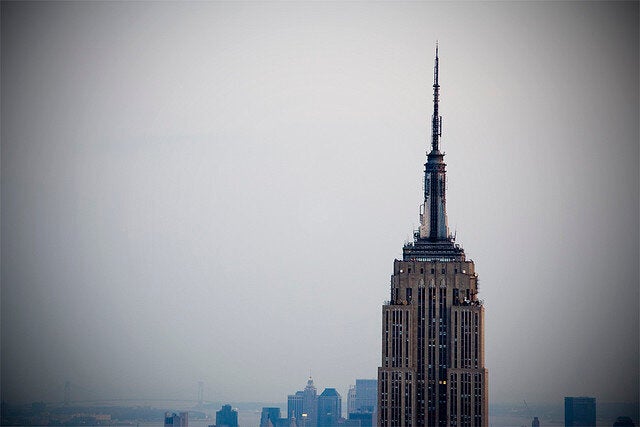 Curate NYC is back for round two. A citywide juried exhibition and online showcase, the project offers free curatorial reviews, public exposure and exhibition opportunities to New York City visual artists.
Curate NYC is developed by Full Spectrum Experience, Inc., a nonprofit arts organization led by painter/gallery owner Danny Simmons and musician/marketing strategist Brian Tate, and produced in partnership with the New York City Economic Development Corporation (NYCEDC).
Last year Curate NYC attracted 1,200 artists in three short weeks. The top 150 entries were exhibited as museum-quality postcards at Rush Arts Gallery in Chelsea. This year Full Spectrum expands on that success with additional perks for artists and art lovers. In addition to the postcard exhibition, galleries throughout the five boroughs will organize offline shows of Curate NYC entries. Museum curators from across the nation will create online exhibitions, as will additional NYC galleries. And the Curate NYC E Store will enable artists to sell their work online from the project website. NYC artists may register until November 8th and shows begin December 1st on the website, curatenyc.org.
"Curate NYC is a key component of our efforts to expand New York City's economy by supporting industries like the arts, and providing a venue for less established artists to showcase and sell their works," said NYCEDC President Seth W. Pinsky. "Last year, Curate NYC successfully brought exposure to a number of up-and-coming New York City artists and we are proud to once again partner with Full Spectrum on a second year of Curate NYC."
Full Spectrum Co-President Danny Simmons said, "As a visual artist myself, I know that opportunities to exhibit one's work are limited and of primary concern to our community. So we've added exhibitions at five great galleries, one in each borough, in addition to the juried show of 150 artists. This means that a great many more New York City artists will benefit from the program. Curate NYC is a wonderful vehicle for artists of all levels to receive new exposure in the art world and the public sphere."
"This year's Curate NYC is an expanded vision that reflects the goals of the artist community," added Full Spectrum Co-President Brian Tate. "We'll bring more eyes to the work through multiple exhibitions. We've also boosted the potential for economic activity in city neighborhoods by driving arts tourism throughout the five boroughs. That kind of foot traffic helps create sales for artists, spin-off commerce for surrounding businesses, and heightened visibility for New York City as a cultural hub."
Last year's project culminated with a huge opening reception attended by NYC Deputy Mayor Bob Steele, EDC President Seth Pinsky, entertainment mogul Russell Simmons, and several hundred Curate NYC artists.
Artist Ricky Day says, "In these tough economic times it's more critical than ever for emerging artists like myself to have access to financial support and opportunities to share our work with curators, our peers and the public. Curate NYC is a wonderful platform that manages to address in a meaningful way the interests of artists, art lovers, art institutions and the city itself."
Artist Kate Fauvell adds, "Curate NYC supports emerging artists by creating an incredible network where artists, art supporters, curators, the city and the public meet. It brings our art work to places you wouldn't always find it. Curate NYC believes in the importance of new emerging art and artists. They help us artists to thrive."
"The first Curate NYC created quite a buzz in the art scene," said artist Jennifer Delilah, " and I personally gained introduction to a community of supportive arts professionals and a great deal of traffic to my website. It was a superb catalyst that resulted in press, exhibitions and sales of my work and was such an honor to be the beneficiary of their vision, many thanks!"
Tate said, "We expect many more artists to participate in the 2011 showcase. We've developed more bells and whistles to increase value for artists, and we're already hearing positive feedback about the edgier look to the website."
Simmons finished, "We're also benefiting from the excitement of having so many prestigious eyes reviewing the work. A great deal of the planning this year went into bringing the most benefit from this project to the City and its visual artist population."
Related
Popular in the Community