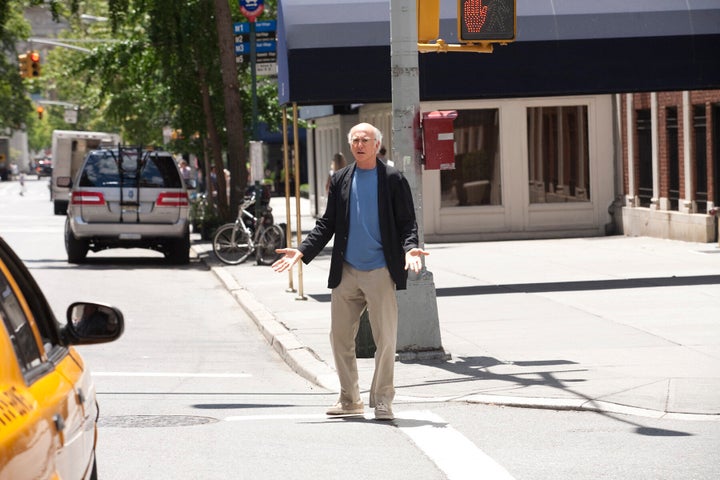 NEW YORK -- "Curb Your Enthusiasm" returned to HBO on Sunday night, and it was as if Larry David had never left us.
David, who announced that there would be an eighth season by saying he had done "much soul searching," but "it was nowhere to be found," was his characteristically -- and hilariously -- insensitive self on Sunday. As his divorce with Cheryl (Cheryl Hines) was finalized, he managed to offend a group of Girl Scouts, put a tampon up his nose to stop his bleeding and accuse his lawyer of being a fake Jew.
Season eight really takes off, though, when Larry and his friends return to New York, where they haven't been since he starred as Max Bialystock in "The Producers" in season four. Starting with episode six, which airs Aug. 14, the show returns to the city of Jerry Seinfeld, George Costanza and Cosmo Kramer.
While David told The Huffington Post that the crowds watching the filming in New York were "very vocal ... and enthusiastic," compared to Los Angeles, "where you can't get one person to stop," his character's experience on the show is filled with the kind of self-created disasters that define "Curb Your Enthusiasm."
Larry's neuroses are on full view in New York, where he worries in one episode that dirt from passing buses will get on his food when he eats outside at Isabella's on the Upper West Side. He is haunted by a Mister Softee truck that seems to follow him through the city, even to the Heckscher Ballfields in Central Park, where he has a Bill Buckner-like moment while playing for his car mechanic's softball team.
Buckner himself befriends Larry at the Loews Regency Hotel, and his laid-back attitude to the Red Sox fans who still pester him, 25 years after he cost the team the World Series, shocks Larry -- but doesn't change him.
The show also brings Larry to Washington Square Park, the Vesuvio Bakery, and the subway beneath town. It's at the corner of 10th Street and Fifth Avenue, though, that Larry brings attention to his biggest New York pet peeve.
"I don't think there's anything more egregious than the upstreaming," David added by phone. "That's the worst... when you're standing in a spot and then somebody moves ahead of you, up to where the cabs are closer. But it's done all the time... there is no taxi etiquette."
A doorman at the building Larry tries to hail a cab in front of -- who refused to give his name, citing a building policy that could surely be fodder for another episode of "Curb" -- said there's usually no trouble getting a taxi at that intersection. (Just "upstream," after all, is The Church of the Ascension.)
But the show still gets New York right. Nobody who has driven in Manhattan can help but feel pain for Larry when he arrives in front of his condominium building, The Milan, on 55th Street, and finds a spot right in front of the entrance. And then his date asks him to drive her home.
Calling all HuffPost superfans!
Sign up for membership to become a founding member and help shape HuffPost's next chapter