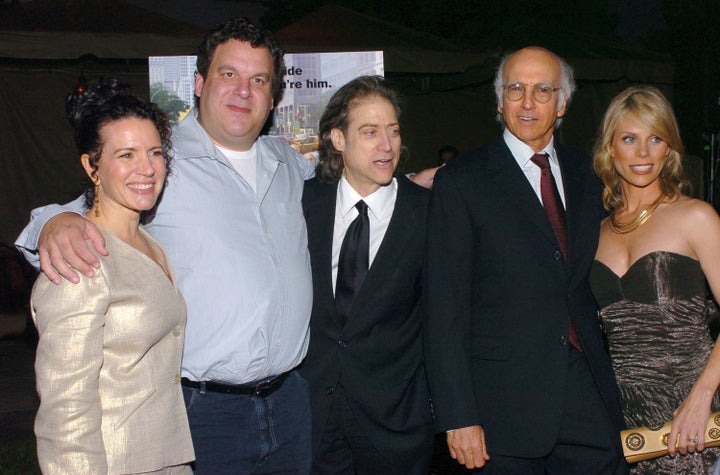 Ever wonder how a show about a grumpy, bald, middle-aged writer fumbling through awkward social interactions and banal inconveniences became one of the most beloved comedies ever to grace television screens?
A new podcast called "Origins" will figure out just that, with a five-episode chapter digging into how "Curb Your Enthusiasm" came into being.
The podcast, presented by DGital Media and hosted by journalist and "Curb" superfan James Andrew Miller, will explore a variety of "epochal beginnings" ― in film, music, books and relationships.
"Curb" initially ran from 2000 to 2011. In tandem with the show's highly anticipated return to HBO, "Origins" will kick off with a chapter devoted to Larry David and the gang.
"People told me after the show started airing they had to leave the room for some scenes because they were cringing and they couldn't bear to watch it, like it was a horror movie," David says in a preview for the pod. "I had no idea it was having that effect on people. And I liked it."
David will be joined by "Curb" actors including Cheryl Hines, Susie Essman, Ted Danson, Richard Lewis, Bob Einstein and many more, all of whom will provide first-person accounts of the show's early days while rehashing how it changed over time, becoming not just a great show but a watershed moment in comedy.
"The most bizarre thing is they would beg me to tell them to go fuck themselves," Essman, who plays Susie Greene on the show, tells Miller. "I'd be in the middle of Broadway at Fairway looking at produce. And they're just shoving phones in my face: 'It's my husband, call him a fat fuck!' That kind of thing. So that was bizarre. But it's kind of cool! Kind of nice."
The podcast will debut Sept. 6, giving devotees enough time to binge-listen before Oct. 1, the day the ninth season of "Curb" hits HBO. In the meantime, you can listen to a preview here.
Popular in the Community