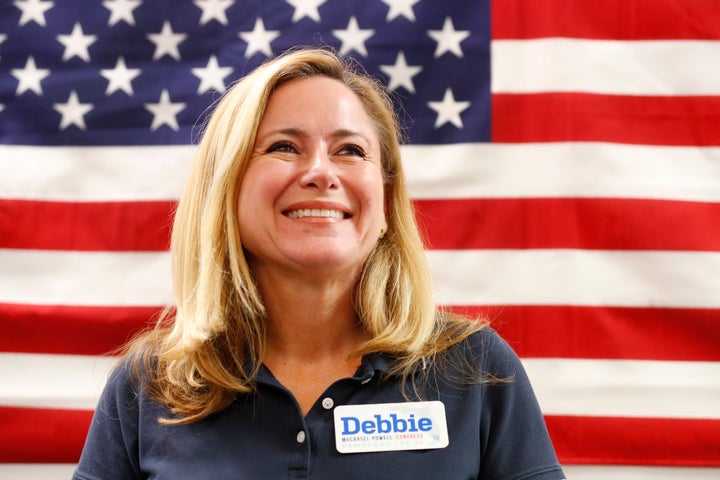 Debbie Mucarsel-Powell ousted Rep. Carlos Curbelo, the Miami-area Republican considered the party's most hawkish lawmaker on climate change, flipping vulnerable red seat in Tuesday's election.
It was a hard-fought victory, even if the polls seemed to favor the second-time candidate and former associate dean at Florida International University. She attracted support from high-profile Democrats, including former Vice President Joe Biden, Sen. Kamala Harris and Rep. Adam Schiff and hauled $1.6 million between July and October, topping the incumbent's fundraising.
The closely-watched race was seen as a bellwether of Democrats' chances of making big gains as the midterm votes were tallied.
The election comes a year after Curbelo ― whose diverse, low-lying district went to Democrat Hillary Clinton by 16 points in 2016 ― staked out a series of moderate stances as the Republican Party embraced increasingly right-wing positions under President Donald Trump.
In March, less than a month after a shooter killed 17 students and faculty at a high school in Parkland, Florida, Curbelo introduced a bill with three Democrats to raise the minimum age to buy a gun from 18 to 21.
In June, Curbelo spearheaded a so-called rebellion of moderate Republicans pushing for better protections for undocumented immigrants ― a revolt quickly quelled by House leadership.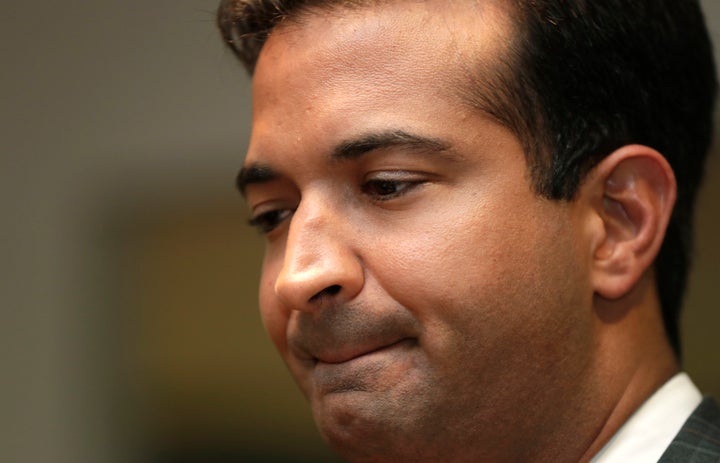 In July, Curbelo proposed a $24 per metric ton carbon tax, legislation that made waves not for its ambition but for its break with party that, as a platform issue, rejects the mainstream scientific consensus that humans are causing climate change and there's still time to halt emissions.
The bill faced meager prospects of becoming law. Days after Curbelo unveiled the bill, 97 percent of House Republicans voted to approve a resolution stating that a carbon tax would be harmful to the U.S. economy. The National Review called it "wealth redistribution." The Natural Resources Defense Council, the powerful environmental group, called the legislation a "notable breakthrough" but refused to endorse it.
Yet the legislation bolstered a push among some Republicans to abandon the widely debunked climate change denialism that has pervaded the party for decades but came a mainstream stance after the 2008 election.
For Curbelo and Ileana Ros-Lehtinen, a Republican congresswoman from a neighboring South Florida district, climate change was too obvious to doubt. Their districts suffer routine flooding from sea level rise, both as storm surge and through the porous limestone bedrock beneath much of the Sunshine State's southern tip. With Ros-Lehtinen retiring, Democrat Donna Shalala, the former health and human services secretary under President Bill Clinton, defeated Republican Maria Elvira Salazar to take her seat Tuesday night.
"It'll likely spell the end of the climate peacocks."
Curbelo criticized Trump's decision to withdraw from the Paris climate accords last year and became one of the first Republicans to call for former Environmental Protection Agency Administrator Scott Pruitt's resignation. But Curbelo voted for the controversial GOP tax bill that opened the Arctic National Wildlife Refuge ― the fragile 19.2-million acre ecosystem so rich in nature it's nicknamed the American Serengeti ― to oil exploration. The nonpartisan League of Conservation Voters downgraded Curbelo from the top-ranking House Republican on its list to 13th, with a paltry 23 percent score.
Still, in the final days of the race, the National Republican Congressional Committee launched an ad accusing Mucarsel-Powell of accepting donations from coal companies. Her campaign called the ad "another hypocritical and desperate attack from a congressman who has taken $10,000 each from Exxon and Chevron."
Curbelo's loss could doom the nascent Climate Solutions Caucus, a bipartisan club that surged to 90 members over the past few months, said R.L. Miller, president of the super PAC Climate Hawks Vote, which endorsed Mucarsel-Powell. Rep. Barbara Comstock (R-Va.) was the first member of the caucus to lose on Tuesday night.
"It'll likely spell the end of the climate peacocks," Miller said, referring to her pejorative nickname for a caucus she sees as effective only at laundering the reputations of Republicans how otherwise vote against climate policies. "And the Republicans will blame Democrats for politicizing climate."
Popular in the Community