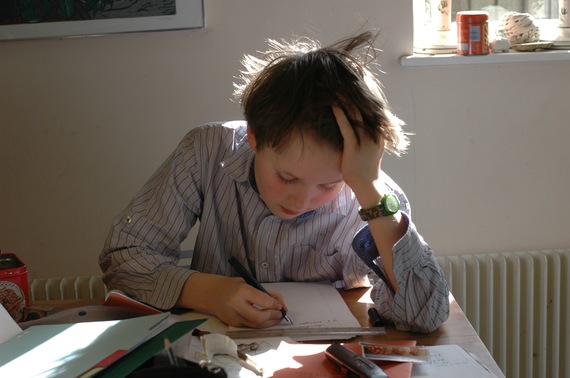 My son, 15 years old and normally bounding with energy, sits bleary-eyed at our kitchen counter, studying before dinner. After a quick meal, Zak will trudge upstairs to slog through several additional hours of homework, only to get up early the next morning to do more.
This bleak routine is repeated daily in households across the country. In a recent survey, students at high-performing California high schools said they average more than three hours of homework a night--and that's after spending seven hours at school and perhaps another two or three at soccer practice or band.
Nationwide, adolescents and teens are routinely grinding through 10- or 12-hour days. They're sacrificing a decent night's sleep, exercise, family time, a social life, and spare moments to simply read, invent, dream, or explore--everything that's essential to a growing mind. Headaches, stomachaches, sleeplessness, and depression rates among teens are soaring.
Now exasperated parents across California are finally speaking up to say: enough.
The effort began at Burbank's John Burroughs High School, where PTA members took action after seeing our film, Race to Nowhere. Suzanne Weerts and Tina McDermott, both mothers at the high school, delved into the education research and drafted a resolution titled "Homework: Quality over Quantity," urging schools to get the homework madness under control. This month, the California PTA adopted their resolution statewide. State representatives aim to take it to the National PTA next year.
"We know from the research that too much homework can have a negative impact on learning," said Tina McDermott, who also teaches at a community college. "We also know that family stress can skyrocket from the relentless pressure every day to get it done. It can impact the entire family."
"Even parents I don't know very well have come up and given me a hug," Suzanne Weerts told the Glendale News-Press. That's a clear indication that the initiative touched even those who felt too helpless to fight back.
I applaud these parents' efforts. They've created a crucial opportunity for dialogue about the consequences of our out-of-control homework habit. And they've modeled the kind of grassroots campaign that's essential to creating change in each community.
Now, we must use this opportunity to push homework reform even further. The California PTA resolution rightly calls for homework that's "reasonable, relevant, and reinforcing," rather than the busywork students typically bring home, but that's really only part of the equation. More urgent is the need to substantially limit homework so as to reclaim our children's most precious resource: time.
The truth is, it doesn't much matter if homework is "meaningful" if there's no time to do it. "Relevant and reinforcing" are also empty promises if homework takes time away from family dinner, a full night's sleep, friendships and unscheduled hours when curiosity and personal passions can be cultivated. These are our children's fleeting formative years. They need free time, not seven-day workweeks spent hunched over assignments, to pursue the interests and relationships that account for the richness of our world and that help them grow into whole human beings. Our society is increasingly questioning the overtime-frenzy, sleeping-under-the-desk attitude that once defined adult success in the American workforce; it's time we do the same for youth.
So here's an item to add to the PTA resolution: Homework should be completely eliminated in the elementary grades and severely curtailed in middle and high school. Even then, it should be assigned as an exception, not a rule. (Our Healthy Homework Guidelines spell out what kind of homework is most valuable.) Only then will schools be honoring the time that rightfully belongs to a child and her family.
That right was severely impinged upon in our household on a recent weekend, when I took my two high schoolers into San Francisco for brunch with my oldest child, who was home from college for the first time since winter break. Zak and Jamey had already spent the morning working with their math tutor, and as I drove, Zak pored over study words for a vocabulary test while Jamey outlined an English paper. They felt they couldn't afford to take a full two hours off of homework for the family outing.
As they asked me for help with their assignments, I grew so frustrated and distracted that I ended up in the wrong part of a city that I know quite well. Here, on a Sunday morning, I couldn't even chat with my children about life and the world around us. We didn't have the breathing room to get excited about all being together for the first time in months. This was nuts.
Still, the obstacles to change are formidable, as the Burbank parents know only too well. Though their school district formed a homework task force more than a year ago, internal politics have prevented the group from finalizing a plan. And the district watered down the group's original proposal for a homework policy to mere guidelines--changes that are suggested but not required.
Weerts tells me much of the resistance has come from union reps concerned about teachers' professional autonomy. In other school districts, teachers balk at limiting homework because they feel the usual school-day schedule doesn't leave enough time to cover required content, and homework bridges the gap. This kind of resistance is common. And yet, research shows there's no connection between extreme hours of homework and student learning, and thus nothing to lose by curbing excessive assignments.
Brave pioneers are already showing us it's possible to change. At Ridgewood High School in New Jersey, administrators abolished homework over holiday breaks. Scores of schools have tackled the schedule problem by switching to more sensible block schedules and integrated curricula that allow students to practice concepts during the day, not at home. At San Diego's renowned High Tech High, ninth graders have minimal evening work provided they use their time effectively during the day. And at Hillcrest School in Oakland, Calif., administrators did away with homework in the elementary grades. These schools show us that it takes comprehensive policy change--beyond mere guidelines--to shift the culture of homework we've come to embrace across America.
The California parents pressing our schools for sanity are taking the first bold step, and the California PTA Resolution they've set in motion deserves our support. When we finally pulled up at the café in San Francisco that weekend, my kids still studying, I felt as acutely as ever that homework had, yet again, stolen our most valuable moments. For my children and all children, I want them back.
photo credit: https://www.flickr.com/photos/henrybloomfield
Calling all HuffPost superfans!
Sign up for membership to become a founding member and help shape HuffPost's next chapter