In Danny Collins, an aging rock star makes a donation to send his granddaughter to the best (fictional) school in New York City.
Movie night with a handsome date promised to be the perfect cure for my weary soul. Both our souls, actually, as we were reeling from the death of a good friend just four days before. And, though I love my job, some work-related anxieties had landed squarely on a branch in my mind, unwilling to fly off despite my efforts to shoo them away. We had planned to see something else, but when I arrived, he said "How about Danny Collins? Basically Al Pacino as an aging rock singer?" Music, star power, popcorn and hand-holding escapism in a dark theater? Sold.
Our escape didn't last long as several unexpected personal connections creeped into the storyline. The first was John Lennon, as our protagonist receives a long lost letter from the icon encouraging him to stay true to his artistry, signing it, "What do you think of that Danny Collins?" Less than 24 hours after losing our friend Jim to cancer, I recorded a slightly re-written version of Elton John's tribute to John Lennon, "Empty Garden," for his family.
"What happened here, as the Easter Sunset disappeared,
I found an empty garden, among the Violet's there...
Hey, hey Jimmy -- can't you come out to play?"
I was not emotionally prepared for John Lennon's presence to be so prominent in the movie. I haven't even been able to share the song with Jim's family yet, so intimate and haunting. That, too, is a theme which resurfaces in the film -- sharing your true self without fear.
The second, more welcome connection was JiJi, the beloved penguin mascot of MIND Research Institute, the nonprofit where I work. Movie etiquette went out the window as I realized students in a critical classroom scene were playing ST Math. "That's JiJi -- that's our program!" I said loudly. "No wonder they are calling this (fictional) school the best school in New York!" Sorry, fellow movie-goers! It was so great to feel that excitement and pride in our work, featured unexpectedly on screen, that the crow of anxiety finally left its branch.
Finally, cancer crashed into the storyline, specifically leukemia. The same damn cancer that took Jim. My date and I both sunk into our seats, looked at one another as if to say "Must it follow us everywhere, even here? Can't we just escape its grasp for a few short hours?"
At its core, Danny Collins is about lost potential, missed chances, redemption, family amends, finding one's true voice and sharing it -- no matter the fear you must overcome to do so. All of those things resonate with me. I am a work in progress, especially on that last point.
My entire professional career has been working in nonprofit, social benefit organizations. I started in the education field with learning-disabled youth, and eventually transitioned to helping homeless youth focus on their education while trying to secure stable housing for their families. I couldn't imagine feeling more passionate about any other issue -- until I found myself singing at my best friend's funeral six months after she was diagnosed with lung cancer. I was angry, hurt and obsessed with understanding how someone so seemingly healthy could simply die in such a short time. Within a year of her death, I found myself leading a non-profit dedicated to funding cancer research.
Danny Colllins blended three core aspects of my life -- cancer, education and music -- to the point that one simple word kept repeating in my mind as I left the theater: cure.
Cure Cancer. Cure Education.
I have spent 25 years in social benefit work trying to find cures. The number of cancer deaths and diagnoses among my group of friends alone is staggering, not to mention the national statistics. More than 1.6 million Americans will be diagnosed with cancer this year, and more than 589,000 will not survive their diagnosis according to the American Cancer Society. I spent years working to fund cancer research. I am proud of my work and what we accomplished as a team, yet a cure feels a Million. Miles. Away.. I couldn't be in it every day anymore. The cloak was too heavy, but I am so proud of my old colleagues across the country who continue the work.
The number of casualties lost in our country's education system is shameful. In the movie, Danny Collins' granddaughter will get the educational services she needs because Grandpa makes a big, fat donation to an excellent charter school. Everyone in the theater feels great -- except me. Because I know that of the nearly 50 million kids in K-12 schools across the country, millions of them deserve a better education than what they are given.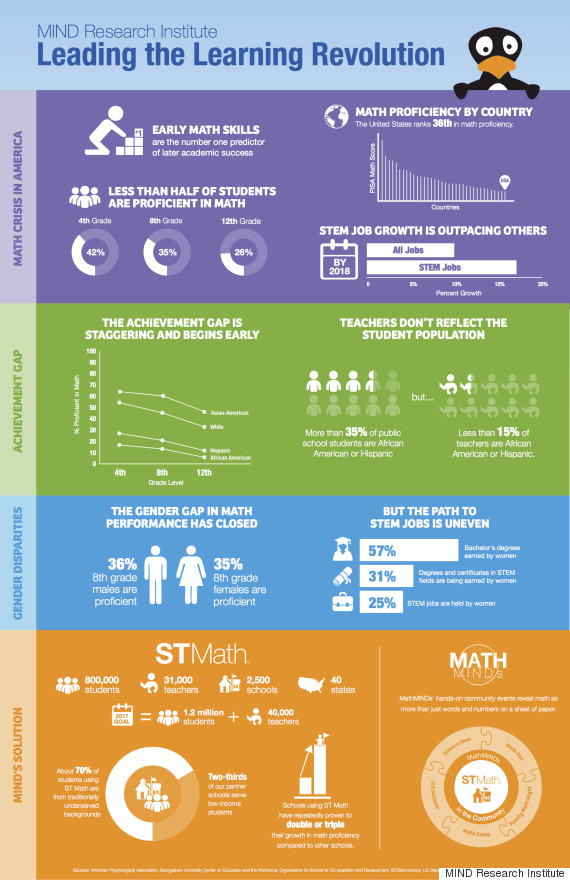 In reality, millions of students don't have the opportunities afforded to Hope, the granddaughter in the Al Pacino film Danny Collins.
Early math skills are the number one predictor of later academic success, according to researcher Greg Duncan at the University of California, Irvine. Yet as early as 4th grade, only 42 percent of students are proficient in math -- and it's even lower for Hispanics (26 percent) and blacks (18 percent), a frightful disparity. We reach students at high-performing charter schools like the one in Danny Collins, where sometimes, yes, a wealthy parent helps make the program available. But close to 70 percent of the students using ST Math are from traditionally underserved backgrounds. We rely on donors and community supporters to help reach students in these impoverished neighborhoods, and are so thankful for the support we receive from some of the largest companies in the nation.
The cure for cancer and the cure for education seem inextricably linked. A fairly significant number of the 8 million science, technology, engineering and math (STEM) jobs expected to be created in the US by 2018 will impact the medical field: cancer researchers, chemists, biologists, medical technicians, radiologists and oncologists. Hopefully, this is where the knowledge, determination and breakthroughs will come from to finally end, or at least better manage and treat cancer.
But first we need to cure education and we need to do it together.
On a night when life felt hard and cures seem impossible, a little penguin waddled across a movie screen and reminded me that we are on our way to curing education, one small step at a time.
What do you think of that, Danny Collins?
REAL LIFE. REAL NEWS. REAL VOICES.
Help us tell more of the stories that matter from voices that too often remain unheard.