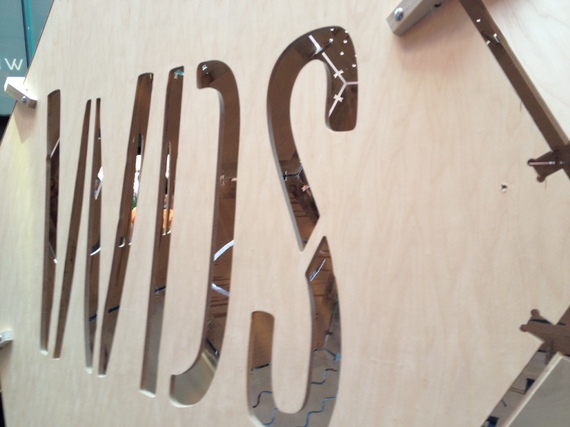 I'm coming clean and no I don't need a bath. Up until about two weeks ago, July 11th to be exact, I was suffering from soloprenuer distractionatia. Don't worry it's not contagious, it's only self-inflicted. And, don't bother looking up either of those words in the dictionary. They don't exist, so I'll explain.
Soloprenuer - a person who says, "Screw it, I'm going to go into business for my own self, create my own destiny, and change the world."
Distractionatia - a symptom soloprenuer's face once they say "Screw it, I'm going to go into business for my own self, create my own destiny, and change the world," and discover it's hard to stay focused and make all that running your own business happen.
Now that we've got that out of the way, let's get back to me and my bout with soloprenuer distractionatia. I've been in business for myself since 2006. Wasn't by choice. I'd gotten laid off for the second time in no less than five years time. With my career teeth kicked in and my anger raging, I decided it was time to be my own person, web designer, marketing manger, bookkeeper, Board of Directors...you know...my own boss. It's been an interesting, exciting, scary, challenging, and satisfying eight years. I've gone from being a Director in Corporate America, to a C-Level Executive -- Chief of Everything.
Prior to July 11th, I'd spent my fair share of time at grow your business seminars, watching cash flow out of my business, reinventing my brands, and of course networking. That last one I really hate. From elevator speeches to the proverbial, "So what do you do?" and "What can you do for me," networking events, I've drawn a line in the sand and am not afraid to say it, "Networking sucks!" That is until Friday, July 11th, the day everything changed.
It was a clear sunny day. I'd decided to try something new, along with 808 other people. We'd gathered not far from Voodoo Donuts, having our own Portlandia experience, in Pioneer Square, determined to dominate a world record. Yep, we were a group of non-conformists, adorned in various states of yogi wear, being led by our fearless leader, Chris Guillibeau (it's ok, just say Chris G. It's much simpler to say), attempting to break the Guinness Book Of World Records for the largest Yoga Chain in history at the Great Namaste. Did I tell you this was a networking event? Yep, it was and one that was unlike anything I'd ever been to before. The official blessing from Guinness Book Of World Records is still out, but unofficially we dominated and broke the record. And, that day I had a break through in my business and realized, I was once again coming out of a closet. More on that later.
Right after Yoga, my partner (aka husband even though we're not married yet) and I gathered with about 200 like-minded folks for local brews, pizza, sweet potato fries, hummus and vegetables as we compared notes on how each of us was doing on our quest to Live Your Legend. The energy was off the charts, and not one person said, "Here's my business card and what can you do for me?" Were they sick? Didn't they realize that business card exchanging is just part of world commerce even if you have no need for someone's business. Yet, this group seemed happy and content to simply connect without an agenda. Of course I assumed they were trying to put on a good front so that no one knew they had wandered aimlessly around downtown Portland the prior evening looking for a punch bowl social. At least I'll admit that I took that invitation from the previous evening literally and was looking for a punch bowl social, not realizing Punch Bowl Social was actually a hip, cool place to hang out, shoot some darts, bowl, boogie, and socialize...not a business card in sight. There seemed to be a rising trend at every stop I was making as I joined the ranks to dominate the world on my visit to Portlandia.
Deciding it was time to be alone, me and the hubs yet not my hubs yet, parted ways for the afternoon. He scampered off to register for the World Domination Summit - the whole reason we had come to Portlandia. I on the other hand marched off to Revolution U with Jonathan Fields. Courage up, and ready to begin shedding my soloprenuer distractionatia I arrived, consumed some cookies while devouring 18 steps for turning your business into a revolution.
Once we, the hubs and I reconnected, he guided me to Domination Square (aka Director Park, one of a zillion parks in Portlandia) for registration where the energy was off the charts. I was tempted to visit the time capsule which intrigued me, but in my typical soloprenuer distractionatia haze, I felt there was to little time because I needed to get back to the hotel to try to keep my business alive while I was cavorting with 3000 people, none of which had tried to force a business card on me yet during my first 24 hours in Portlandia, in preparation to attend World Domination Summit.
Armed with a swag bag quite unlike any I'd never received before at a conference -- yes, all the stuff in the cool backpack was stuff I was not going to give the kids when I returned home, nor did it -- I hustled to my oh so typical business traveler hotel, diving into soloprenuer distractionatia mode, answered emails, double checked to see if by chance any new clients representing revenue had booked business, and then hustled to the first official domination event...and no it didn't involve leather and whips.
Music, dancing, circus performers, and honest, heart-felt conversations pursued. I was beginning to wonder if I was in the right place. I knew this conference was all about community, adventure, and service, but hey, anyone can deliver great marketing hype to get you to their soiree, but to actually deliver what they promised? I was beginning to think I was under the spell of Portlandia and being transported to a space and time that was a figment of the imagination. Thankfully, I was wrong.
From the first beat of the music at the opening party, to the green smoothie chick sharing her success secrets, to the scared to death super hero tiny house lady who rocked the theater, and to the adoption of my brave bot who found me, I realized this was not your cookie cuter networking/conference/sell me/what can you do for me event. In fact, as the weekend continued, each and every moment made me realize I'd invested the best money I'd spent in a long time on my business attending a "networking, non-networking event," and I liked it! These were my peeps and I was digging the pulse of their hearts as much as they were digging mine. I even got to see my friend John Janstch do yoga, dance, sing, and play a guitar on stage!
It didn't matter if I was sitting dumb-founded, elbow-to-elbow drinking the cool-aid of really passionate speakers in the Arlene Schnitzer Concert Hall; trying to locate the hidden treasure chest with spoons to scarf down my yogurt, berry, granola parfait during the morning break; macrameing a world domination cuff to wear to the closing party; hot air ballooning above the Willamette River; or Bollywood dancing with 2500 of my new best friends. None of this mattered to my business, but yet it had everything to do with where I was going to go with my business and who I was going to become as a business owner. I was getting ready to snuggle up deeper with my bad business self and stick to my guns to build a community, be of service, and enjoy this adventure I called being an entrepreneur.
My experience at World Domination Summit helped me became a kid again, only this time in a 50-year old adult body. I realized I could still wonder and be curious. I learned adversity is part of business and without the challenges you don't grow. I dropped my drawers, letting the naked truth that I was scared of doing something greater than myself shine, and that's ok, it's just part of the journey. I discovered that your peeps are out there, you just have to go find them. But most importantly, World Domination Summit cured me of soloprenuer distractionatia and helped me come out of my own closet about being an entrepreneur. Heck, I do this every day with my clients. Help them come out of their closets to be their most authentic self regardless of their sexuality. Funny how it takes something greater than yourself, like 3000 other people, to help you come out and be your best self.
Now I'm focused, trying new things, dumping my binder babies (thanks @jadahsellner for that tip), wearing my super hero cape around my tiny house that is my home office, and dominating my world as only I can do. After all, isn't that why we all become entrepreneurs, to dominate our world make it better for others and ourselves? Now, if I can just get Chris G. to put me up on stage next year at World Domination Summit to talk about "Dust bunnies, dirty laundry, and wire hangers...what's in your closet?" then I will know my adventure to Portlandia was not a dream...it's my new reality!
Popular in the Community