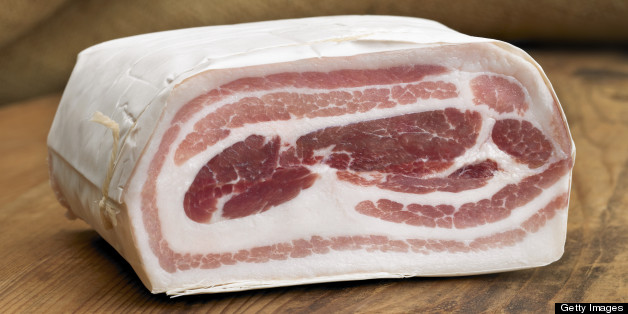 Here's news sure to make the hearts of charcuterie fans skip a beat: The U.S. Department of Agriculture indicated Friday that it will relax a ban on Italian cured meats that has been in place for decades, beginning May 28.
According to a USDA document, the regions of Lombardia, Emilia-Romagna, Veneto and Piemonte and the provinces of Trento and Bolzano are free of swine vesicular disease (SVD), one of the health concerns behind the cured-meats ban. Authorities are satisfied that the safety measures employed by the Italian government in these areas will prevent any possible spread of the disease to the U.S.
The ban is thought to have been in place since at least the 1960s, enacted following a string of European livestock illnesses, writes The New York Times. Since then, the USDA has only allowed the importation of some cured pork products from producers that pay a hefty certification fee.
That barrier has for years deterred many smaller and artisanal companies from selling their products in the U.S., but this may now change for outfits based in the aforementioned regions. It's unclear, however, what, if any, U.S. standards these companies must meet going forward, and if they will come with a price tag.
With the move's implications still murky, it's additionally unclear what kind of meats might appear in the U.S. in the coming months.
"[It's] the beginning of a huge possibility to explore and to have high quality Italian salumi in the United States," said Dino Borri, the head buyer at Italian emporium Eataly, in an email to The Huffington Post. "But we don't know exactly what." That hasn't stopped Borri from daydreaming about a few possibilities, though. The regions affected by the eased restrictions, he explained, are "producing like the biggest quantity of salumi in Italy."
Borri has his eye on two types of coppa -- Coppa Piacentina and Coppa di Parma -- which have a history that dates back to the Middle Ages. Made from a pig's neck muscles, the meat is salted and flavored with pepper, ground cinnamon, cloves, bay seeds and nutmeg.
Borri also hopes to introduce Eataly customers to several varieties of salami -- Salame di Varzi, Salame Brianza, Salame Piacentino, Salame Cacciatore, Soprèssa Vicentina and Salame Cremona -- which all vary in flavor by their regions of origin. They're a far cry from the Oscar Mayer products with which many Americans are familiar; these are spiced with garlic, mace, juniper berries, myrtle berries, fennel, chili pepper or red wine, and many are stuffed inside gut cases.
Then there's Pancetta Piacentina, which Borri said is made with meat from the marbled front portion of a pig's ribs. Salted by hand and left to cure for at least two months, the flavorful product can be used as a base for myriad Italian recipes.
Finally, Borri wants to acquaint Americans with Culatello di Zibello, a salted and tied portion of a pig's upper leg cured for a whole year. It's a famous product of Zibello and other areas in the Parma lowlands, which are in the Emilia-Romagna region of Italy, and this meat's origin story is something of a local legend. "In the 14th century, a clumsy norcino (pork butcher -- specialized in curing and preserving pork meat) incorrectly deboned a prosciutto and, to solve the problem, salted and matured the meat," Borri explained.
Borri is waiting until May 28 to see if his wish list pans out, but cured meat enthusiasts will have a while longer to wait until the meats (hopefully) show up at Eataly's Cheese & Salumi counter. New items could appear as early as June, he said, but as late as October, or beyond.
UPDATE 5/1: Workabeba Yigzaw, a USDA public affairs specialist, offered further insight into the new rule in an email to The Huffington Post:
In terms of importation, this rule means that pork and pork products from the identified regions in Italy will now be approved for import into the United States, because those areas are now recognized as free of SVD. They are no longer required to be cured for 400 days, per the previous regulations that were in place to mitigate for SVD. They will still have to meet the export requirements, such as coming from a facility that has been approved by USDA's Food Safety and Inspection Service (FSIS).
Calling all HuffPost superfans!
Sign up for membership to become a founding member and help shape HuffPost's next chapter
BEFORE YOU GO
PHOTO GALLERY
Whats The Difference Between Cured Meats?