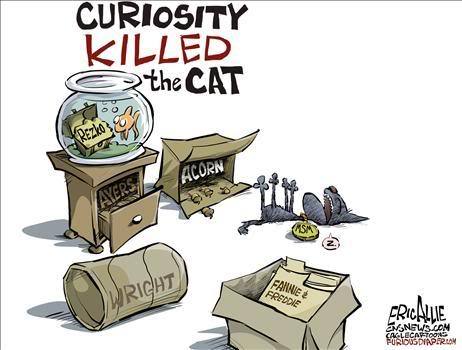 I was just too curious. I had to get to know him. I needed to know why he did what he did. So I sent him an email to learn more about him. I was not a writer at the time. I have always sucked at it. I still do. But, I was curious to learn how a biology major becomes an active entrepreneur with a media business.

Instead of thinking that I am a maniac, I got this from him a couple hours later --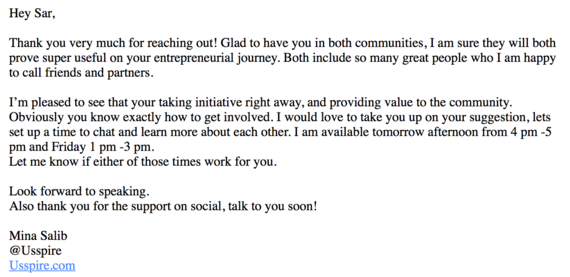 Lesson I learned : Curiosity can do wonders.
Hate reading book and articles? Go around genuinely asking why they do what they do. Figure out their WHY and you might stumble upon yours. If you dont, you will stumble upon real relationships. Even if that does not happen, you will learn something new.
( Simon Senek has an amazing book and a TED talk on finding your WHY.)
In my case, curiosity unexpectedly led to a friendship that blossomed into mentorship which later grew into a potential business partnership. Crazy, right?
So we had a phone conversation. I got very interested in his journey. He spoke of how he was a biology major aspiring to go to Dentistry school but later realized he felt like he was living in a box where he was extremely comfortable and he knew what exactly he could get out of it and where it would lead him.
He knew that despite having safety and a sense of perceived success, he lacked spontaneity and excitement. He felt his life didn't have a community feel and was passionless. He decided against going to Dentistry school and started to immerse himself in the startup community.
After a careful SWOT analysis on himself, he started a media company, found his passion for the startup world, hustled to build relationships with hundreds of entrepreneurs, got a gig at one of the premium incubators in NYC, and now interviews other hustlers and adds value to his audience daily. He did not let his newfound success get the best of him.
Lesson I learned : There is no ideal age for figuring out your passion. Some people find it early. Some find it later. Important thing is to hone in on it once you find it and enjoy what you have until you find it. I have to keep repeating this to myself.
During my phone conversation with him, he got curious about my past and my design business. He advised me on content marketing. I thought it was a give and take deal since I promised to get something done for him. I couldn't follow through on my part within his timeline. He let it go. He was generous.
Fast forward a couple weeks of relationship-building....
He decided to generously contribute to one of my projects. One day he called me up to kick my ass. He gave me a reality check. He told me how I was doing it all wrong. Again, he was generous.
He was invested in me, and wanted me to be successful in the project. He mentored me and gave me the right direction. He also appreciated how quickly I was growing. Honestly, I have no skill or connection that could possibly help him grow his business or become happier. Nothing at all. I mean it. The only thing that I think got him invested in me was my genuine curiosity.
Lesson I learned : Generosity is THE foundation of developing relationships.
Bonus -- Being all dumb and asking questions gets me to places. But dont fake it, people are smart.( One such place was getting featured in Forbes. Works for me. Its funny how the title of that feature is all about PR while I have no clue how to do PR.)
Instead of just finishing up his contribution to my project, he went out of his way to guide me through the process because he knew how other people who had taken up similar projects succeeded.
He did not have to do that. But, he chose to give a shit about me.
A couple days ago, I was contemplating starting a new venture where I would need partners who are more experienced than I am. I know that hard skills can be learnt through practice, experimentation and a bit of a hustle. But, getting conscientious partners who will always have your back is the hard part. I needed someone who acknowledges my strengths, helps me get through the tasks that expose my weaknesses, and mentors me when I am heading down the wrong path.
He was the first person that popped in my mind. Despite not having met in person yet, he took the business proposal positively. What made me naive enough to not ask someone I know and have met in person? I though there was no reason to look for someone else when I have someone who I have not met yet so invested in my success. I cant imagine how better he could get at having my back after we have some face time and I take him out for drinks.
I was writing a cover letter the other day about what I can bring to the table for a potential partnership. I told him that I don't have much to talk about. His immediate reply was " What do you mean? You have done so much so quickly". That made my day. I guess being curious counts.
Lesson I Learned -- By just approaching every relationship warmly, you can open yourself up to a wide array of opportunities that will be otherwise unavailable.
Here is one of my articles that Mina republished on Usspire's website.
Through Usspire, Mina gives a glimpse into the lives of relatable models who show you the path to a successful and inspirational life. Mina strives to continue this path of inspiration and mentoring through consulting services. Along with continuous stream of inspirational content, Mina hopes to partner with his fellow entrepreneurs to help build other early stage ventures, and help founders navigate their way to success.
Calling all HuffPost superfans!
Sign up for membership to become a founding member and help shape HuffPost's next chapter