In our new series, Curly Hair Chronicles, the women of The Huffington Post share their strategies, struggles and successes with maintaining wavy, coily and kinky-textured hair. BlackVoices style and beauty editor Julee Wilson kicks things off with her natural hair journey. Read on to find out how Julee learned to accept what she's got on top, then scroll down to see her curly hair evolution.
The story of me and my hair is a complicated one. Growing up in predominately white neighborhoods and schools, I was constantly in pursuit of silky, shiny, blows-in-the-wind, "white girl" hair. Sad, I know.
Although my kinky coils were (and still are) beautiful, they didn't reflect the Pantene Pro-V locks that all my girlfriends flipped off their shoulders. I remember attaching towels, scarves and ribbons to my head while playing around the house, trying to mimic the hair I so desperately wanted. My parents definitely weren't fans of putting chemicals in my hair, but I convinced them with countless tales of not fitting in at school combined with buckets of tears about how my life would come to an untimely end if I didn't straighten my hair (Note: I'm a really good actress). Most likely in an attempt to shut me up and prove their point about the dangers of relaxers, my parents gave in. I was thrilled, but not for long.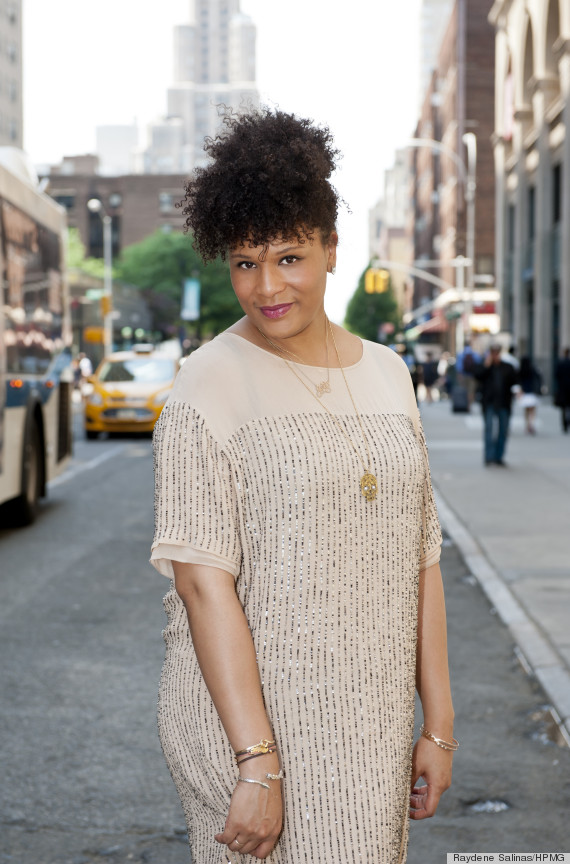 Thanks to the harsh chemicals of the perm, my bone straight tresses started to fall out over time. I realized that having similarly textured hair as a white girl didn't mean I could maintain it like a white girl. Which meant I shouldn't (but did) do things like, go swimming without a cap, wash my hair everyday and fail to wrap my hair in a scarf at night.
It's important to note that I was never trying to be white. I always loved my race, skin color, culture, etc. However, it was my unruly curls that drove me crazy.
My "dream" hair became a nightmare and it wasn't worth going bald over. So after about two years of relaxing my hair (from ages 12 to 14), I started on my natural hair journey. Throughout high school I primarily straightened my hair with heat. My dad -- yes, my very straight dad -- would often hot comb my hair (Note: he grew up in North Carolina with three younger sisters, so I was in good and steady hands). In college I ran Division I track, so low-maintenance braided extensions were the way to go during those four years. After graduating, I moved to New York City and made sure my hair was heat-straightened at all times so I could get a job. Yup, it's that serious. As a black woman you learn that even your hairstyle could keep you from getting a job. Once I landed a gig, I still wasn't fully comfortable unleashing my curls, so I kept them under wraps until I walked through The Huffington Post doors.
I think it's been the combination of simply growing up and working in such a liberal/creative work environment that has helped me embrace my curls. My husband also thinks they make me look really hot--gotta love that. In addition, being a part of HuffPost BlackVoices (aka working with black folks) has definitely heightened the love affair with my natural hair.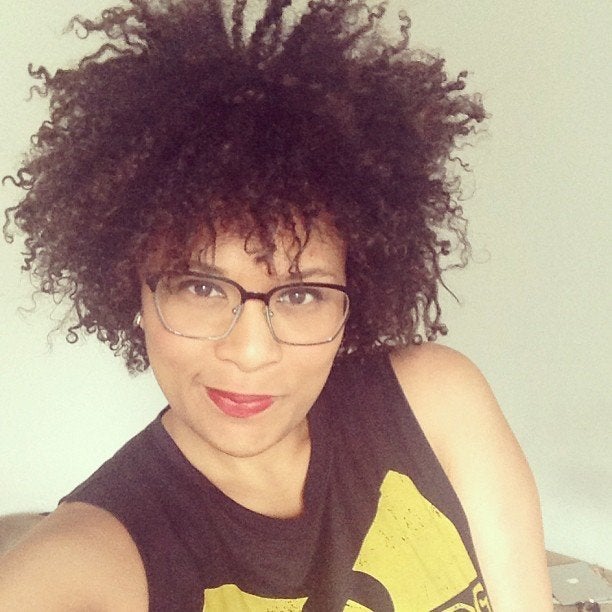 Julee's Wild & Wonderful Hair
Want more HuffPost Style beauty content? Check us out on Twitter, Facebook, Tumblr, Pinterest and Instagram at @HuffPostBeauty. (For everything else check out our main HuffPost Style Twitter, Tumblr, Pinterest and Instagram @HuffPostStyle.) --- Do you have a beauty story idea or tip? Email us at beautytips@huffingtonpost.com. (PR pitches sent to this address will be ignored.)