The West Coast art scene would be bereft were it not for the Chouinard Art Institute, which counts some of the most innovative names in art -- from painter Ed Ruscha, and Academy Award winning costume designer Edith Head to Low Brow/Pop Surrealism progenitor Robert Williams, among many others -- as its alumnae. Under the hands of Walt and Roy Disney, Chouinard merged with the California Conservancy in 1961 and was finally completely absorbed as the California Institute of the Arts in 1972 when CalArts' Valencia campus was completed.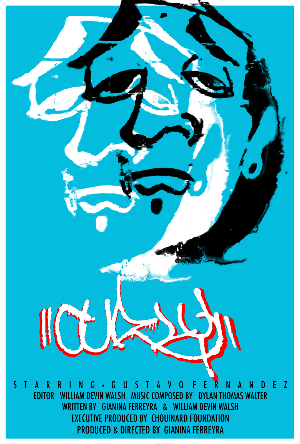 Newly released for free streaming on Vimeo, the documentary film Curly (51 mins), executive produced by the Chouinard Foundation, produced and directed by Gianina Ferreyra and William Devin Walsh, looks at the Chouinard Art Institute and its place in Los Angeles history (and at one point, potentially the city's future) by following its influence. Bookending the history of Chouinard is the story of Gustavo "Curly" Fernandez, a high school student involved in an after school arts program created by the Chouinard Foundation in partnership with the City of L.A. Department of Recreation and Parks called "Chouinard at L.A. Rec and Parks." The artist-driven program ran from 2006-2009 in downtown's EXPO Center and Venice's Oakwood Center, the Foundation's idea being to choose areas least served and to bring top-notch art education to students, some of whom had never experienced art in public schools. Guest faculty included art legends Larry Bell, Chaz Bojorquez, Sam Clayberger, Guy Dill, Laddie John Dill, Llyn Foulkes, John Van Hamersveld, Doris Kouyias, Wei Lo, Gilbert "Magu" Lujan, Peter Shire, Charles Swenson, Gary Wong and others.
Founded in 1999 by Bob Perine and Dave Tourjé, after Tourjé purchased the home of Nelbert Chouinard and became fascinated by the school's place in the art world, the Chouinard Foundation produced a 2001 retrospective exhibition, a magazine (Grandview) and gave art classes, first in its own building and later under contract with the City of L.A. Department of Recreation and Parks.
It was through these classes that Curly begins his art education, learning the basics of art and sharing them with his friends. When the economy collapsed in 2008, outside funding became difficult, their own funds depleted, and the Chouinard Foundation was forced to close its "Chouinard at L.A. Rec and Parks" by 2009.
Sadly, Chouinard is not alone: Funding for the arts has been cut from city and school budgets across the country, though finally, there may be a glimmer of hope at LAUSD, as has been recently reported. Curly is inspirational in showing the importance of arts education, especially when listening to the many acclaimed graduates interviewed about their experiences at the original school: Larry Bell, Chaz Bojórquez, Sam Clayberger, Guy Dill, Laddie John Dill, Llyn Foulkes, Joe Goode, Lou Paleno, Ed Ruscha, Peter Shire, Chuck Swenson, John Van Hamersveld, Theodora Van Runkle, Norton Wisdom and Gary Wong all discuss the original Chouinard and what they gained from attending.

Curly delves into the methods taught at Chouinard as well as the school's free spirited bonhomie. One of the most interesting footnotes to Curly: A long-lost mural masterpiece painted in 1932 by David Alfaro Siquerios -- Street Meeting, his first in the United States -- was discovered under layers of paint and plaster on the site of the original Chouinard Art Institute, now a Korean church. Until the building is bought, the mural cannot be restored.
The Chouinard Art Institute may no longer be with us, but its graduates continue to paint and inspire, while the Chouinard Foundation continues to keep its spirit alive.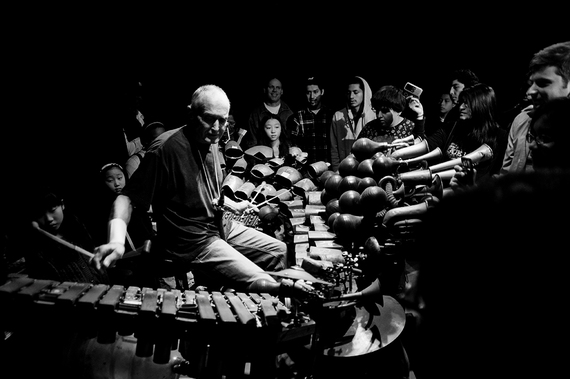 Chouinard at L.A. Recreation & Parks in studio with Llyn Foulkes. Photo: Gianina Ferreyra, used by permission of Chouinard Foundation
Curly poster: Chouinard Foundation, used by permission.
Calling all HuffPost superfans!
Sign up for membership to become a founding member and help shape HuffPost's next chapter