Here are this week's top current exhibitions throughout the Western U.S. as selected by ArtScene and Visual Art Source editors and contributing writers.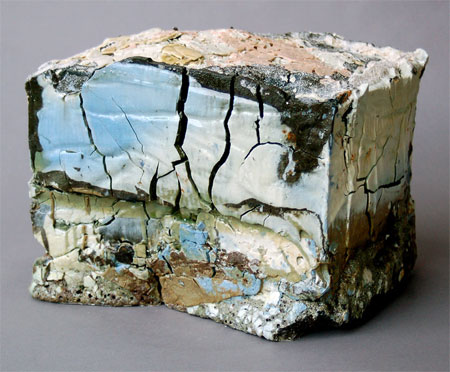 Jonathan Mess, "Landfill #1", 10 x 14 x 10", at Santa Fe Clay.
Continuing through December 4, 2010
Santa Fe Clay Gallery, Santa Fe, New Mexico

Masterfully curated by the heart and bones of Santa Fe Clay, Director Avra Leodas, "Fertile Ground" was envisioned by her as an exhibition to serve as fodder for Critical Santa Fe, a recent symposium on art criticism and ceramics. "Fertile Ground's" artists do things with clay that don't often get done.

The tiniest threads of extruded clay in the hands of John Chwekun draw form in space -- a one inch cube of space at that. It's almost like watching an illusionist do his work; when it's performed well enough, belief is willingly suspended, and we witness magic. Cheryl Ann Thomas's porcelain work of collapsed coil cylinders looks like piles of fabric bandages from a distance. Up close, creamy white with hints of pink flesh out the work, almost literally, and loss and pain are inferred. Geological eons are invoked by Jonathan Mess' cast boxes, while his surfaces are as veined as a craquelured Old Master's. Nathan Craven's tiles, made of multicolored and shaped clay scraps, stretch across the floor and upward, ambitiously, along the wall. Priced by the square foot, they defy traditional notions of clay as the potter's medium.

- Kathryn M Davis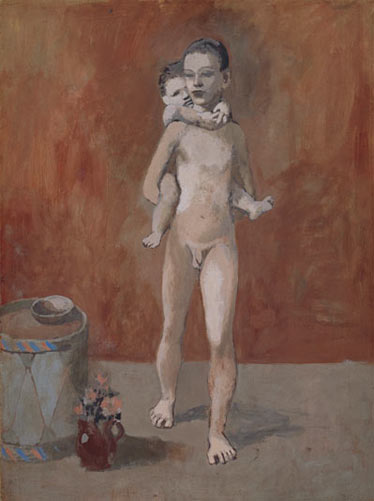 Pablo Picasso, "Two Brothers," 1906, oil on canvas, 31 1/2 x 23 1/4", at the Seattle Art Museum.
Pablo Picasso's life was notoriously messy: two wives, numerous lovers, a penchant for political activism (communist), and a tendency to go back and forth between different -- even contradictory -- artistic styles. Despite its scale, the more than 150 works on view in "Picasso: Masterpieces from the Musée National Picasso, Paris" form a tight show that offers viewers a sense of the non-linear nature of Picasso's defiantly sprawling production.

See complete article. . . .

- Suzanne Beale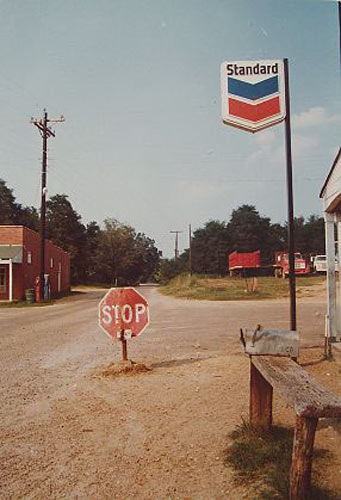 William Eggleston, "Untitled (Stop Sign in Middle of Road) from the Los Alamos Project," 1972, chromogenic couple print, 9 x 6", at Edward Cella Art + Architecture.
Continuing through January 16, 2011 / December 23, 2010 / January 29, 2011
LACMA / Edward Cella / DNJ, all Los Angeles, California

Somewhere on a nameless country road in the middle of nowhere, there was found an upside-down car. A relic from the 1940s, the vehicle had rusted in the Southern humidity to a uniform and oddly beautiful rust red, punctuated by brave points of shiny courageous chrome. If you don't know the photographer, you know the 1972 photograph of a memory left behind like an abandoned turtle. The Los Angeles County Museum of Art, along with a pair of local galleries are presenting a collection of the work of William Eggleston, one of the great locators of found objects of his time. The exhibitions span his career, demonstrating his working and thought processes along with the evolution of a new genre of color photography. "Rusted Red -- Upside Down Car" hides a story and evokes mystery, but the photographer is respectful of its privacy and leaves the automobile behind in a now forgotten corner of Memphis.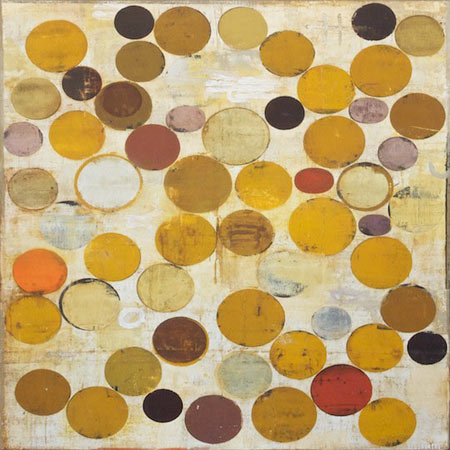 John Belingheri, "Cyprus," 2010, mixed media on linen burlap, 60 x 60", at Andrea Schwartz Gallery.
Continuing through November 13, 2010
Andrea Schwartz Gallery, San Francisco, California

The idea of art defining and being defined by its medium was one of the prime directives of the modernist credo that was superseded a generation ago by the aesthetic free-for-all that is postmodernism. Hybrid combinations of media that deal with multiple definitions of art? More like artists jumping from medium to medium as ideas dictate, as if from one dying warhorse to another? Fine. Immaterial art made of nothing more substantial than words? Tell us more!
Emeryviile's John Belingheri makes a strong case for the viability of abstract painting in terms of both process and product, activity and completed but never completely resolved action. Generally square in format, and of moderate size, the images consist of fields of slightly squashed dots, like pumpkins or oblate spheroids, to use the geographical term that may suggest Larry Poons' paintings of the 1960s. Poons' brightly colored blips were stilled into bubbles that abutted each other comfortably across small intervals or synapses. Where those were hard-edged and mechanical, favoring eye-popping palettes, Belingheri favors the organic look: scraped, abraded, glazed, and sanded for bubbles that feel like Zen calligraphic ensos, or circles and rich backgrounds. (The artist once dragged a painting behind his car but felt the resulting scratches looked too deliberate.) It is all harmonized by a rich but subdued palette of autumnal reds, oranges, greens and ochres (except for "Preoccupied with the Blue"). Canvases like "Cyprus," "Eighteen Stanzas," "Chariot," "Hysteria" and the wonderfully entitled "Woe, Woe Woe" are compositionally open, i.e., random and improvised. But Belingheri's paint textures and colors provide plenty of retinal sizzle for those of us who have not yet outgrown the visible world. Works on paper like "Lyre" and "Harlot" are equally witty and opulent.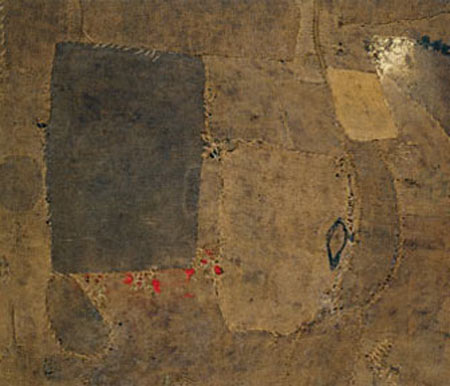 Alberto Burri, "Composition," 1953, oil, gold paint and glue on burlap and canvas, 33 7/8 x 39 1/2", at Santa Monica Museum of Art.
Continuing through December 18, 2010
Santa Monica Museum of Art, Santa Monica, California

Alberto Burri was an Italian born abstract painter who spent a considerable amount of time in Los Angeles. His work utilized what at the time were highly unorthodox materials. Not just the way Burri used burlap, tar, pumice and more but the mere fact that he used them in the service of art at all was new and innovative. Purposefully clunky, the pieces have a formal beauty and an elegance that defies their materiality. Burri was born in Italy in 1915 passed away in 1995, and remains under-recognized in the United States. This exhibition surveys works made from 1951 to 1990, including numerous pieces made while he was living in Los Angeles. Burri drew inspiration from numerous genres: Arte Povera, Pop Art, Abstract Expressionism. Yet he cannot be identified with any one of them, as the more that 60 works here testify.

- Jody Zellen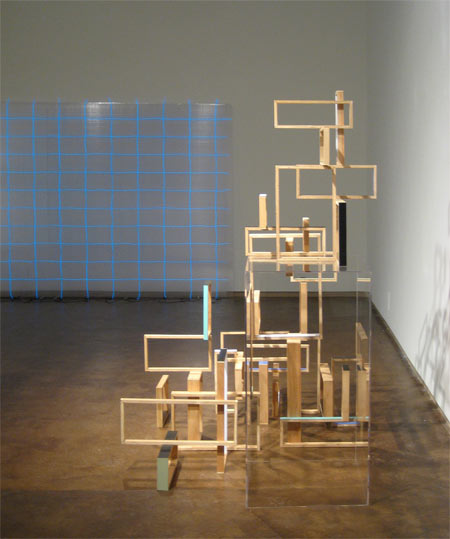 Tom Orr, (front) "Ko Onagadori," 2010, Plexiglas, wood, laminate, 63 ½ x 65 x 42"; (back) "Adults Without Heads," 2010, electroluminescent wire and plastic, 70 1/2 x 127", at Marty Walker Gallery.
The experience of Tom Orr's work is zenful, but not, say, in the way water babbling along in a brook or fountain or arranging the smooth white pebbles of a rock garden might be. His is an art of the unnatural Zen -- the soothing calm brought about by transparent plastic, electric lighting, Plexiglas, and various grades of laminate artifice. "Adults without Heads" is a thin diaphanous screen of plastic leaning against the wall. Coursing through its plastic matrix is a thin blue line of electroluminescent wire laid out in a grid at a larger scale. Its name comes from "Rokuro-Kubi," a Japanese short story about bodiless goblins that haunt the countryside in the form of free-floating heads.

"Ko Onagadori" is a series of interconnected wooden rectangles abutting a large Plexiglas podium. Some of the edges of the wooden geometries are left bare, while others are covered in shiny white and black laminates. This clean small structure of orthogonal form references the long-tail fowl of the same name that is native to Japan, and prized for its long tendrils of feathers. Orr rethinks representation, replacing the standard paradigm where what is inside the frame references something outside in a one-to-one relationship with a moebius-strip sensibility. Inside and outside give way to the wending movement of the imagination. Text connects to object, short story to thing, not so much in a literal arrangement but like a ghost that haunts the mind.

- Charissa Terranova
ArtScene and Visual Art Source are the in print and online resources to fine art galleries and museums in Southern California and the Western United States. Visit us online or pick up a copy for complete listings of art venues and editorial Reviews, Recommendations and Previews of the best current exhibitions. Be sure to visit our Openings Calendar page so you can plan visits to the latest exhibitions -- of wherever you may be in the Western States.
Want to opt-in for a free subscription to stay current every day on our Weekly Newsletter, as well as new shows, events and (if you are an artist) artists' calls? It's easy.
Related
Popular in the Community