As it looks very much like a mixed media exhibition, Currents in Photography will surprise most when they discover that all of the works fall into the category of photography. It is easy to see that the images offered by Bert GF Shankman and Sandra Gottlieb are photographs, while many will catch the digital photography linkage in the works of Sol Hill, but most will need guidance and information to understand the connection to photography for the art of Nolan Preece and Kaethe Kauffman.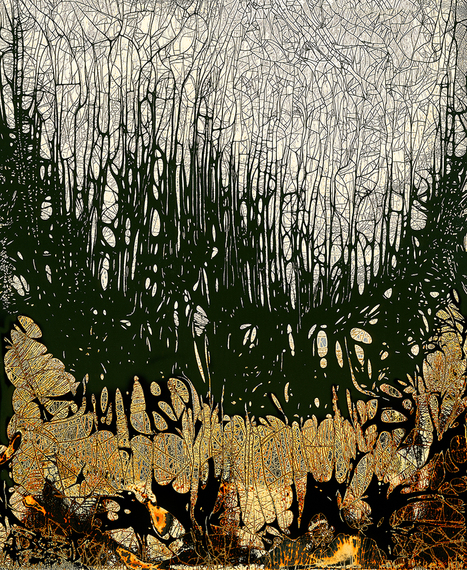 Nolan Preece, Woodland (2014), 20 x 16 inches, Chemigram
Kauffman uses various traditional techniques that are collaged, then photographed, then collaged again, scanned or re-photographed in order to be uploaded to her computer where they are digitally manipulated. This rather technical and variable process in the hands of this artist is quite organic in its own way, as she creates symbols of mind and body in balance. Her output, photographic pigment prints, often depicts dedicated meditative states that are both highly focused and open-ended, suggesting to the viewer that they form their own contemplative condition. In Meditation 4: Dark & Light 'noise' becomes nirvana, while in Meditation Oblique Close the rituals of meditation passes through the physical world suggesting a Brancusi, Endless Column-like transcendence to the heavens.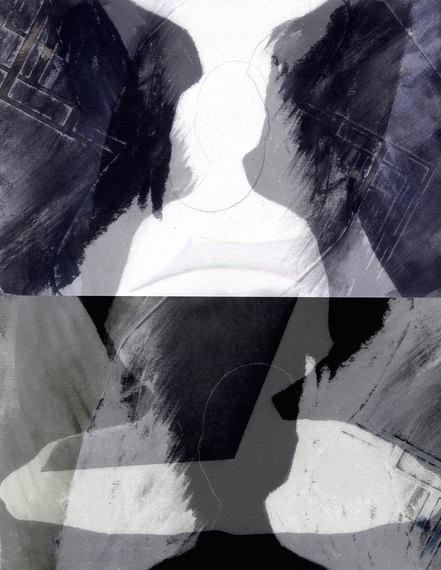 Kaethe Kauffman, Meditation Oblique Close (2016), 28 x 22 inches, ink, charcoal, collage, archival inkjet
During daylight hours, Preece paints directly onto photographic paper using darkroom chemicals to create his intricate Chemigrams, a process first invented by Pierre Cordier in 1956. Overall, the look of the work is quite reminiscent of the surrealistic 'forests' of Max Ernst as both artists maintain an awareness of a spiritual or otherworldly presence in nature. In works such as In the Grove and Woodland there are some burnt looking areas where it reminds me of the color photographs made from negatives that were partially destroyed by the application of psychoactive drugs. This suggestion or look of a chemical burn gives this work its edge.
Sol Hill's photography captures then emphasizes the 'noise' common to digital photography. In doing so, Hill turns the fleeting or banal into lush visual events that resonate with emotion and ambiguity. The tension and narrative in all his vignettes suggests our spiritual being exists amidst retinal quandaries that never resolve. Here, I am reminded that we are in a physical state that is far different than what we can perceive. As some are aware, a good number of physicists believe that we are "beings of energy and vibration, radiating our own unique energy signature". Hill takes that thought and runs with it putting it to very good use.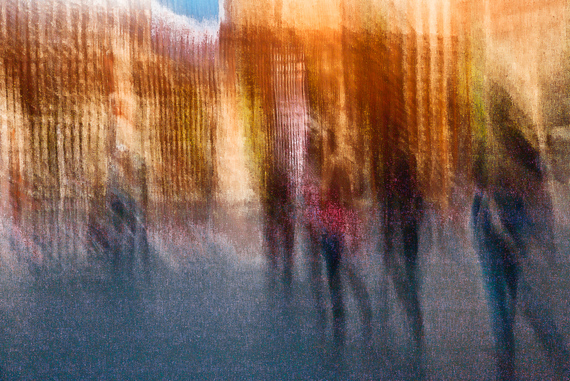 Sol Hill, If We Throw Ourselves Into the Open (2015), 24 x 36 x 2 inches, photography, Japanese Paper, acrylic on clayboard
Gottlieb captures curious moments in the crests of waves - moments that can only be frozen and fully appreciated with high-speed still photography. Her image gives us time to think, to imagine what happens just before or right after the crest she has captured came to be. This sensation, which is very much different from how we 'take in' a wave using our own unaided or unmanipulated vision, affords the viewer options to perceive and process the experience of being seaside, while the fluid intricacies float timelessly in spaces.
Shankman does something similar in a way to Gottlieb as he brings us up close and personal to the unexpected or understated wonders of nature, making them dramatic and profound. In his richly colored and finely composed pictures the minute becomes monumental, the cool becomes chilling and the spiritual becomes enlightening. In some instances, especially with Nightingale, one must assume there is a level of color manipulation, however, this takes nothing away from the overall effectiveness of the work.
Currents in Photography is the perfect show for those looking for soulful inspiration away from the summer's heat and humidity. The exhibition at Walter Wickiser Gallery ends June 21st.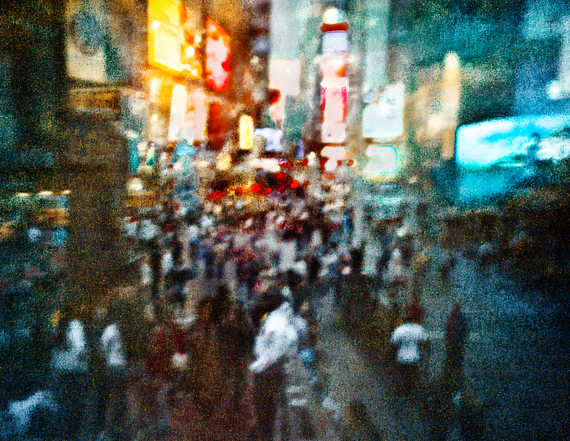 Sol Hill, Signs of the Times - Urban Crowd #2420 (2015), 18 x 24 x 1.5 inches, photography, Japanese paper, acrylic on board
Support HuffPost
The Stakes Have Never Been Higher
Related
Popular in the Community