When I think of design I think of structures like Disney Hall and Grand Central Station. Things, like iPads. Objects, like cars. But ideas are also designed. Ideas powerfully shape neighborhoods. People can be rescued by concepts. The Curry Stone Design Prize was created to recognize that designers can be a force for improving people's lives, and on November 7th, the day the prizewinners will be announced at Harvard, ideas that became tangible instruments of change will be recognized.
The 2011 grand prize went to Hseih Ying-Chun for training villagers to build shelter after natural disasters destroyed their communities. His work signals a growing movement in architecture and design, a drive toward helping people reclaim their self-sufficiency. Recently, I was doing an interview for our film about shelter with Thomas Fisher, dean of the College of Design at the University of Minnesota. We started talking about how doctors, lawyers and architects have disempowered the very people they are supposed to be helping.
We don't know how to heal ourselves - we have to ask a doctor to do it. We can't mediate our own disputes -- got to pay a lawyer big bucks for that. We don't know how to design our own shelter -- must hire an architect.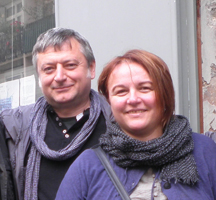 Curry Stone Design prizewinners Constantin Petcou and Doina Petrescu see that differently. They started Atelier d'Architecture Autogérée (AAA) in 2001 as a platform to renew derelict neighborhoods, performing what they call tactical interventions in those neighborhoods involving local collaborators. I spoke with them on Skype from Sheffield (in the UK) and Paris, where they're based, and where their projects are flowering, and learned how they are using design to encourage people to reclaim abandoned space and lost skills, and thus empower themselves and reclaim their cities.
They start their work in the most unlikely of spaces -- crummy neighborhoods where drug addicts and prostitutes hang out and where many other social problems are visible. Then, they introduce something totally unexpected. "Our method is to invite people to do things," Doina told me. Like what? "We start with a very simple, very necessary activity like gardening. In these areas there are often no green spaces and no cultural spaces," she said. Amid the urban squalor, they provide a mobile kitchen, or a mobile media lab, a tool bank or a small mobile library. Local residents soon take over these projects and run with them -- sometimes literally, moving them to other locations.
"In a single space, you might have people building something, kids playing football, students preparing for classes, women cooking, and an international debate," Constantin said.
In cities, people get away with a lot. They don't always have to take responsibility for what they do. Moving among a sea of humanity in New York City or Paris, I might litter, or be rude, and nobody much cares -- but in a smaller community, that won't fly. In smaller communities we find connection and responsibility. "That's why we are acting at this level of scale," Constantin told me. "We think the issues we are dealing with now concern everybody. We want to try to empower and construct tools for everybody to act on these issues."
It's hard to wrap my mind around architecture and design as contributing to the texture of a place rather than the concept you use for designing a building, but Doina helped me out by saying they think of architecture "as a process rather than an object. We look at the basis of this process -- who is involved, who is benefitting, who is driving it."
I started to realize that Constantin and Doina's projects are showing us how to act collectively. "A skill," Constantin pointed out, "that has disappeared in our individualistic society, where we have been pushed into very individualistic lifestyles. We have to learn how to 'be together.' This is a skill!"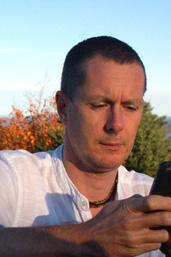 Ken Banks is also an idea guy, and also has a knack for turning concepts into action. In 2005, he was in Africa and casting about for a way for large groups to communicate. Fewer than 10 percent of Africans are online, but nearly half of the African population have mobile phones. Everybody texts, so Ken, being an IT guy, figured out how to turn a laptop or desktop into a hub for sending texts, even without an internet connection. The idea won him a Curry Stone Design Prize this year because the application he created, FrontlineSMS, has become a driver of positive social change. In 2007, FrontlineSMS was used in Nigeria to monitor an election, and family farmers in Laos have used it to track crop prices. You can get the full story at the be global podcast where there is an interview with Ken, who joined me online from the UK.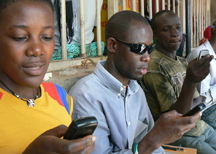 The Curry Stone Prize is rewarding ingenuity, to be sure, but it is also rewarding bottom up social change. The people driving this movement are filled with hope for the future. Want some optimism? Ken Banks's blog will let you in on the latest FrontlineSMS projects as well as providing good advice for social innovators. He's on Twitter and so is FrontlineSMS. Also, have a look at Constantin and Doina's Urban Tactics site if you want to get some ideas about how to revitalize your community.
"Act where you are," advised Constantin in our interview. Doina and Constantin will soon have a dedicated 'community toolkit' available on their website that will provide some recipes for your success.
Texting image courtesy kiwanja.net. Other images courtesy Curry Stone.
Related
Popular in the Community