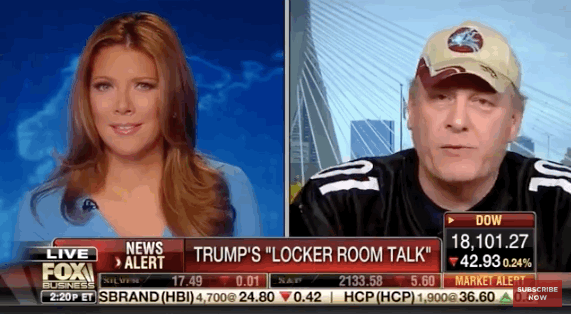 On Thursday, former major league pitcher Curt Schilling announced to his 165,000 Twitter followers that he was planning on joining Fox Business for some political conversation at 2:00 p.m. ET.
Less than an hour later, Schilling tweeted this:
What in the hell could have possibly happened in the intervening 45 minutes to warrant such a follow-up? Thanks for asking! The answer is, the fervent right-winger went off the rails while talking to Fox Business' Trish Regan about Republican presidential nominee Donald Trump's so-called "locker room talk."
"The conversation you're having about the things he said about the 10-year-old girl, to me, is at the very heart of why this is a problem," Schilling started. "How many times — and I have three boys and a daughter — how many times have you looked at a young man and said, 'Wow, is he going to be, he's a beautiful young man. Wow, he's a gorgeous young man,' and that man was 12, 13, 14, 15?"
A somewhat shocked Regan responded, "I'll be honest, Curt: zero." And then proceeded to shoot off a series of looks like this one: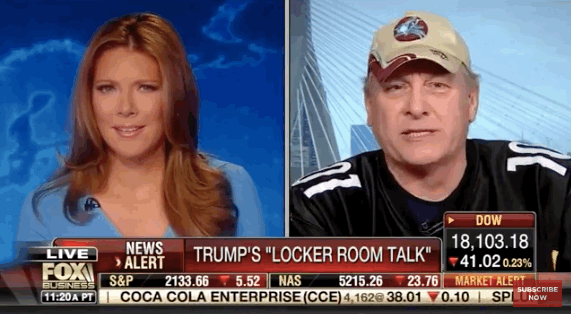 "Now, see, that's a lie," Schilling responded. "There's no way you haven't seen someone else's son and said, 'Wow, he's beautiful.'"
"And thought I'd going to be dating him? In 10 ― no, sorry. You're alone on this one," Regan said. 
Schilling seemed to have difficulty grappling with the fact that Trump not only said the child was attractive, but also that he hoped to have a romantic relationship with her once it was legally appropriate.
"He's joking about, 'Well, when she gets older I'm going to date her.' I mean, how do you get from there to being revolted and disgusted?" Schilling asked.
Once again, Regan was resolute. "I don't look at a young boy and say, 'In 10 years, I'm going to date him.' I just don't. I think that would be pretty sad if I did."
At that point, Schilling's defense really started to get weird. 
"I have a daughter, my daughter has friends. I've seen my daughter's friends, I'm a man. 'Wow, she's a beautiful young lady.' I don't immediately jump to molesting her."
You get the idea. It was weird. 
Calling all HuffPost superfans!
Sign up for membership to become a founding member and help shape HuffPost's next chapter
BEFORE YOU GO
PHOTO GALLERY
#NeverTrump