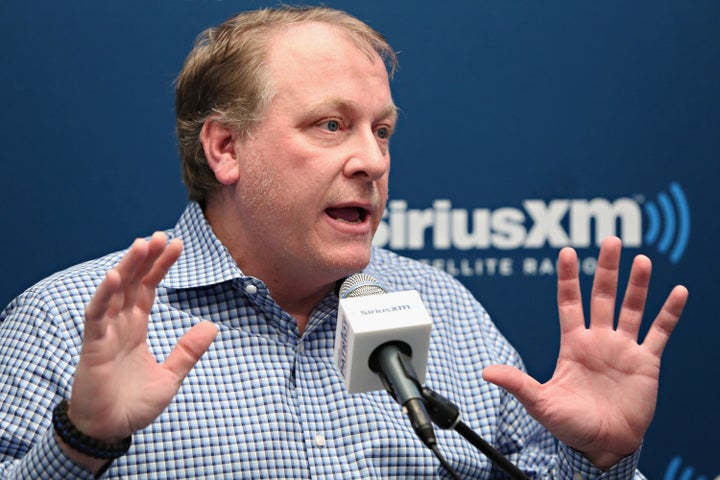 There's no debating now whether Curt Schilling thinks former ESPN colleague Stephen A. Smith is a racist. And there will be no debate between the two men either.
 "What are we going to debate about? I have no interest," Schilling told WEEI radio's "Dennis and Callahan" in the audio (below). " ... I'm not going to waste my time with people I don't respect. I don't respect him. I think he's a racist, I think he's a bigot."
Smith recently called out Schilling on his claim that ESPN dismissed him because of his conservative views, saying that Schilling was canned because he didn't listen to his bosses. He challenged Schilling to debate the matter. "Name the time and place and I'll show up -- with ESPN's permission, of course," Smith said.
"I felt like I was back in the fifth grade and I was being challenged on the playground at recess,"Schilling said on the show. 
Schilling was fired by ESPN in April after he shared yet another controversial social media post, this one about transgender issues. But the pitcher fired back at the sports network, calling some of its commentators racist in a conversation with Breitbart News Patriot Forum. He mentioned Smith during the same remarks but did not directly call him the "r" word.
"Stephen A. Smith was the guy who said that Robert Griffin didn't play quarterback for the Redskins because he's black," Schilling said at the time. "No, Robert Griffin didn't play quarterback for the Redskins because he [stunk]."
But Schilling made it clear on Twitter and now on the air exactly what he meant. 
"When the debate's over, he's not going to be any less racist," Schilling said. Something tells us this won't be the last we'll hear from both parties on the matter.
The exchange about Smith begins at the 14:30 mark:
Calling all HuffPost superfans!
Sign up for membership to become a founding member and help shape HuffPost's next chapter
BEFORE YOU GO