Even in the age of social media, one thing remains the same: Don't mess with dad.
Former Red Sox pitcher Curt Schilling has outed multiple Twitter users who directed vulgar and offensive tweets at his daughter, Gabby, after the World Series pitcher himself tweeted congrats on her decision to attend and play softball at Salve Regina University in Rhode Island.
This is the tweet that started it all.
In a lengthy post on his blog, Schilling names the users, some of whom were ultimately fired or suspended from their respective jobs and schools -- including a part-time worker for the Yankees.
Schilling said after he sent his congratulations on Feb. 25, graphic tweets soon appeared "with the word[s] rape, bloody underwear and pretty much every other vulgar and defiling word you could likely fathom began to follow."
"Now let me emphasize again. I was a jock my whole life. I played sports my whole life. Baseball since I was 5 until I retired at 41. I know clubhouses. I lived in a dorm. I get it. Guys will be guys. Guys will say dumb crap, often. But I can't ever remember, drunk, in a clubhouse, with best friends, with anyone, ever speaking like this to someone…" Schilling wrote.
Throughout the post, Schilling including screengrabs of the offensive tweets, along with the users' handles. Many of which are graphic in nature.
To see a sampling of the graphic tweets, click here.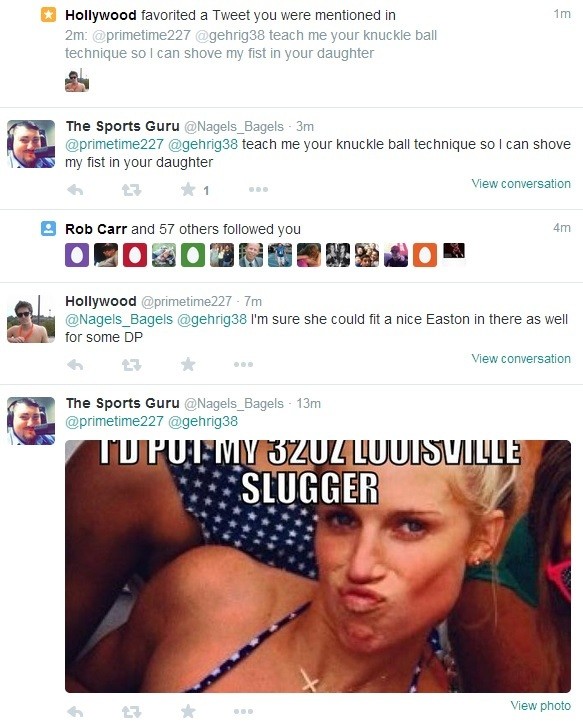 Schilling then detailed the names occupations of a pair of men: a host on student radio at Brookdale Community College, and a former vice president of the Theta Xi fraternity and alumnus of Montclair State University in New Jersey.
The pitcher even apologized to his daughter, adding she might be "embarrassed" for his response.
"But as we have talked about, there is no situation ever in your life, where it's ok for any 'man' to talk about you, or any other woman this way (and truth be told no real man would ever talk this way anyway). It truly is time this stopped," Schilling wrote.
After Schilling's post gained more attention, Brookdale Community College condemned the "unacceptable" tweets and announced the student had been suspended and local police are investigating.
Additionally, the Montclair State University graduate, identified as Sean MacDonald, had also been terminated from his position as a part-time ticket seller for the Yankees, the team said, according to NJ.com.
"We have zero tolerance for anything like this," director of communications Jason Zillo said. MacDonald had been hired at the end of January and worked a total of 18 hours over four days, Zillo said.
Related